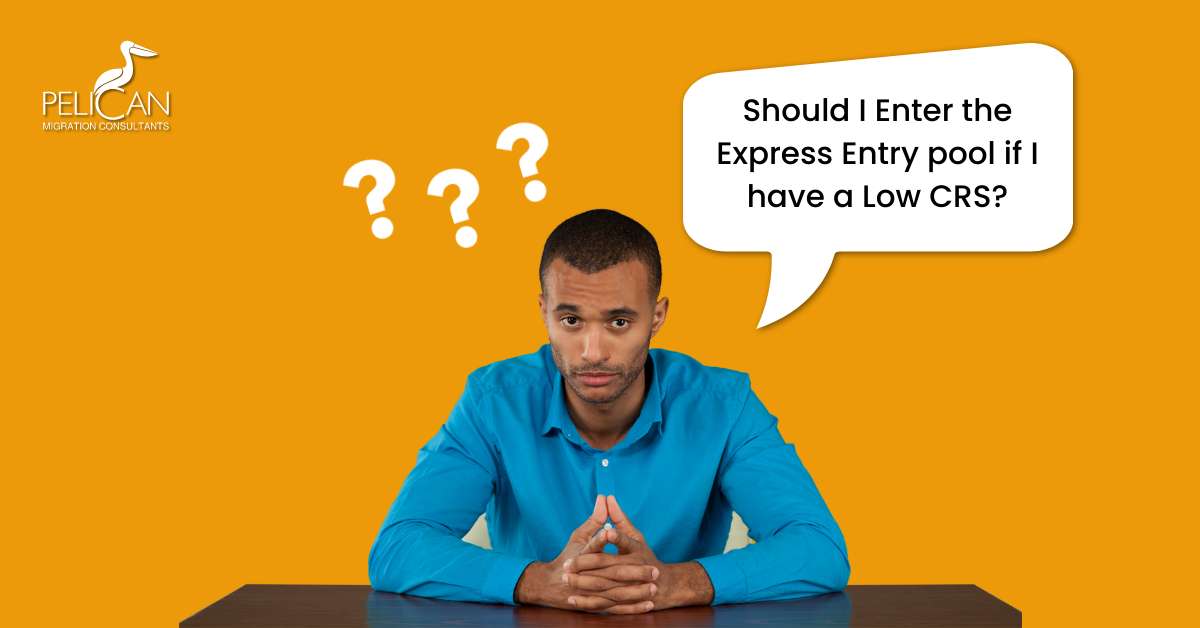 December 19, 2021
Should I enter the Express Entry pool if I have a low CRS?
Are you one of the many people with a low CRS score who thinks it's pointless to file an Express Entry profile? Most applicants who received an invitation to apply for permanent residence in Canada in recent draws ranked above 460 in the Comprehensive Ranking System, as you may have noticed if you've been following the recent rounds of invites. At first look, this may appear to be discouraging for new applicants entering the pool. But you need to stop worrying!
There are a number of reasons why a low anticipated CRS score should not stop you from applying through the Express Entry pool. Read on to know more about why entering the Express Entry Pool even with a low CRS is a good deal for any applicant.
How Does Express Entry Pool work?
Applicants for three federal skilled worker immigration programs are included in the Express Entry pool: the Federal Skilled Worker Program, the Federal Skilled Trades Program, as well as the Canadian Experience Class. When you approach the Express Entry pool, you will be assigned a CRS score based on factors such as age, education, skilled work experience, as well as English or French proficiency. This score determines your position in the Express Entry pool but also your chances of just being invited to apply for Canadian permanent residence. You can learn more about the eligibility criteria for skilled workers here.
Benefits for Express Entry Candidates outweigh risks?
If you meet the eligibility requirements, joining the Express Entry pool gives you a distinct advantage as well as increases your chances of being successful in moving to Canada. Here are a few of the reasons why. Following benefits can be considered before deciding to NOT TO APPLY for express entry now:
First and foremost, Express Entry CRS baselines are variable in nature. What appears to be a low CRS score may ultimately lead to an Invitation to Apply (ITA) for permanent residency.
Second, after trying to enter the express entry pool as well as scoring below the threshold levels, you have the option of waiting for your score to drop or looking to upgrade it. You can keep improving your CRS score, for instance, by retaking your written exam, gaining professional experience, pursuing additional training, or studying and working in Canada. If you are offered a position in Canada while being in the pool, your CRS score may rise high enough to qualify for an ITA for permanent resident status.
Third, while the 3 primary federal programs are the main means by which many economic immigrants gain entry for Canada, Express Entry is part of a larger national and provincial scheme that offers a variety of other routes to permanent residence for skilled workers.  The Provincial Nominee Program, or PNP, is one of them. It allows participating Canadian provincial governments to shortlist foreign workers as well as international graduates for permanent residence in Canada through Express Entry-aligned streams. Thus, you can try applying for other programs, for those you are actually eligible for.
If you've already attempted several methods to improve your CRS, including those mentioned below, obtaining a nomination from a province is still a viable option. You may gain a "Notification of Interest" from a provincial capital once you have joined the Express Entry pool and thus are eligible for a PNP. You must qualify to the province, and then if approved, you will earn a provincial nomination, which will simply give you 600 points forward into your CRS score and primarily guarantee that you will be invited to apply for permanent residence.
Also, due to the unexpected nature of the epidemic, it has gotten even more unpredictable over the last year. The Express Entry draw of February 13, 2021, is a good example of this. IRCC (now known as College of Immigration and Citizenship Consultants (CICC)) held a draw on even a Saturday without warning and gave 27,332 ITAs to CEC Candidates. Whereas, draws are usually conducted only on Wednesdays and Thursdays. 5,000 ITAs had been the previous high. The CRS cut-off for just that draw was only 75, which was the lowest ever. You don't want to be taken off guard when the CICC starts inviting candidates for the Express Entry pool again, just because you thought your CRS won't qualify.
Make an effort to raise your score
You can enhance your score as well as boost your likelihood of being invited to apply when you're in the pool by completing the following:
Using Job Bank to obtain a valid job offer OR exposing oneself to companies in Canada via private-sector job boards
Getting in touch with provinces and territories to see if you qualify for the Provincial Nominee Program
Increasing your language score
Increasing your education
Increasing the amount of relevant work experience
Put simply, something is better than nothing. When you're not in the Express Entry pool, your prospects of acquiring an ITA for permanent residence are nil. In contrast, simply entering the pool increases your chances of earning an ITA. Keep in mind that Canada recognizes your abilities and qualities and wishes to welcome you to the country. IRCC (now known as College of Immigration and Citizenship Consultants (CICC)) will expand its doors to FSWP candidates in the future, and starting the Express Entry process now could put you one step closer to realizing your dream of moving to Canada.
Would You Like to Migrate to Canada via Express Entry Pool?
Migrating to Canada may appear simple, but the procedure is not as simple as it appears. It is always best to contact a Canada Immigration Consultant who can assist and guide you.
At Pelican Migration Consultants, we offer our applicants a high chance of success through our simplified process. All of our immigration cases are handled by qualified and intelligent immigration professionals so that you can rely on us. In addition, our consultants are licensed and have extensive knowledge of the Canadian immigration process. So, if you're ready to take the next step, why not contact us right away for a one-on-one consultation?