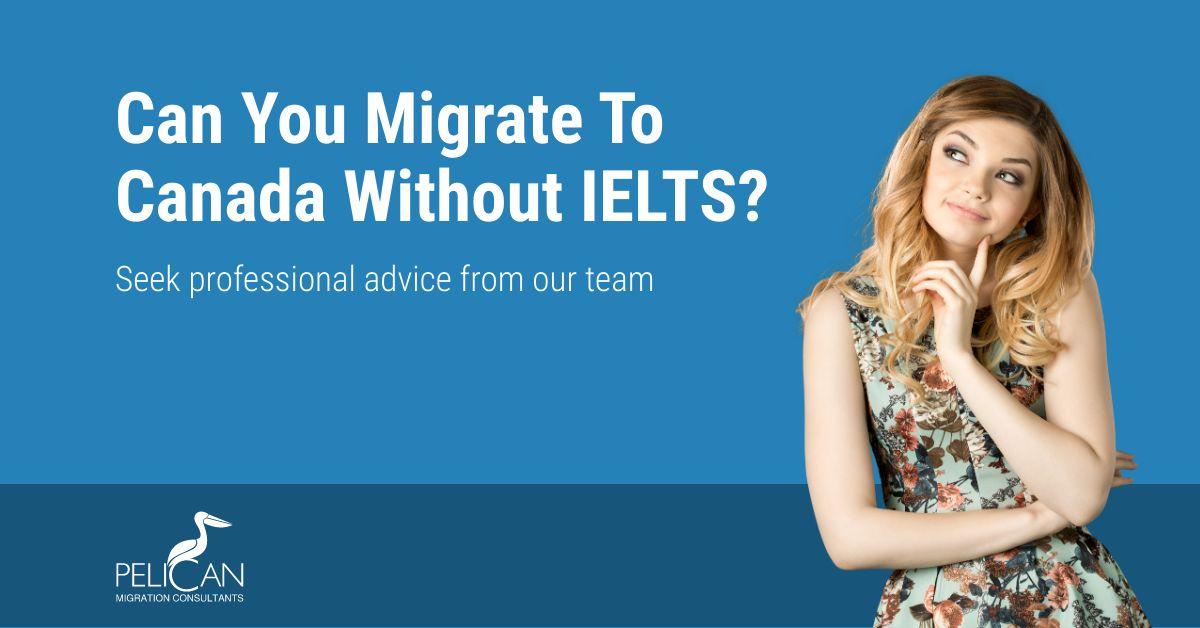 June 28, 2021
Migrate To Canada Without IELTS
Thousands of people Migrate to Canada in search of excellent job opportunities, a safe and peaceful environment, high living standards, a vibrant culture, and diverse communities. That's why every year numerous immigrants register for different immigration programs. IELTS test score is one among the different eligibility requirements for various immigration programs. But, this requirement makes migration to a dream country challenging. Let's read on to know if we have any immigration options without IELTS.
Canada Migration Services from Pelican Migration
At Pelican Migration Consultants, our primary goal is to offer you all the necessary information you require to make the right decisions. We help you plan and manage your immigration to Canada and eventually lead a successful life in the country of your dreams. What's more, we don't make you spend a penny more or wait a day longer until and unless it is out of our control. Our Canadian Migration services include the following:
Express Entry Profile: The Express Entry system allows provinces and territories to propose some certain pool of participants who satisfy their local provincial/territorial market demands. We help you create Express Entry Profile and proceed further with the PR Visa application when you receive the Invitation to Apply (ITA).

The Provincial Nominee Program: Various provinces and territories can recruit participants who are willing to take part in settling in a particular province/territorium and who are skillful in promoting the economic development of that province/territorium. We at Pelican Migration help you successfully apply for the program and we ensure the best optimization of your profile.

Study Visa: There are many Study Visa categories offered by Canada for students who want to pursue their further education in Canada. In fact, Study Visa is considered a comparatively easier route if you actually qualify for the Study Visa requirements.

Visit Visa: Anyone is eligible for a visit visa, which allows them to travel anywhere in the country with some restrictions.

The Business Immigration Program: Individuals who want to do business in Canada can apply for a permanent residency visa through the Canada Business Immigration Program. For this special visa, the Canadian government has designated three groups of people: Investors, Entrepreneurs and Self-Employed Individuals. Thus, we help you with all the requirements and application forms.

Family sponsorship: Individuals who are permanent residents or citizens of Canada who already are 18 years of age or older can sponsor their members of the family for PR status. They can sponsor the following categories of family members: Spouse, Conjugal partner, Common-law partner, Dependent or adopted children, Parents and Grandparents. We provide professional one-to-one assistance ensuring you give your best in front of the Canada immigration Department.
Home to one of the largest immigrant populations, Canada is a top choice for immigration worldwide. Many people aspire to move to this brilliant country to enjoy the high living standards, a vibrant culture, and diverse communities. However, moving to Canada is a distant dream to many due to the strict IELTS requirement that the IRCC puts forward.
Language skills are essential for migrating to Canada and settling smoothly into Canadian life.  You should be able to communicate with the locals efficiently in the country's official language—either English or French. For this reason, the Canadian government makes it mandatory for foreign nationals to take either an English language test (IELTS or CELPIP) or a French-language test (TEC or TCF) to immigrate to Canada.
The good news is that you don't have to be fluent in either language to immigrate to Canada. Often, the level of language proficiency required depends on the immigration program. And here is an article that will help you with more information on how to migrate to Canada without IELTS.
Canada PNPs with Low IELTS Scores 2022
Every immigration pathway for Canada PR Visa features different requirements, even for IELTS. One of the quickest ways to migrate to Canada is through the Express Entry Program. Introduced in 2015, the Express Entry program is an application management system that manages the profiles of the candidates registered under the immigration programs, such as Skilled Trades Program (Federal), Skilled Worker Program (Federal), and Canadian Experience Class (CEC).
Under the FSWP points assessment grid, points are allotted to the express entry profiles in the below-given format for the first official language:
7 – (6.0, 6.0-7.0, 6.0, 6.0) – 4
8 – (6.5, 7.5, 6.5, 6.5) – 5
9 – (7.0, 8.0, 7.0, 7.0) – 6
10+ – (7.5-9.0, 8.5-9.0, 8.0-9.0, 7.5-9.0) – 6
Typically, the Comprehensive Ranking System (CRS) ranks profiles in the express entry pool depending on the points awarded to the profiles based on factors like experience, language proficiency, age, etc. 6.0 per band in the IELTS means that you will require at least a CLB level 7 to qualify for the federal government's Express entry program.
In simple words, the Express Entry programs demand a higher IELTS score than other Canadian immigration programs. So, if you have a low IELTS score, your best bet is to apply for Provincial Nominee Programs (PNP).
PNPs is a type of Canadian immigration program that helps fill the gap in the local labor market of skilled candidates. Depending on the demands of the local labor market, various PNPs have different eligibility criteria and requirements. What's better, a few Canadian PNPs have low IELTS score requirements, which makes it easier for PR visa aspirants to migrate to Canada.
So, the answer to can you migrate to Canada without IELTS is a straight no but if the IELTS is that big of a concern to you then the only solution to it is finding those Canadian PNP programs that have low IELTS score requirements and applying for it.

So, what are those programs? Find them below.

- Saskatchewan Immigrant Nominee Program (SINP)

- Manitoba Provincial Nominee Program (MPNP)

- New Brunswick Provincial Nominee Program(NBPNP)
Saskatchewan Immigrant Nominee Program (SINP)
Saskatchewan is one of the well-known provinces in Canada. Leveraging the SINP, the province chooses immigrants with the right skills to migrate to Canada and live in the province as permanent residents.
The best thing about Saskatchewan PNP is its low IELTS score requirement. Immigrants who wish to move to this province just need to secure a Canadian Language Benchmark (CLB) level 4, which refers to an IELTS score of 4.5, 3.5, 4, and 4 (Listening, Reading, Writing, and Speaking).
Manitoba Provincial Nominee Program (MPNP)
With a friendly and welcoming outlook towards new migrants, a wide array of immigrant communities, and fantastic job opportunities, Manitoba is a great province to live in. Just like Saskatchewan, you only require a low IELTS score to move to Manitoba.
The province of Manitoba demands a band 4 in each module of the IELTS examination for immigration. Nevertheless, the catch is that you should have a close relative already living in Manitoba when you are cleared for immigration. Additionally, your close relative should also be willing to sponsor you so you can migrate to Canada and start living in Manitoba as a PR resident.
While the Manitoba Provincial Nomination Program Sponsorship scheme might not apply to everyone, it is an excellent option for those with a family living in Canada and who wish to migrate to the country quickly.
New Brunswick Provincial Nominee Program(NBPNP)
One of the most friendly and safest communities, New Brunswick is Canada's only officially bilingual province - French and English having equal status. Though New Brunswick is not highly populated, the pay scale is higher when compared to other Atlantic provinces.
The NBPNP is a provincial immigration program that invites qualified workers from around the world to work and settle in New Brunswick. It regularly hosts information sessions and job fairs for those immigrants who have skills, education, and work experience that are in demand in the local provincial economy. Similar to Saskatchewan PNP, Immigrants who wish to move to New Brunswick need to secure a Canadian Language Benchmark (CLB) level 4, which refers to an IELTS score of 4.5, 3.5, 4, and 4 (Listening, Reading, Writing, and Speaking). The applying candidates must meet the other required minimum eligibility requirements and also provide a valid offer of employment from a New Brunswick Employer.
Want to Migrate to Canada but Don't Know Where to Start?
Just because you can't migrate to Canada without IELTS doesn't mean that you should give up on your dreams of settling down in Canada. After all, the PNPs with low IELTS score requirements mentioned above can help.
If you require further assistance with migrating to Canada, our experts at Pelican Migration Consultants can handle the complex process on your behalf. All our cases are handled by Regulated Canadian Immigration Consultants (RCICs), who can help you figure out the right path to Canada from more than 100 options.