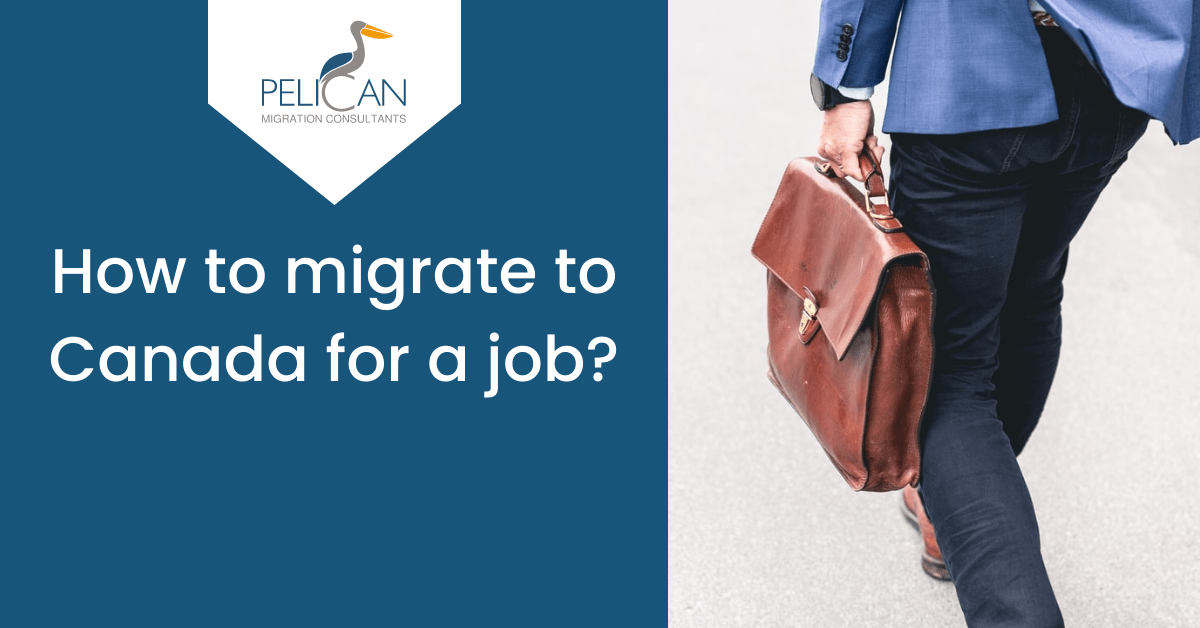 September 22, 2021
How to go to Canada from Dubai for a job?
As of now according to Statista, Canada has an annual immigration rate at about 300,000 new immigrants – including some of the highest rates per population of just about any nation in the world. As of 2020, there were slightly more than eight million immigrants with Canadian permanent residence, accounting for roughly 21.5 percent of the overall Canadian population. Canada remains at the top of the priority list of people searching for job opportunities as well as students in which immigrants are interested.
Given Canada's long tradition of welcoming immigrants and assisting them in assimilating into Canadian society, the country will preserve its prestige as a migrant-friendly one. One of the most appealing aspects of Canada is its employment opportunities. For decades, Canada seems to have been a hotspot for job opportunities. Every year, thousands of people migrate to Canada, primarily because this country does have the best-paying jobs in the world. It is one of the most popular locations for professionals from all over the world. Read on to know more about the job opportunities in Canada and how you can move to Canada from Dubai for a job.
Job opportunities in Canada
Canada actively seeks foreign workers as well as professionals to supplement its strong domestic workforce. For immigrants, there are numerous job opportunities in Canada in almost each sector you can think of. This is because most sectors of the Canadian economy are undergoing skilled labour shortages, with businesses having difficulty finding skilled employees. To overcome the shortage, the Canadian government has encouraged more migrants to enter and settle in the country. There are positions available in manufacturing, food, commerce, construction, schooling, warehousing, as well as transportation. There are numerous job opportunities available in STEM-related fields as well as in the healthcare industry. As a result, immigrants in Canada have a plethora of job opportunities waiting for skilled people from different countries to join the workforce. You got the skills? You are in! Welcome onboard.
How To Apply for Jobs In Canada from Dubai Easily?
Make a CV that bypasses filters.
Every month, a Canadian company gets thousands of application forms. Filtering all of this by humans is a complex job. As a result, the majority of businesses delegate the task of sorting CVs to a tool known as a "Application Tracking System." This framework will scan all CVs and filter out application forms based on keywords, cv formats, consistency, photo profiles, and so on. So, in order to get the most responses, try seeking professional expertise.
Choose the best sources for applying for jobs
In 2021, the strategy of looking for employment has totally transformed. To get recognized by businesses, you must use a multi-channel approach. Posting jobs on multiple Canadian job portals, using social media, contacting Canadian HR consultants, as well as applying for recent positions directly on the company's website will help you yield responses quickly.
An individual must have a work permit visa or perhaps a Canadian Permanent Residency Card in terms of working in Canada. The application process for a Canadian Work Permit is just so time-consuming that eventually the majority of qualified workers now like to apply for Canadian PR. Having a Canada PR increases your chances by threefold. The company will look for candidates who have the legal right to work in Canada and are not sponsored by the company. Other benefits of Canadian PR are as follows:
Right to live and work anywhere in Canada
Eligibility to apply for Canadian citizenship
Gain access to universal healthcare and social services
Eligibility to sponsor your spouse and children
Free Education for kids under the of 18 in Canadian Public-School System
Old Age Security, Guaranteed Income Supplement, and Canada Pension Plan
It is prudent to apply for Canadian permanent residency only if you've good educational qualifications as well as work experience. Our team will assist you in applying and obtaining the Canadian PR in the least period of time.
The Canadian Permanent Residency Program is made up of two immigration programmes: the Federal Express Entry Programs and the Provincial Nominee Programs (PNP). The best thing about these 2 different immigration gateways is that all those looking to go to Canada from Dubai for a job and any other country can apply for over 50 subcategories, even if their allocation will be centered on the requirements of each programme.
How to move to Canada from Dubai
Express Entry program, Provincial Nominee Program, Canada Work Visa, Quebec Skilled Worker Visa, Canada Student Visa, Canada Investor Visa Program, family sponsorship program are some of the many immigration programs offered by Canada to choose from. Every Immigration Program has indeed been specially designed to appeal to applicants who may have different work skills sets, professional training, and experience. It is preferable to migrate to Canada with the assistance of a CICC licensed immigration consultant in Dubai, like Pelican Migration Consultants.
The Following Are the Steps Involved in the Canadian Permanent Residency Visa Program:
Step 1: Educational Credential Assessment Process
Step 2: Language Proficiency Result
Step 3: Express Entry application submission
Step 4: Understanding your CRS score and helping every applicant to improve it
Step 5: Waiting for the Invitation and Final Permanent Residency application Submission
Step 6: Waiting to get the final Visa Confirmation
To know more about each stage in detail you can check Step by Step Guide to Migrate to Canada from UAE (2021). Migrating to Canada may appear simple, but the procedure is not as simple as it appears. Because the laws are a little complicated, it is best to contact a Canada Immigration Consultant who can assist and guide you.
Choosing the best immigration consultant in Dubai
Because of the various policies, visa prospects, as well as laws in the immigration realm, you may struggle to understand where to apply or what to apply for. Remember, if you choose to go to Canada from Dubai for a job, do not forget to contact the Best Immigration Consultants in Dubai for appropriate and adequate assistance because the immigration process is not that straightforward and having a team who has the right experience and expertise will make hundreds of things easier for you! Luckily, we  at Pelican Migration Consultants have a team of Regulated Canadian Immigration Consultants (RCICs) who can stroll you through the complete system. In layman's terms, RCICs are one of 3 types of professionals who really are legally allowed to represent clients and students in immigration matters outside of Quebec for the fee. Lawyers and paralegals who are members of a Canadian Law Society are the only other two types of professionals.
Pelican Migration Consultants as RCICs Immigration consultants assist its clients in obtaining visas to Canada. We help the clients in following ways, but are not limited to:
Analyzing the clients' chances of being granted a visa
Preparing clients for VISA interviews, if necessary
Developing a customized immigration strategic plan for clients
Providing clients with a fresh perspective on immigration options
Assisting clients with the completion of their immigration application areas and paperwork. The documents are indeed proofread by RCICs to ensure that they are error-free as well as accurate.
Helping clients with all aspects of Canadian immigration.
We offer our applicants a high chance of success through our simplified process. All of our immigration cases are handled by qualified and intelligent immigration professionals so that you can rely on us. In addition, our consultants are licensed and have extensive knowledge of the Canadian immigration process. So, if you're ready to take the next step, why not contact us right away for a one-on-one consultation?