March 27, 2019
Step by Step Guide to Migrate to Canada from UAE (2021)
Are you one among those looking to migrate to Canada from UAE? Canadian Permanent Residency status has always been a dream to almost all the skilled professionals living and working in UAE with their family. The social and employment benefits offered by Canada along with its geographical features have been some of the reasons behind the increase in the number of immigration applications filed to the Citizenship and Immigration Canada (CIC).
A Canadian Permanent Residency Card is valid for 5 years in which the Permanent Residency holder will have access to all the rights and benefits of Canadian citizen except 3 things
Right to vote in the election
Run for a party in the election
Job titles which require security clearance like army and intelligence
A Canadian Permanent Residency Visa holder will have social benefits like
Canadian Unemployment benefits
 Free education for kids in public school till the age they turn 18
Subsided university fee
 Equal Salary scale as that of a Canadian citizen
Free Medical Insurance
Can enter and exit Canada without restriction
Right to apply for Canadian Citizenship or passport after finishing 3 years inside Canada
The Canadian Permanent Residency Program mainly consists of two immigration program which is the Federal Express Entry Programs and Provincial Nominee Programs (PNP). In these two immigration gateways, the best thing is that those looking to migrate to Canada from UAE or any other country can apply for more than 50 subcategories though their allotment will be based on the requirements of each program.
Step by step process to migrate to Canada from UAE through Pelican Migration Consultants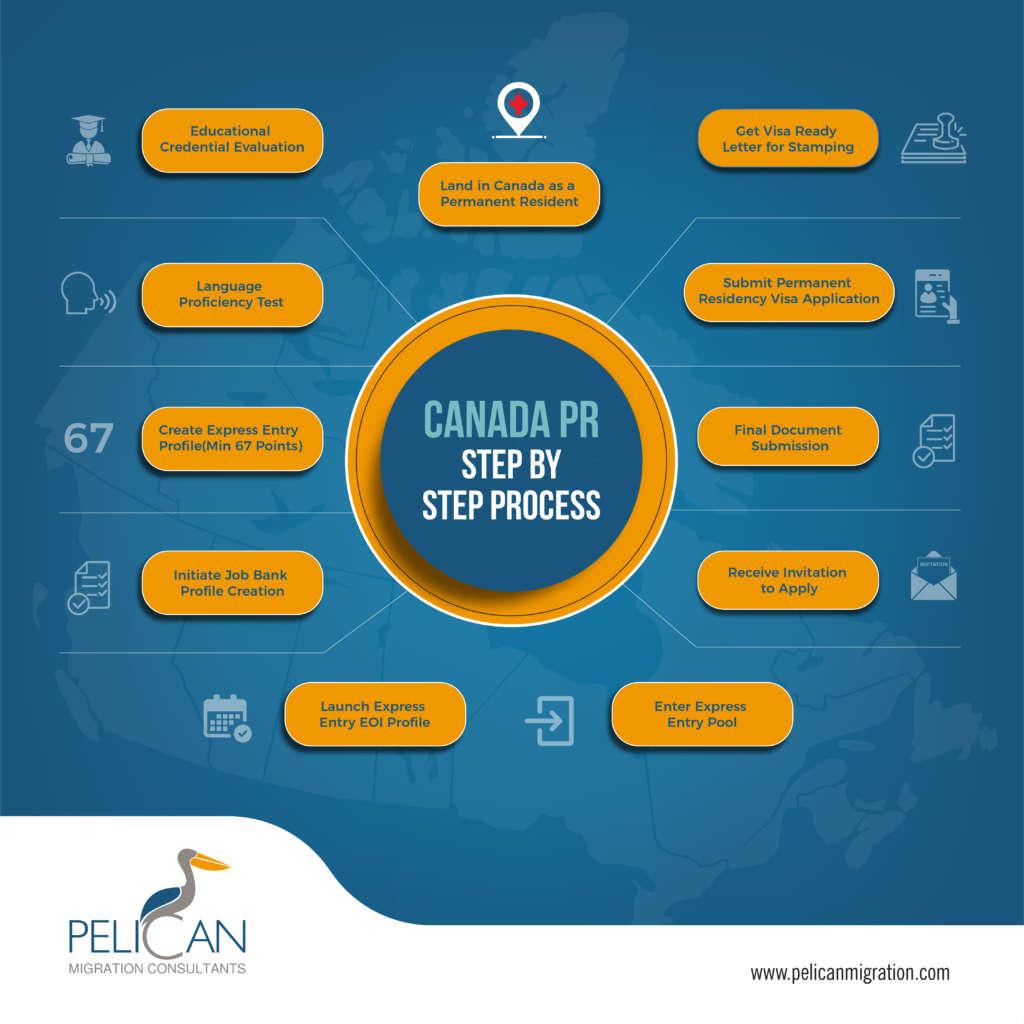 The most popular and effective immigration program to migrate to Canada from UAE is Express Entry program, Provincial Nominee Program, Canada Work Visa, Quebec Skilled Worker Visa, Canada Student Visa, Canada Investor Visa Program and family sponsorship program. It is best and advisable to migrate to Canada with the help of an ICCRC licensed immigration consultant such as Pelican Migration Consultants. Read more about why choose an ICCRC immigration consultant!
Every Immigration Program has been specifically designed by Citizenship and Immigration Canada to cater to applicants who have the different job skill set, education and experience.
Steps Involved in Canadian Permanent Residency Visa Program:
Step 1. Educational Credential Assessment Process
If your highest educational assessment has been completed outside Canada, the first step in the Canadian Permanent Residency Program is that we assess your educational documents compared to Canadian Education System.
Step 2. Language Proficiency Result
The second step in the immigration process is to take your language test results. People who are proficient in English should take IELTS (International English Language Testing System) exam from either the British Council or IDP. A paper-based IELTS exam or an online IELTS exam is accepted by the Canadian Immigration. IELTS can also be taken in some countries through CELPIP (Canadian English Language Proficiency Index Program).
French speakers are allowed to take the French language exam called TEF which is accepted by the government of Canada for immigration purpose.
A good language proficient test results can increase your chances to get invited for Residency Visa
Note: - Pelican Migration Consultants give more importance to IELTS and provide its exclusive applicants thousands of IELTS materials, books and manuals. We also provide free one on one IELTS briefing session to the whole family before the exam.
Step 3. Express Entry application submission
Once we assist you to gather all the required documents and report, your immigration case manager from pelican along with our RCIC lawyer will create the online application in the CIC website. We will fill all the details of the applicant including personal and family details, immigration history, employment details, educational details and spouse and kids details (If applicable).
Step 4. Understanding your CRS score and helping every applicant to improve it.
Once the express entry application has been submitted by our RCIC lawyer, we will detail all our applicants his/her respective CRS score and guide them on how to improve it. Let's go through ways to improve the CRS score
1. Provincial Nominee Program (PNP)
Express Entry applicants who have less CRS score to get picked up directly from the pool will get assistance from us to submit each and every Provincial Nomination application. Once you get nominated or selected by any province, pelican migration consultants will assist you to gather all the documents required to submit the Expression of Interest (EOI) to the invited province.
If an applicant gets selected by any province, he or she will be getting an additional CRS score of 600 points which automatically makes them eligible to get picked from the pool in the next draw.
2. English Language Test Results
If the CRS score has mainly been affected by the applicants IELTS score, we will provide them with more assistance to get really good scores so that it may assist every applicant to get more CRS score.
3. Canadian Job offer
Your Immigration case manager will try to get you job interviews and offers from Canadian employers using your job bank profile. We will make sure that the Canadian employer can understand that every applicant of Pelican Migration Consultants has an active express entry profile and has already in halfway mark in their immigration process.
Step 5: Waiting for the Invitation and Final Permanent Residency application Submission
Once the applicant has all the requisite documents and application ready, we will wait for the invitation and once the invitation to apply for permanent residency arrives, your immigration case manager along with our RCIC lawyer will assist every applicant in document collection along with the submission of the final permanent residency application.
Your Immigration application will go through 3 round of reviews (Immigration case manager – Team Lead – RCIC Lawyer).
We will make sure than your final Immigration application will be error-free and rejection free.
Documents required for final Permanent Residency application submission
Proof of Identity of the primary applicant and accompanying family members (If applicable)
Educational documents of primary applicant and spouse
Employment Certificates of primary applicant and spouse
Relationship Proof
Birth Certificate of Kids
Bank Statement
Photo
 Medical Clearance Certificate
Police Clearance Certificate
Our RCIC lawyer Cover Letter
Step 6: Waiting to get the final Visa Confirmation
Once the final Permanent Residency application has been submitted we along with the applicant will wait for the final good news to stamp the visa from Citizenship and Immigration Canada and after receiving the visa, the applicant can migrate to Canada from UAE.
Note: - The applicant should travel to Canada before the expiry of Immigration Visa to get the entry stamp and subsequent PR card.
Pelican Migration Consultants is an ICCRC licensed immigration consultancy based in UAE. With our expert Canada immigration consultants and lawyers, we have managed to help more than 100 people who seriously wanted to migrate to Canada from UAE. Sign up with us and get assistance from our immigration consultants to start your immigration journey.