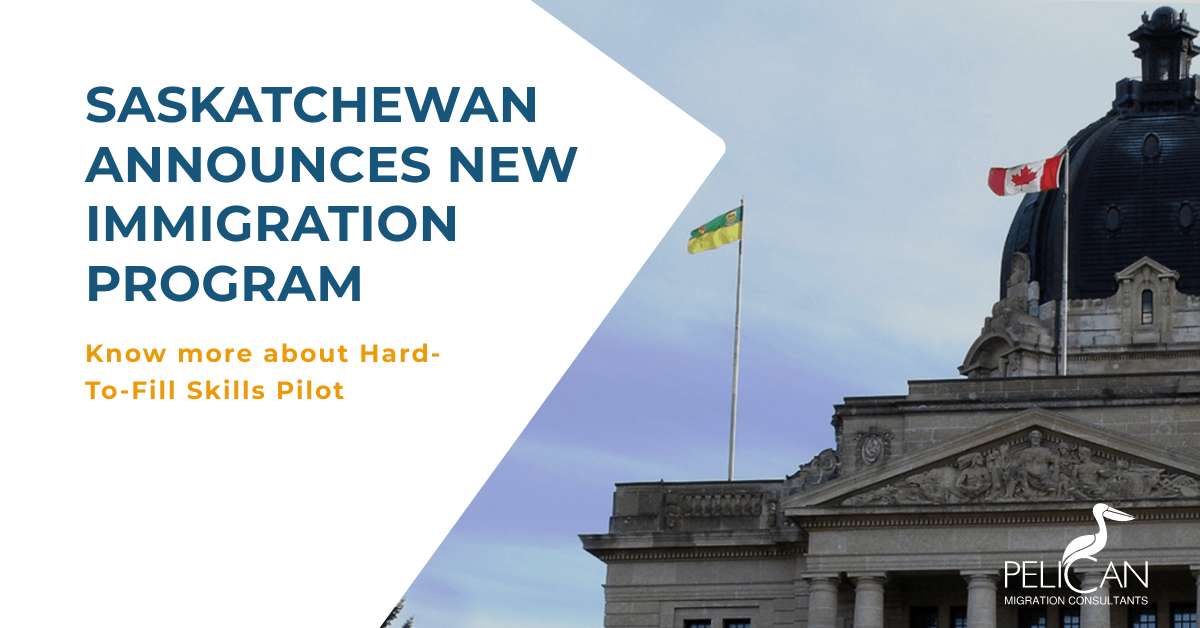 December 19, 2021
Introducing Saskatchewan's Hard-to-Fill Skills Pilot Program
Saskatchewan has one of the fastest-growing economies and demographics in the country, primarily due to the influx of immigrants from all over the world. Agriculture and key natural resource sectors such as forestry and fisheries are the mainstays of the country's economy. It is one of the most popular newcomer attractions in Canada. Saskatchewan uses the Saskatchewan Immigrant Nominee Program (SINP) for its provincial workforce requirements. But recently on November 25, 2021, Saskatchewan announced a new and comparatively effective immigration pilot program called "Hard-To-Fill Skills Pilot." Read on to know more about this new change.
According to the media release, "The demand for labor in our province is strong, and it's only going to increase with the significant economic projects recently announced in Saskatchewan. This new Hard-To-Fill Skills Pilot—developed in Saskatchewan for Saskatchewan—is progress on our autonomy discussions with the federal government and is going to help provide employers with greater access to international options to recruit workers. This is in addition to record investments into training and up-skilling our provincial workforce, as we enter a period of strong growth coming out of the global pandemic."
Hard-To-Fill Skills Pilot
Saskatchewan, a wonderful place to live as well as raise a family, has introduced a new immigration system - Hard-To-Fill Skills Pilot. This policy enables Saskatchewan employers to hire foreign citizens for a few high-demand occupations. The Hard-To-Fill Skills Pilot will allow Saskatchewan employers to hire workers for selected jobs that seem to have significant recruitment obstacles through overseas operations or other effective recruitment activities. The qualified jobs under this pilot scheme will enable the provision of low and entry-level roles and may necessitate on-the-job training, but they are critical for businesses to continue operating and growing. This program includes entry-level positions that require on-the-job training. The following industries are included in this category:
Health
Manufacturing
Agriculture
Ag-Tech
Construction
Hospitality
Retail
Candidates nominated through this Saskatchewan Immigrant Nominee Program (SINP) stream receive support from both their employers as well as the community. This project will begin in December of 2021. This is fantastic news for Saskatchewan businesses involved in the hospitality industry as well as many more. This pilot program is intended to attract talent from across all sectors, particularly those in Saskatchewan experiencing a labor shortage.
Prior to utilizing the pilot project for recruitment, companies in the pilot program must prove that they have made significant efforts to hire domestically, prove the need and advantage for their business, as well as fulfill requirements associated with providing settlement assistance for the workers. Workers appointed through this stream would have the support of their employers as well as the community, which would help them succeed.
Eligibility Criteria for the Pilot Program for Hard-to-Fill Skills
The release as of now does not specify which forms of employment are eligible, the minimum education mandate, or the accurate language proficiency level required, but the expected eligibility requirements for the Hard-To-Fill Skills Pilot Program are listed below.
Possess a valid job offer (full-time, permanent) in the region.
SINP job recognition letter from either of the listed as well as registered Saskatchewan employers
Score a minimum level of expertise in a Canadian official language.
The most important requirements are a minimum educational level and at least one year or six months of work experience in a similar profession. This experience can either be from Canadian job places or from outside Canada.
Saskatchewan's hard-to-fill Skills Pilot: Employer Requirements
Employers under this Pilot Program should necessarily fulfill these requirements in order to qualify:
Employers should make a concerted effort to hire in the domestic market.
Employers should Demonstrate the necessity and benefit to their company.
Employers should provide workers with settlement assistance as well as fulfill requirements associated with providing settlement assistance for the workers.
Advantages to foreign skilled workers of Saskatchewan's hard-to-fill Skills Pilot
Foreign skilled workers who are new to the Canadian environment or the ones who are considering to migrate to Canada, this program offered by Saskatchewan can be just the thing they have been waiting for and a door opening a whole lot of opportunities for the immigrants. You will be able to easily migrate to your dream country through a work permit using these entry-level positions. In fact, you will even be assisted by your employer to fulfill the requirements associated with providing settlement assistance for the workers. A never to leave opportunity for new immigrants.
At Pelican Migration Consultants, our primary goal is to offer you all the necessary information you require to make the right decisions. We help you plan and manage your immigration to Canada and eventually lead a successful life in the country of your dreams. What's more, we don't make you spend a penny more or wait a day longer until and unless it is out of our control.
We provide professional one-to-one assistance ensuring you give your best in front of the Canadian Immigration Department. We help the clients in analyzing the clients' chances of being granted a visa, then preparing clients and giving feedback for VISA interviews, developing a customized immigration strategic plan for each client separately.
Assisting them with the completion of their immigration application areas and the paperwork required by making sure that the documents are being proofread by RCIC to ensure that they are error-free as well as accurate is also our responsibility to help you give your best. In conclusion, we try to help our clients with all aspects of Canadian immigration starting from the start.