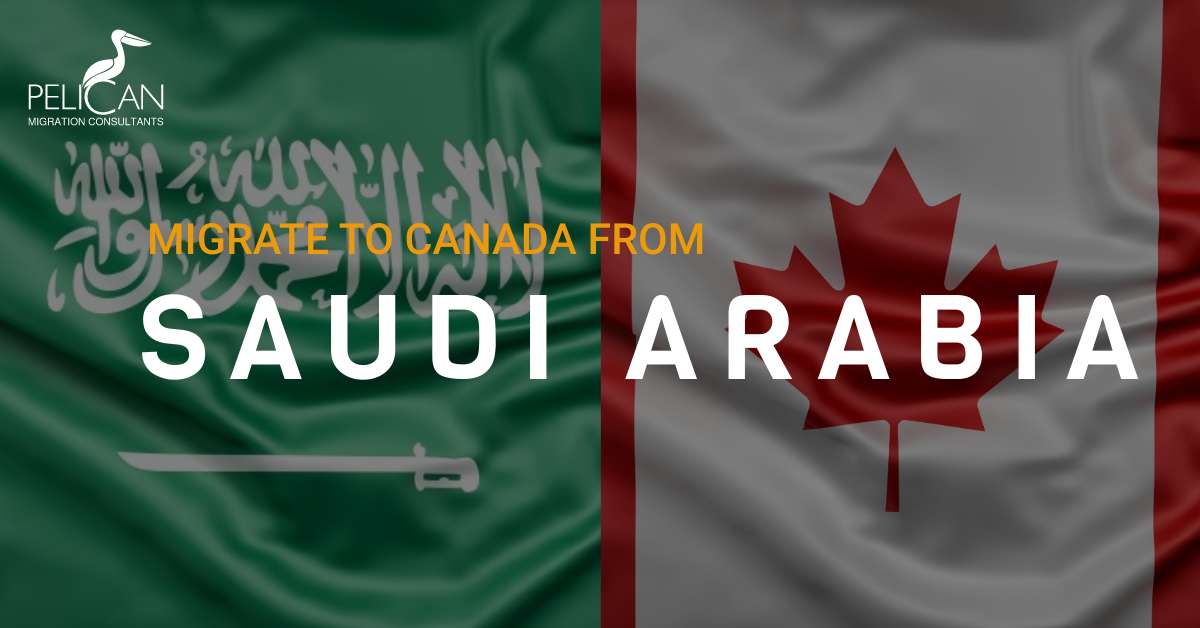 December 19, 2021
How to migrate to Canada from Saudi Arabia in 2021?
Of course, with no doubts Canada is on the top of this list, being the best country to migrate to. Canada has been well-known for being one of the best immigration destinations in the world. The economic success of Canada is one of the reasons why this is one of the top countries to migrate to. Canada is offering a wide range of immigration programs to people from all over the world which also makes it a very immigrant-friendly country. If you are also looking for plans to migrate to Canada from Saudi Arabia in 2021, read on to know more about the process.
What is the Canada PR visa?
For migrating to Canada from Saudi Arabia, the first thing you need to do is to apply for the Canadian Permanent Residency Visa. This visa has a validity of 5 years and you can apply for it with the assistance of skilled professionals. Permanent residency in Canada grants you the very same rights as Canadian citizens, including access to healthcare and social advantages, job opportunities, as well as protection under the Canadian Charter of Rights and Freedoms. But except the right to vote or run for political office and that too for a certain period of time.
How Can You Immigrate to Canada from Saudi Arabia in 2021?
The Following Are the Steps Involved in the immigration process of moving from Saudi Arabia to Canada:
Step 1: Decide a location to move to.
Initially, you have to do some preliminary research to choose the best place to live based on your requirements. Consider your educational opportunities, financial budget, job opportunities, family needs, long-term goals, neighborhood, personal needs, and so on to determine if a particular location is the best fit for you!
Step 2: Language Proficiency Result
For writing, reading, listening, and speaking, you are required to take approved language tests in English or French. Your language tests are considered valid for the succeeding two years from the date of the results. Make sure they must be relevant as of the date you apply for a permanent resident visa.
Step 3: Get your Educational Credential Assessment Report
An Educational Credential Assessment must be performed on all of your educational transcripts (ECA). This is a necessity for applicants who completed their studies outside of Canada. You will have to submit equivalent high school diplomas.
Step 4: Express Entry application submission
You will have to apply for the Express Entry system through any of these three programs: FSW (Federal Skilled Worker Program), FST (Federal Skilled Trades), and CEC (Canadian Experience Class). Each immigration program has their own requirements and procedures. Ensure that you meet the eligibility requirements.
Step 5: Waiting for the Invitation and Final Permanent Residency application Submission
Once the candidate has all of the necessary documents as well as an appropriate application prepared, you will wait for the open invitation to apply for permanent residency through Express Entry System. And once an invitation shows up, your consultant would then facilitate the collection of documents as well as the submitting of the final permanent residency application.
Seeking professional help of immigration consultants
Because of the constant changes in laws and regulations every year, it can be disturbing for a common person to go through the looong list of these ever-changing regulations and then try to implement them. Also, making sure your documents are updated and up to the mark as per the requirements can be a daunting task for a common person. Thus, you need someone who is professional and has valuable experiential insights about the process - an immigration Consultant! It is best to contact Canada Immigration Consultants who can assist and guide you throughout the process.
There are hundreds of consultants in the market, but Regulated Canadian Immigration Consultants (RCICs) who are legally authorized by the government of Canada itself to represent the immigrants can be the best fit for you if you choose to migrate to Canada. Any RCIC has to go through a complex process for being able to access the license. Thus, they are more trustworthy, professional, experienced, and updated.
Pelican Migration Consultants as RCICs Immigration consultants assist its clients in obtaining visas to Canada. We help the clients in analyzing the clients' chances of being granted a visa, then preparing clients and giving feedback for VISA interviews, developing a customized immigration strategic plan for each client separately, assisting them with the completion of their immigration application areas and the paperwork required by making sure that the documents are being proofread by RCICs to ensure that they are error-free as well as accurate. In conclusion, we try to help our clients with all aspects of Canadian immigration starting from the start.
We at Pelican Migration Consultants, offer our applicants a high chance of success through our simplified process. All of our immigration cases are handled by qualified and intelligent immigration professionals so that you can rely on us. In addition, our consultants are licensed and have extensive knowledge of the Canadian immigration process. So, if you're ready to take the next step, why not contact us right away for a one-on-one consultation?