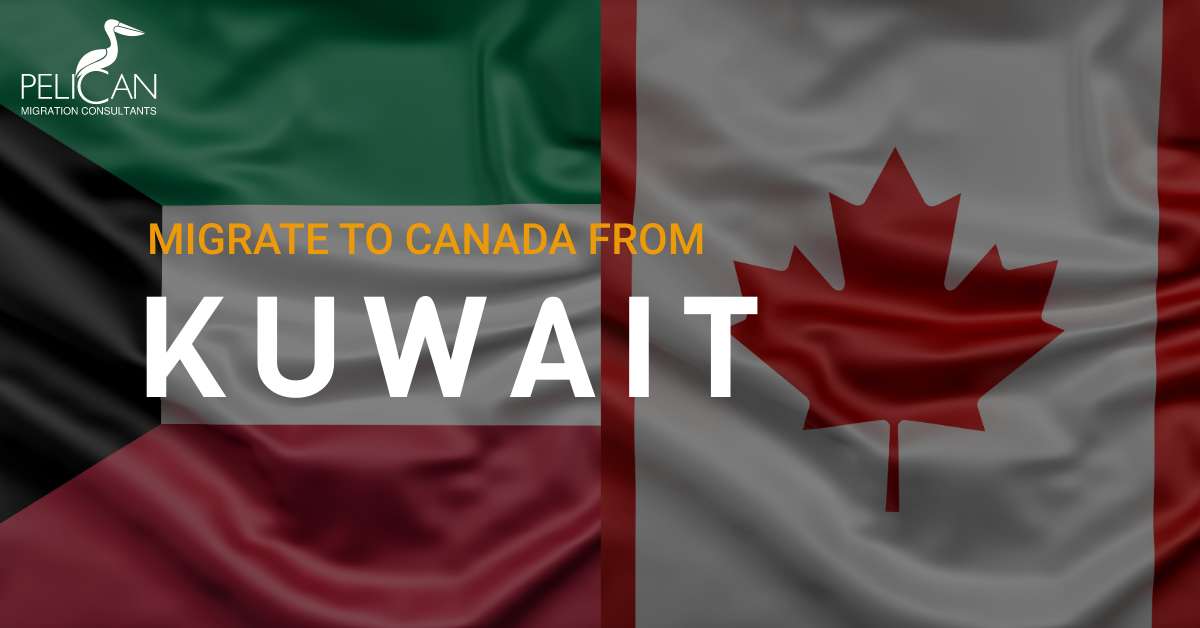 November 28, 2021
How to migrate to Canada from Kuwait?
According to Statista, multicultural country - Canada has been one of the favorite places for migrants in the world. It is one of the ideal countries to live in because of its urban centers, strong economy, and high standard of living. Canada also has a high demand for migrants and it has opened the doors to people with the ability and expertise to give it a competitive advantage on the global stage even in pandemic times. If you are also one of the immigrants from Kuwait looking to migrate to Canada, read on to know more about the process.
Who is eligible to move to Canada or to apply for Canadian PR?
Given Canada's long tradition of welcoming immigrants and assisting them in assimilating into Canadian society, the country will preserve its prestige as a migrant-friendly one. But, you need to make sure that you meet all the eligibility requirements and these requirements are as follows:
Have at least one year of full-time or an equivalent amount of part-time continuous employment within the previous 10 years in one of 347 listed under the National Occupation Classification System.
Pass the language test and demonstrate intermediate language skills in English or French.
Possess suitable settlement funding.
And, qualify for the security background and medical examination.
To know more about the requirements and benefits of Canadian PR, you can visit Canada Immigration Consultants.
How to move to Canada from Kuwait?
Express Entry Program, Provincial Nominee Program, Canada Work Visa, Quebec Skilled Worker Visa, Canada Student Visa, Canada Investor Visa Program, family sponsorship program are some of the many immigration programs offered by Canada to choose from. Each program has its own requirements, eligibility criteria, benefits, and drawbacks.
Every Immigration Program has indeed been specially designed to appeal to applicants who may have different work skills, professional training, and experience. Only a highly experienced CICC licensed immigration consultant, like Pelican Migration Consultants, those who are legally authorized by the Canadian government to represent the immigrants can help you throughout this complicated and lengthy process of reaching the lands of Canada!
The Following Are the Steps Involved in the immigration process of moving from Kuwait to Canada:
Step 1: Decide a location to move to.
Step 2: Educational Credential Assessment Process
Step 3: Decide a location to move to.
Step 4: Language Proficiency Result
Step 5: Analysing the different options of immigration programs available
Step 6: Waiting for the Invitation and Final Permanent Residency application Submission
Step 7: Waiting to get the final Visa Confirmation
Let us have a look at it in detail.
Step 1: Decide a location to move to.
Before you begin, do some preliminary research to make sure places to live based on your requirements. Consider your educational opportunities, job opportunities, long-term goals, family needs, financial budget, neighborhood, personal needs, and so on to determine if a particular location is the best fit for you! Because Canada has such a diverse range of environments, societies, and economies, you will have no trouble finding the ideal place to call your dream house.
Step 2: Educational Credential Assessment Process
If you accomplished your highest educational assessment outside of Canada, the very first step in the Canadian Permanent Residency Program is really to make comparisons with your educational documents to that same Canadian Education System.
Step 3: Language Proficiency Result
You must now start taking your language tests. People who are fluent in English should consider taking the IELTS (International English Language Testing System) exam offered by the British Council or the International Development Programme. In some regions, IELTS can also be chosen to take through CELPIP (Canadian English Language Proficiency Index Program). Pelican Migration Consultants emphasizes IELTS and provides thousands of IELTS materials, books, and handbooks to its exclusive applicants. We also offer free one-on-one IELTS briefings to the entire family prior to the exam.
Step 4: Express Entry application submission
Many provinces and territories in Canada can use the Express Entry system to propose some participants who satisfy their local provincial/territorial market demands. To enter an Express Entry pool, all applicants must still meet the required criteria with at least one of the federal economic immigration programs, depending on the province:
FSW (Federal Skilled Worker Program)
FST (Federal Skilled Trades)
CEC (Canadian Experience Class).
Provinces and territories could add extra criteria because of their own immigration streams.
Step 5: Analysing the different options of immigration programs available
It has never been easier to relocate to Canada from Kuwait. Perhaps it's because Canadian immigration programs are constantly expanding with each having different requirements. Thus, you need to evaluate each of those for whom you are eligible and then make the right choice! Those of us who have family members or direct siblings in Canada, on the other hand, may find it easier.
Step 6: Waiting for the Invitation and Final Permanent Residency application Submission
Once the candidate has all of the necessary documents as well as an appropriate application prepared, we will wait for the open invite to apply for permanent residency. And once an invitation shows up, your consultant would then facilitate the collection of documents as well as the submitting of the final permanent residency application.
Step 7: Waiting to get the final Visa Confirmation
And when the final Permanent Residency application has been submitted, we will wait for the ultimate good news to stamp the visa from Citizenship and Immigration Canada, and the candidate will be able to migrate to Canada from Kuwait.
Choosing the best immigration consultant
Do you know who can be the best to represent you in the immigration process to Canada? None other than an official authorized by the Canadian government itself! A licensed RCIC (Regulated Canadian Immigration Consultants) can be the ideal choice for you. Because of the various policies, visa prospects, as well as laws in the immigration realm, you may struggle to understand where to apply or what to apply for. Remember, if you choose to go to Canada from Kuwait, do not forget to contact the Best Immigration Consultants in Dubai for appropriate and adequate assistance!
We offer our applicants a high chance of success through our simplified process. All of our immigration cases are handled by qualified and intelligent immigration professionals so that you can rely on us. In addition, our consultants are licensed and have extensive knowledge of the Canadian immigration process. So, if you're ready to take the next step, why not contact us right away for a one-on-one consultation?