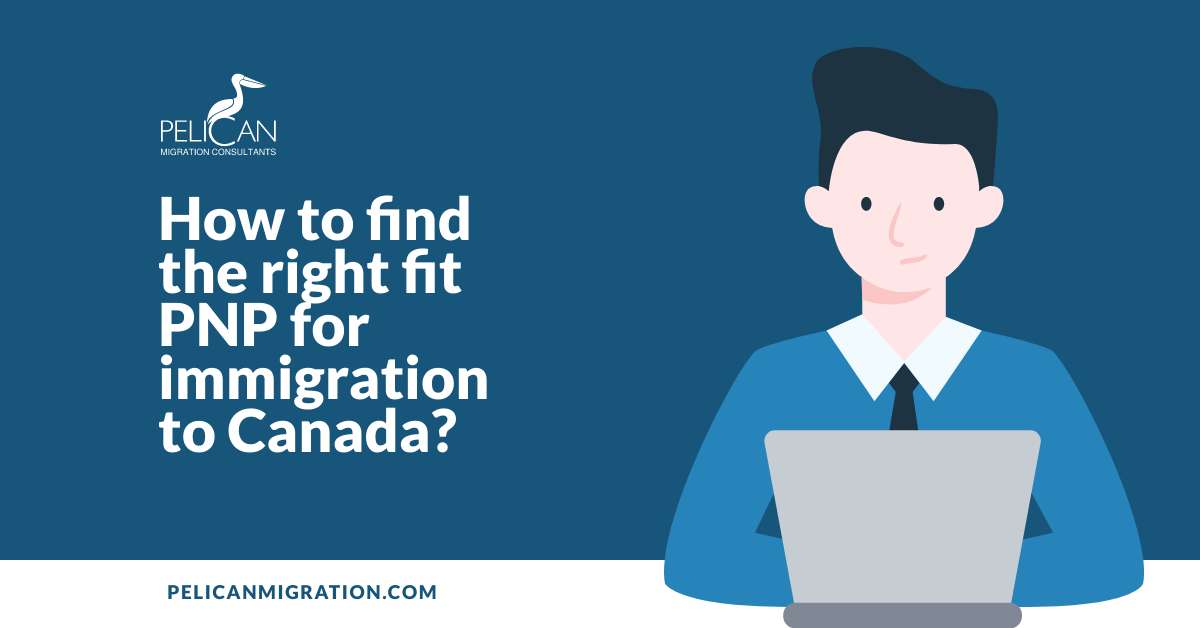 January 26, 2022
How to find the right fit PNP for immigration to Canada?
How do I choose the right province for Canadian immigration? How to select provinces for Canadian immigration? To be precise, you need to learn about provinces and PNPs before wondering these questions. Each of the provinces that participate in the PNP has its own distinct stream that is tailored to meet their industry labor needs and to attract a specific type of immigrant. Because Canada's immigration programs are so transparent and merit-based, finding a job within the right province can be the most difficult part of the process. But don't worry, we've got you covered! Continue reading to find out which province is best for you.
Except for Nunavut as well as Quebec, most Canadian regions have their very own PNP streams. Apart from the federal as well as Quebec streams, the PNP now has nearly 80 distinct streams from all over the provinces and territories. These immigration paths are tailored to each province's specific requirements and are designed for a specific type of immigrant, such as skilled, unskilled, entrepreneur, as well as and international student. Finding the perfect PNP for you is similar to getting the right key for a deadbolt. When it tends to come to the needs of a particular labor market, the "right fit" will rely heavily on your situation as well as the knowledge and experience you can offer.
Depending on your specific scenarios, requirements, and your skills, you have a variety of options:
When you haven't received a real job offer
The Human Capital Priorities Stream of the Ontario Immigrant Nominee Program (OINP) is one of the most popular ones for someone without a job offer. In 2021, the stream has been assertively issuing invitations to immigration applicants in three Express Entry-linked categories. While a job offer isn't required, you must have an active Express Entry profile as well as work experience in order to be considered for this stream.
Another choice for international applicants without even a job offer is the Saskatchewan Immigrant Nominee Program (SINP). Two very effective streams exist in Saskatchewan's International Skilled Worker Category which does not require job offers. The first one is the Saskatchewan Express Entry-linked stream, which requires applicants to have an active profile within the federal Express Entry system.
The Saskatchewan Occupation In-Demand stream, on the other hand, does not have such a requirement. It helps bring skilled workers to Saskatchewan who can meet the province's labor needs. A candidate must have at least a year of professional experience in one of the Saskatchewan In-Demand Occupations List positions to be considered.
When you searching for medical professions
The Nova Scotia Nominee Program (NSNP) is one of the largest and most unique provincial nominee programs in the country. Candidates for Express Entry are chosen using four streams by the NSNP. The NSNP looks through the Express Entry pool for candidates who have worked in different professions. While the Labour Market Priorities for Physicians Stream necessitates applicants to have an offer of employment (specifically, as a health care professional from a Nova Scotia Health Authority), the Nova Scotia Demand, Nova Scotia Experience, as well as Nova Scotia Labour Market Priorities (other than Physicians), do not require such a job offer.
When you speak French fluently
Other PNPs that are considered for a francophone, as well as bilingual applicants, exist outside of Quebec's French-speaking region. The Ontario Immigrant Nominee Program OINP's French-Speaking Skilled Worker, which is linked to Express Entry, enables the province to hunt the Express Entry pool for applicants who are French-speaking skilled professionals with strong English language proficiency, among many other selection criteria. Over the last six months, the stream has generated nearly 700 interest updates.
When you specialize in tech niche
The provinces of Ontario as well as British Columbia run two of the most well-known PNP routes for tech workers. Within the Ontario Express Entry-linked Human Capital Priority Stream, solely devoted "Tech draws" are held on a regular basis. Individuals with professional experience in one of six assigned technology professions, such as software developers and web designers, are targeted in these draws. There is no requirement for a job offer. Meanwhile, on a nearly weekly basis, B.C.'s Tech Pilot selects immigration applicants to apply for a provincial nomination. The BC Skills Immigration Pathway is where this pilot takes place. The pilot requires that you have a job offer in one of the 29 assigned technology occupations.
When you have experience in that particular province or territory
Many PNPs have special streams for people who have lived in the province or territory before. Both the Skilled Worker in Manitoba as well as Skilled Worker Overseas streams of the Manitoba Provincial Nominee Program give preference to people who have been working and started studying in Manitoba. Individuals who learned or graduated from Manitoba post-secondary institutions can choose from three sub-streams within the International Education stream.
Final Thoughts
People who are serious about immigrating to Canada should look into all of the available programs and pathways. There are numerous options available to suit each person's unique situation and background. All you have to do now is sort out your priorities. You need to choose the right place to live, the right place to work, the right place to match your skill, the right place to match your cost affordability, and many more. As a result, use a variety of data points as well as variables to find the best option for 'you.' Professional immigration advice can be very helpful in this situation. The assistance of a Canada Immigration Consultants can help make the process of choosing the most appropriate Province for you a lot easier.
Would You Like to Migrate to Canada?
At Pelican Migration Consultants, our primary goal is to offer you all the necessary information you require to make the right decisions. We help you plan and manage your immigration to Canada and eventually lead a successful life in the country of your dreams. What's more, we don't make you spend a penny more or wait a day longer until and unless it is out of our control.
We provide professional one-to-one assistance ensuring you give your best in front of the Canada immigration Department. We help the clients in analyzing the clients' chances of being granted a visa, then preparing clients and giving feedback for VISA interviews, developing a customized immigration strategic plan for each client separately.  Assisting them with the completion of their immigration application areas and the paperwork required by making sure that the documents are being proofread by RCIC to ensure that they are error-free as well as accurate is also our responsibility to help you give your best. In conclusion, we try to help our clients with all aspects of Canadian immigration starting from the start. So, if you're ready to take the next step, why not contact us right away for a one-on-one consultation?