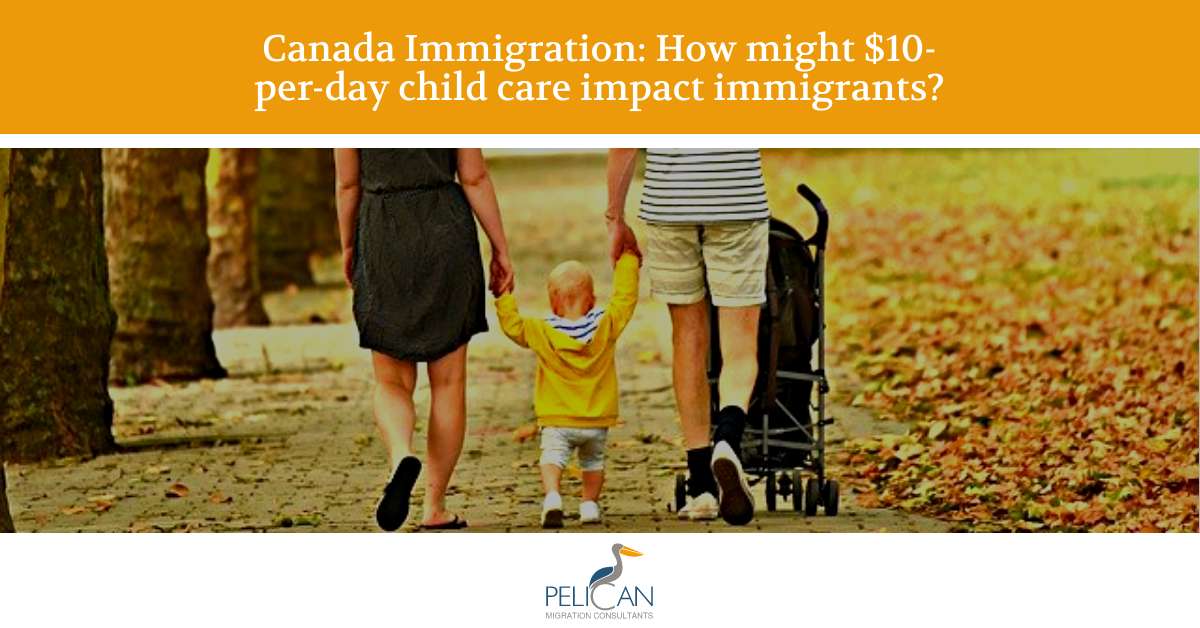 December 30, 2021
How might $10-per-day child care impact immigrants?
Justin Trudeau, Canada's Prime Minister, explained in April 2021 that within the next five years, daycare should cost an average of $10 per day throughout the country. According to the Prime Minister's office, the proposed program could lower daycare costs by 50% on average outside of Quebec by the end of 2022. As a result, newcomers are likely to benefit greatly from Canada's new daycare programme. Continue reading to learn more about the new policy.
What does the new policy imply and what actions are being taken?
The federal government has begun discussions with states and territories about implementing the change regarding early learning and child care systems since the official statement. The federal government has promised to invest $30 billion over the next five years as well as a minimum of $9.2 billion per annum after that in order to achieve this goal. So far, agreements have been reached with seven provinces and one territory. Part of the agreements entails determining how much funds the federal government will give each legal authority to make child care more available and affordable, as well as to support childcare services through education and training and wage increases. This initiative is intended to promote economic development and social wellbeing across the country.
Primary Goal of the new Policy:
This initiative's goal is to promote economic growth and social prosperity across the country. The Prime Minister's office stated at the time of the announcement that By investing in early learning as well as child care system, we will start making life more convenient for Canadian families, increase employment, grow the middle class, boost women's participation in the labour force, as well as drive robust revenue growth across the country.
What impact would $10-per-day child care have on immigrants?
This policy is expected to be a clear victory for parents across Canada, particularly those in vulnerable situations. Immigrants are among the people who are most likely to gain. Read on the following facts why Immigrants will be the most advantageous under the new policy:
Immigrants are more likely to arrive in Canada when they are younger than the average Canadian ages. As a result, they are more likely to have younger families and eventually get access to affordable child care - thus making the policy an utmost benefit for immigrants.
Immigrants, however unlike the average Canadian, may not even have existing relatives and friends to care for their children, and they may not already have a high sufficient income to avail daycare. Immigrant women are typically the ones who take the burden of this.
A shortage of affordable daycare options has been one of the reasons youngster women may face challenges to integrate socially and economically in Canada. For example, in Toronto, which is Canada's most popular destination for newcomers, the monthly average toddler fee is $1,600, or more than $3,000 per month for a typical family with two children - which can be extremely devastating for new immigrants to afford.
In the absence of more cost-effective alternatives, newcomer mothers may feel compelled to stay at home to care for their children. This limits their ability to pursue their Canadian careers seriously, as well as build the social networks that are necessary for feeling at home in Canada. It's unsurprising that newcomer women have expressed feelings of isolation during their early years in Canada, owing to their toddler-care responsibilities.
As a result, it's very likely that the $10-per-day child care programme will allow more immigrant families, especially women to pursue their careers freely without suffering the burden of management of daycare fees. This would increase immigrant families' purchasing power by allowing them to expect more income when seeing their child care costs dropping significantly.
The programme should also help immigrant women integrate socially since the workplace is also important for forming social networks, and it will be a blessing to a Canadian labour market that will see all of its 9 million baby boomer generation retire throughout the next decade.
Another presumably major benefit is that newcomer children will now have better social and educational outcomes because they will have access to more educational experiences and prospects to make new friends.
Arguments stated by government in favour of the new policy
Budget 2021 cited a few research studies and examples to support the new programme. Women's labour participation rate in Quebec had been four percentage points smaller than the average of Canada in 1997, but it is now 4 percentage points higher than the national average after that the province implemented its own affordably priced child care system. Furthermore, the Budget cited a TD Economics study that found that every $1 invested in early childhood education returns between $1.50 and $2.80 to the overall economy. These findings should give newcomers as well as parents across Canada reason to be optimistic towards the $10-per-day child care Policy.
Would You Like to Migrate to Canada?
At Pelican Migration Consultants, our primary goal is to offer you all the necessary information you require to make the right decisions. We help you plan and manage your immigration to Canada and eventually lead a successful life in the country of your dreams. What's more, we don't make you spend a penny more or wait a day longer until and unless it is out of our control.
Because of the continuously changing immigration standards and regulations, which are hard to interpret and pursue, it is best to contact Canada Immigration Consultants who can assist and guide you throughout the process. We provide professional one-to-one assistance ensuring you give your best in front of the Canada immigration Department. We help the clients in analysing the clients' chances of being granted a visa, then preparing clients and giving feedback for VISA interviews, developing a customised immigration strategic plan for each client separately.