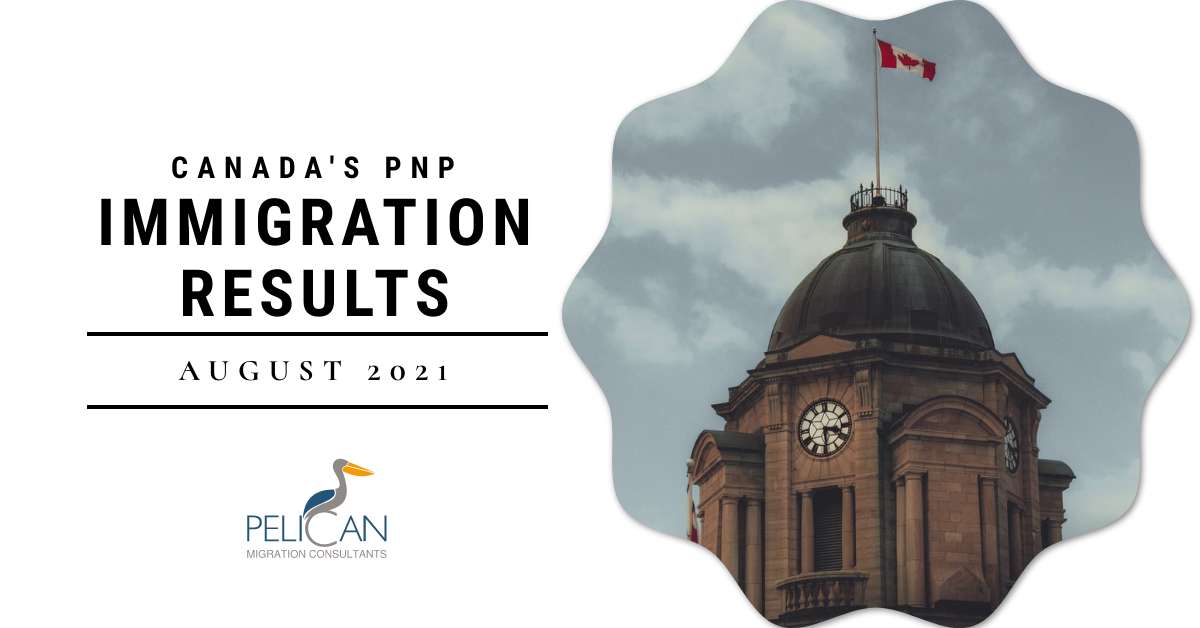 November 29, 2021
An overview of Canada's PNP immigration results for August 2021
The PNP immigration program was established in 1998 to assist provinces and territories in welcoming immigrants who would also fill specific labor needs. In recent years, the PNP has become the quickest developing immigration pathway to permanent residency in Canada. This emphasizes the significance of PNP in Canada's immigration policies. August results were recently declared for the PNP Program. Read on to know more about PNP immigration results for August 2021 for different provinces.
What is the Provincial Nominee Program(PNP)?
The Provincial Nominee Program or PNP allows Canadian provinces to nominate or invite applicants who are looking to migrate to Canada or planning to settle in a particular province in Canada. The invited skilled workers are encouraged to settle and migrate to meet the growing demands of the economic needs of the province as per its agreement with the College of Immigration and Citizenship Consultants (CICC).
If you receive a provincial nomination, your proposal for a Canadian immigration visa will indeed be processed quickly, as well as your possibilities of obtaining a permanent residence visa will increase dramatically. Because of the direct nomination from either province, the process can be completed in less than six months. PNP provides a plethora of job opportunities because nominations are only granted when there is a request or requirement for a specific profile.
Types of Provincial Nominee Program(PNP)?
The Two Types of Provincial Nominee Program(PNP) are as follows:
Because base nomination streams are administered by the provinces, they operate independently of the Express Entry system. Specific PNP streams and processing requirements apply to these categories of nominations. Candidates must go through two phases to move from a successful base nomination to permanent residency. Candidates must first decide whether they satisfy the requirements for a PNP pathway, then apply and, if accepted, receive a nomination certificate. They will be able to seek permanent resident status with the federal government once they get this certificate.
Enhanced nomination streams
But on the other hand, enhanced nomination streams are linked to the Express Entry system. They enable provincial immigration officers to search the Express Entry set of candidates for primary applicants who meet certain requirements. These individuals are then invited to apply for a provincial nominee program by the provinces. The Federal Skilled Worker Program, the Federal Skilled Trades Program, and the Canadian Experience Class all use the Express Entry platform to handle the number of candidates for Canada's three main federal-level economic immigration programs.
August 2021 PNP-Focused Express Entry highlights
Except for Quebec and Nunavut, almost every Canadian province and territory has its own Provincial Nominee Program (PNP). Each province sets its own standards for determining which foreign employees are eligible for permanent residence in Canada under its own PNP. During the month of August, the Provincial Nominee Programs (PNP) of Canada issued nearly 3,400 invitations to register for provincial nomination.
At least one PNP stream in just about all participating provinces and territories is integrated with the federal Express Entry system, which is Canada's primary source of economic immigrants. IRCC has held PNP-specific Express Entry draws every 2 weeks on average yet in 2021. Similarly,  IRCC held two Express Entry drawings in August, addressing PNP candidates, granting 512 ITAs on August 4 as well as 463 on August 18. Despite the fact that the number of Express Entry invites granted this month was lower than in June and July, the quantity of invitations granted through Express Entry is at historic highs. This year, the IRCC has granted over 100,000 ITAs.
Saskatchewan
Saskatchewan has one of the fastest-growing economies and demographics in the country, primarily due to the influx of immigrants from all over the world. Agriculture and key natural resource sectors such as forestry and fisheries are the mainstays of the country's economy. It is one of the most popular newcomer attractions in Canada. The Saskatchewan Immigrant Nominee Program (SINP) issued four invitation sessions in August, issuing 948 invites to apply for the provincial nomination through the Express Entry and Occupations In-Demand sub-categories of the International Skilled Worker Category. This is much higher than the province's 575 invitations in July.
British Columbia
The British Columbia Express Entry (EEBC) stream enables qualified applicants to have their BC Provincial Nominee Program (BC PNP) request and, if accepted, their permanent residence application processed first. More than 900 people have been invited to apply for a provincial nomination through the Express Entry British Columbia, Skills Immigration streams in the last month. For Skilled Workers (including Health Care Professionals), International Post Graduates, List of Eligible Programs of Study, as well as International Graduates, potential Express Entry candidates must meet minimal provincial eligibility standards.
Ontario
Through the Ontario Immigrant Nominee Program, the province performed five draws this month.
On August 6, the province made the first draw, issuing two invites to submit under the Employer Job Offer: Foreign Worker and Employer job offer: International Student streams.
The province held its second draw under its new admission mechanism on August 11 as well as invited 48 immigrants. Candidates have to be eligible for the positions and have work offers in the targeted industries.
Ontario launched its first round of invites for the Master's Graduate and Ph.D. Graduate courses on August 18, 2021. The province invited 479 international student grads to apply for a provincial position in two drawings. More precisely, Ontario invited 402 candidates with EOI scores of 17 or over to apply for the Master's Graduate stream as well as 77 candidates with EOI scores of 17 or above to apply for the Ph.D. Graduate stream.
Ontario conducted a second Masters Graduate program draw on August 25, inviting 326 candidates with a minimum score of 37.
Finally, on August 26, the OINP issued 20 invites to candidates with scores ranging from 142 to 200 through its Entrepreneur Stream.
In total, 875 immigrants were invited to seek provincial nomination by the province of Ontario.
Alberta
Alberta is an affluent province with abundant natural resources plus natural beauty. Alberta is the most populated of the country's three 'Prairie provinces,' and therefore is home to two of the country's biggest cities, Calgary and Edmonton. The Alberta Immigrant Nominee Program (AINP) allows the province to welcome immigrants who have the necessary combination of skills and expertise. The Express Entry Stream of the Alberta Immigrant Nominee Program (AINP) attracted the largest number of applicants ever in August. The draw took place on August 23, and 450 candidates having CRS scores of at least 300 were invited. On August 10 and August 30, there were two more AINP draws.
Manitoba
In August, the province of Manitoba held a draw with three streams: Skilled Workers in Manitoba, International Education Stream, as well as Skilled Workers Overseas. On August 12, 275 Letters of Advice to Apply had been issued, with 36 of them going to individuals who claimed a valid Express Entry profile.
Prince Edward Island
The province of Prince Edward Island is known as "Canada's birthplace." In 1864, the province of PEI hosted the "Charlottetown conference," which resulted in the formation of the country. Not only is the island province known for its rich farmland and gorgeous coastlines, but it also has a thriving economy based on agriculture, tourism, and fishing. Prince Edward Island (PEI) is Canada's smallest province, consisting of the island and numerous nearby isles.
Prince Edward Island's Provincial Nominee Program is used for inviting. Prospective immigrants with the skills and experience sought by the province may be eligible for a Prince Edward Island Provincial Nomination Certificate, following which they can apply to the Government of Canada for permanent residence in Canada. On August 19, Prince Edward Island performed a pre-scheduled draw as well as granted a total of 161 invitations to immigration applicants. Express Entry and Labour Impact applicants received the majority of the invites (152). The remaining nine invites were given to Business Impact candidates who scored at least 75 points.
So, these were the highlights of the August Provincial Nominee Program 2021.
Would You Like to Migrate to Canada via PNP?
Migrating to Canada may appear simple, but the procedure is not as simple as it appears. It is always best to contact a Canada Immigration Consultant who can assist and guide you.
At Pelican Migration Consultants, we offer our applicants a high chance of success through our simplified process. All of our immigration cases are handled by qualified and intelligent immigration professionals so that you can rely on us. In addition, our consultants are licensed and have extensive knowledge of the Canadian immigration process. So, if you're ready to take the next step, why not contact us right away for a one-on-one consultation?