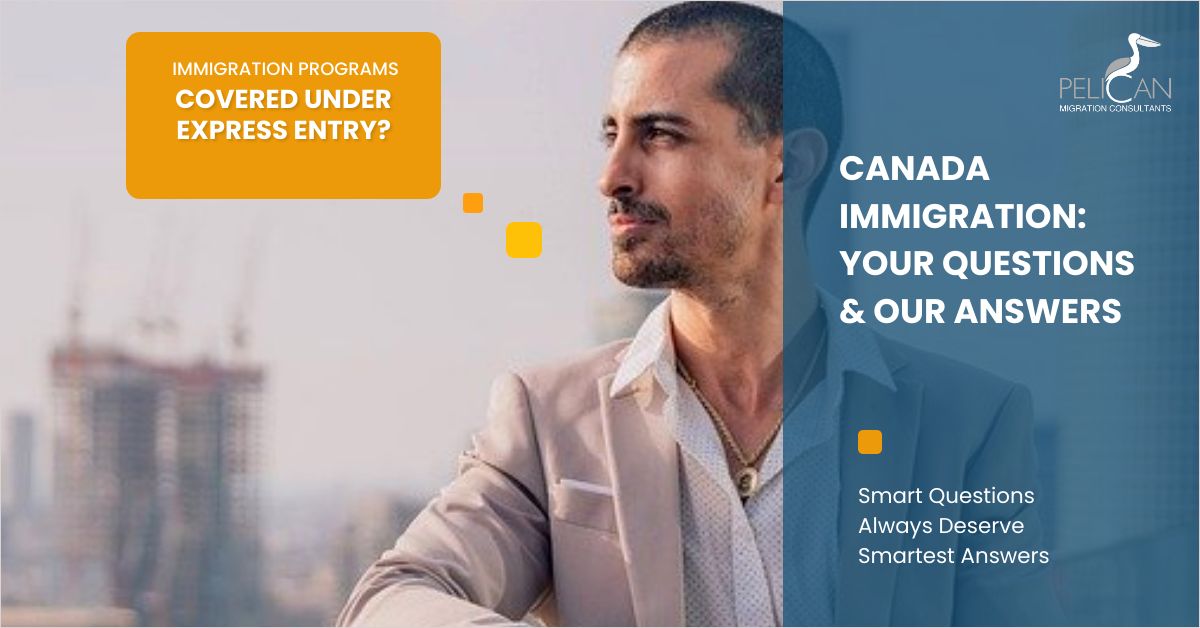 November 11, 2022
Which Immigration Programs Are Covered Under Express Entry?
Express Entry is the fastest means of entering Canada. However, this does not necessarily indicate that anyone can use Express Entry to submit an immigration application to Canada. If necessary, this information will assist you in deciding whether Express Entry is the best route for you to immigrate to Canada with your family.
In just a few months, people and families from all around the world can immigrate to Canada using the Express Entry immigration screening process. Since its initial implementation in 2015, Express Entry has become one of the most commonly used immigration systems globally and the primary channel for skilled worker immigration to Canada. Let's look into the immigration programs covered under Express Entry.
Programs under Express Entry
The Express Entry Canada Program enables qualified workers to immigrate to Canada, where they can work while pursuing citizenship. The Canadian government created four distinct programs within Express Entry since there are varying degrees of qualified employees. These initiatives are also referred to as "economic immigration schemes" since they draw in skilled workers who help Canada's economy grow and prosper.  The following are these programs:
Federal Skilled Worker Program (FSWP)
Federal Skilled Trades Program (FSTP)
Canadian Experience Class Program (CEC)
Provincial Nominee Program (PNP)
The requirements for participation in the programs vary. Their main variations are in language ability, a suitable profession, and work history.
Federal Skilled Worker Program (FSWP)
The Federal Skilled Worker Program allows anyone with a degree who has already worked abroad to apply for admission to Canada (FSWP). It calls for having a managerial job, a professional post requiring a university degree, a technical position requiring a college diploma or experience, and high-level language proficiency in either English or French (Level 7). Last but not least, you must have spent a full year working in the pertinent industry within the past ten years.
Federal Skilled Trades Program (FSTP)
The Federal Skilled Trades Program (FSTP) was developed for outstanding individuals in specialized trades who have prior international work experience. It is a technical position that calls for a college degree or apprenticeship in addition to two years of recent work experience. It calls for either Level 5 or Level 4 proficiency in either French or English. A real job offer from a Canadian company and proof of a high level of expertise in their industry are other requirements for applicants.
Canadian Experience Class Program (CEC)
Those with past Canadian work experience are eligible for the Canadian Experience Class (CEC). They must work in administration, the arts, sciences, or technological professions, and they must have Levels 5 or 7 proficiency in either English or French. Additionally, they must have spent the preceding three years working in Canada for one year.
Provincial Nominee Program (PNP)
The Provincial Nominee Program (PNP) was created so that the Canadian provinces could nominate and select particularly skilled people who met their needs. The candidate must reside and work in the province that sponsored and nominated them once they have been invited to apply. For the program, which is run by the provinces, only online applications filed through the Express Entry website are accepted.
What are the requirements of the Canada Express Entry Program?
If you've chosen to use the Express Entry Program to apply for immigration to Canada, you must meet the conditions. The Provincial Nominee Program (PNP) has additional qualifications that are particular to each province, in addition to the requirements that each of the first three programs has.
Nationality
Age
Language proficiency
Education
Work experience
Family members
Details on a Canadian job offer
Creating an Express Entry profile
Those who qualify must add a profile to the pool of applicants. An expression of interest is made using the Express Entry profile (EOI). The pool of candidates will be rated against one another, and eligible candidates will automatically earn a score based on their profile.
The Comprehensive Ranking System (CRS) is the foundation for Express Entry's ranking, which is based on 1200 points. By working to raise their CRS score, candidates can move up the ranks. The likelihood that a candidate will receive an Express Entry Invitation to Apply increases with their CRS score (ITA),
In Express Entry drawings, a cutoff point based on the CRS score is applied. Its goal is to forecast a candidate's chances of achieving economic success in Canada. It rates candidates according to a variety of criteria, including their educational and professional backgrounds, language proficiency, and whether or not they have already been nominated by a Canadian province or obtained a qualifying job offer.
Candidates for Express Entry may be eligible for additional points if they have a legitimate work offer from a Canadian employer, have been nominated by a province, or meet certain other requirements.
Would you like to migrate to Canada?
Given that immigration requirements and laws are constantly changing, it is best to get in touch with Canadian Immigration Consultants who can assist and guide you through the process. At Pelican Migration Consultants, our major goal is to arm you with the information you need to make the best choices. In order to eventually live a prosperous life in the country of your choosing, we are authorized immigration consultants in Dubai who can help you organize your immigration to Canada.
To ensure that you give the Canada immigration department's interviewers your best effort, we provide specialist one-on-one support. In addition to helping customers prepare for and receive feedback from VISA interviews, we also help clients by estimating their chances of being granted a visa and by helping each client create a unique immigration strategy plan. Best wishes!