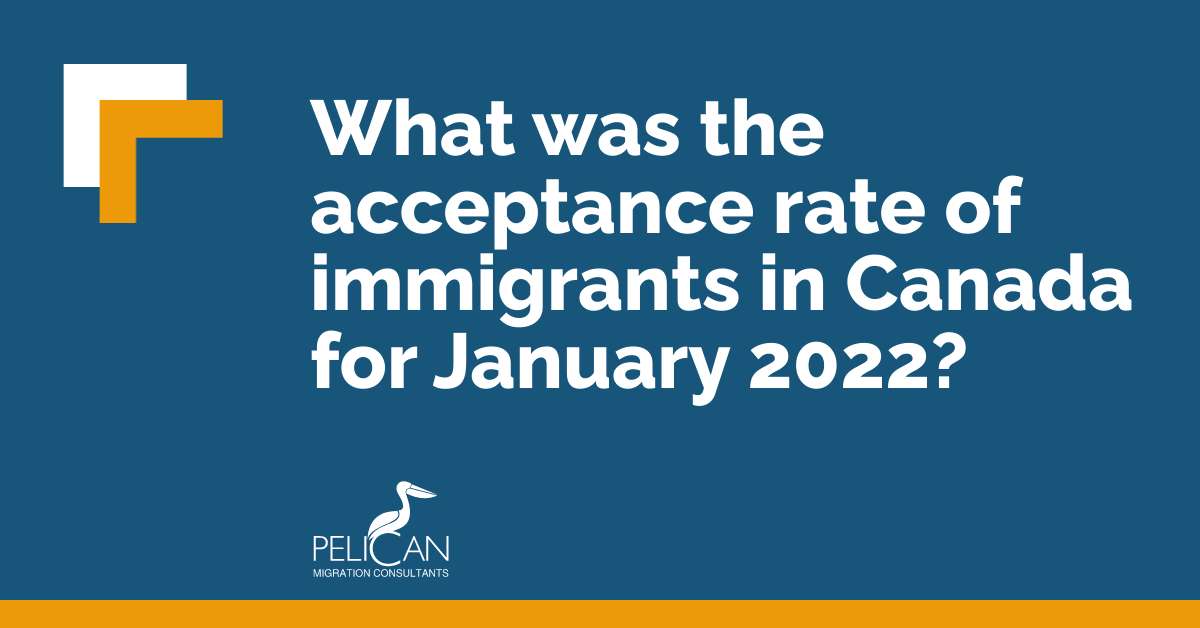 April 14, 2022
What was the acceptance rate of immigrants in Canada for January 2022?
According to new CICC data, Canada is off to a solid start to this year's target of over 400,000 new immigrants. According to the latest figures, the number of immigrants as permanent residents welcomed by Canada in January 2022 has been revealed. Read on to know more about the related facts and figures.
Canada is aiming for roughly 432,000 new immigrant entries this year, according to its revised Immigration Levels Plan 2022-2024, which was published last month. This would be the largest number in history. Last year, Canada welcomed nearly 405,000 newcomers, mostly by converting temporary residents to permanent residents. It was a record-breaking year for Canada, with over 400,000 immigrants arriving for the first time since 1913.
What was the categorization percentage?
According to the latest figures, Canada welcomed 35,260 new permanent residents in January 2022.
The economic class accounted for 65 percent of new permanent resident arrivals, which is greater than the 56 percent projections made by the levels plan.
The percentage of people who fall into the family class is 20%, which is lower than the aim of 24% set by the plan.
The other 15% of landings were in the refugee and humanitarian category, which is less than the 20% level plan aim for this year.
With over 7,700 immigrants, the Canadian Experience Class (CEC) remains the most popular program for new economic class arrivals. Last year, the CICC leaned heavily on the CEC to meet its immigration targets, with the CEC accounting for around one-third of all new admissions.
With nearly 7,000 immigrants arriving in January, the Temporary Resident to Permanent Resident ("TR2PR") Program, which was open to international graduates as well as essential employees between May and November 2021, was the second most popular economic class admissions program.
With 4,200 immigrants boarding, the Provincial Nominee Program placed third in the economic class, led by the Federal Skilled Worker Program (FSWP), which had nearly 2,600 landings.
Faster reviewing of FSWP applications than before.
According to CICC data, the department is reviewing FSWP applications at a faster rate than before. This is significant since, between 1967 to the outbreak of the pandemic, the FSWP was Canada's most popular economic-class immigration programme. CICC reduced FSWP procedures last year in order to convert as many overseas students, temporary foreign workers, as well as other temporary residents as possible to permanent residence in order to meet its 2021 levels plan target. The reasoning for this decision was that it would be considerably more difficult for CICC to meet its level plan target if it attempted to accept significant numbers of FSWP and many other immigrants overseas while dealing with the pandemic's operational issues.
However, CICC appears to have changed its tune, since more FSWP applications have been processed in recent months. Between December and the end of February, it processed nearly 9,000 persons under the FSWP, far more than the median of 600 people it processed for most of 2021. This is one evidence that the CICC is starting to normalise its operations, which requires establishing a balance amongst processing immigration petitions from within Canada and those from outside the country.
Distinct Canada's immigration landings in different quarters
The January 2022 immigrant admissions data are noteworthy because they are expected to be the lowest point in the monthly arrivals that Canada can anticipate in 2022. Prior to the outbreak, Canada's immigration landings were normally lower in the first and fourth quarters of each year due to the winter weather and the winter holiday period. In the warmer spring and early summer of Q2 and Q4, arrivals would increase by roughly 40%.
We can expect a higher immigration landing in Q2 and Q3 of this year, given that CICC is accessing more applicants from abroad; however, the scope of the growth may not be quite as high as 40%, because CICC still does have several in-Canada permanent residence application forms to process, such as under the TR2PR program.
Unlike last year, when there were substantial COVID-19 operational obstacles such as Canada's travel limitations and global difficulties, there is less question that Canada will be able to meet its immigration targets in 2022. The CICC has demonstrated that it can process even more permanent residency applications than it did before the pandemic. So, what are you waiting for? Let us help you through your immigration process.
Would You Like to Migrate to Canada in 2022?
Because of the continuously changing immigration standards and regulations, it is best to contact Canada Immigration Consultants who can assist and guide you throughout the process. As the best Canada Immigration Consultants in Dubai, our primary goal is to offer you all the necessary information you require to make the right decisions. We are a licensed consultant to help you plan and manage your immigration to Canada and eventually lead a successful life in the country of your dreams. What's more, we don't make you spend a penny more or wait a day longer until and unless it is out of our control.
We provide professional one-to-one assistance ensuring you give your best in front of the Canada immigration Department. We help the clients by analyzing the clients' chances of being granted a visa, then preparing clients and giving feedback for VISA interviews, and developing a customized immigration strategic plan for each client separately. Best Wishes!