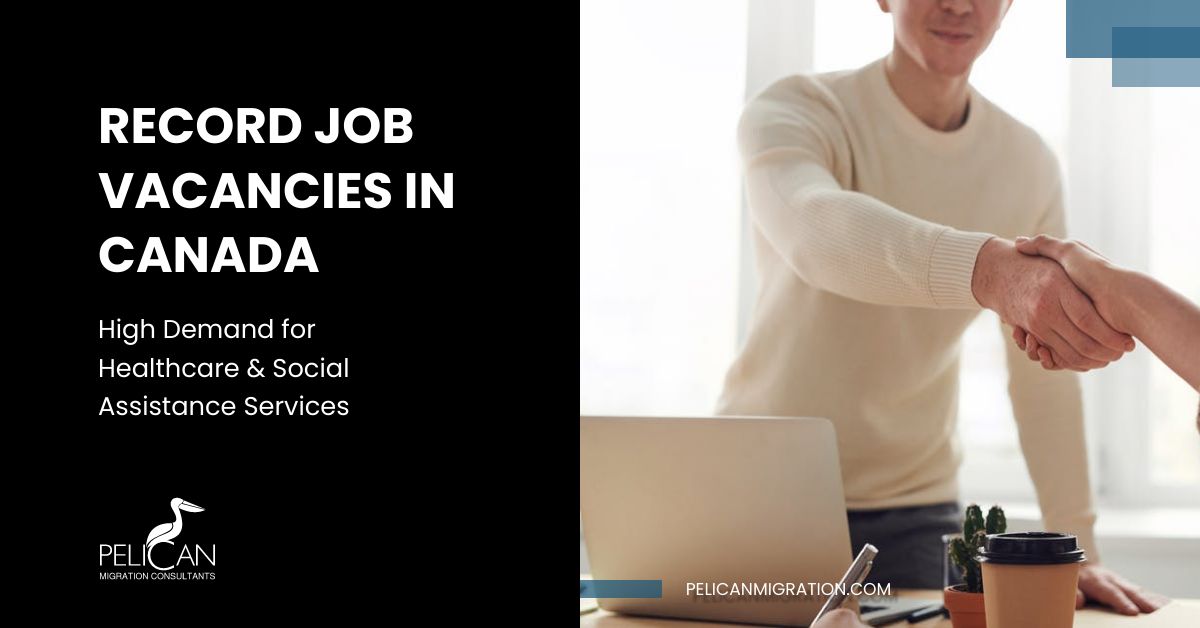 December 6, 2022
Job vacancies reach record high in healthcare and social assistance sectors in Canada
As the baby boomer population matures, there will be an increase in demand for healthcare and social assistance services in the future years. Statistics Canada has released its August 2022 report on payroll employment, wages and hours, and job openings.
This report counts the number of employees in Canada's labor force who are paid, how much they earn, and how many hours they work. The report also keeps track of employment vacancies, which are positions that were formerly filled by an employee but are now vacant for any reason.
In August of last year, there were 958,500 open payroll positions in Canada. Overall, the survey discovered minimal change from the July statistics, but a significant change from August 2021, when there were 919,200 job vacancies.
Healthcare has a record number of job openings
According to the research, healthcare employment vacancies have reached an all-time high. There are 152,000 open posts in the healthcare and social support industry as of August 2022. This represents a 0.4% increase over the June and July numbers, for a total of 6.4%.
Because of a shortage of available staff, some hospitals have had to temporarily close their emergency departments or restrict other services. Canada heavily relies on immigration to fill openings in the healthcare system. In Canada, 36% of doctors and 25% of registered nurses are foreign-born. However, it could be challenging for medical experts with foreign training to gain the necessary licensing from Canadian authorities, making it challenging, if not impossible, for them to find employment in their sector and alleviate pressure on the healthcare system.
Immigration, Refugees, and Citizenship Canada (IRCC) is actively taking steps to make it easier for foreign-trained healthcare workers to immigrate, such as reducing some of the restrictions for physicians already in Canada on temporary residency visas.
Professional, scientific, and technical services generate more payroll jobs.
Payroll employment in the professional, scientific, and technological services sectors has slightly increased. In August, total payroll employment in this industry increased by 5,200, or 0.4%. British Columbia and Ontario saw the greatest increases, while Alberta and Quebec filled over 500 positions each.
The computer systems design and related services and management, scientific and technical consulting services industries witnessed the most substantial employment growth, with a rise of 1,200 jobs. Computer system design, in particular, has exceeded the overall industry growth rate, with a 65,900 rise in job openings since September 2021.
In August, the number of job opportunities declined to 59,600, which is comparable to figures from the same month last year.
Wages are rising, but not at the same rate as the CPI
Wage growth in August 2021 was 3.2%, slightly higher than the 3% increase in July. Changes in income, employment mix, and hours worked can all have an impact on the rate of growth. In this scenario, whether calculated monthly or year over year, there was little change in the number of hours worked across all industries.
The consumer price index (CPI) climbed at a pace of 7% during the same time period, which was more than 50% faster than the average rate of wage growth. This indicates that the cost of goods and services is exceeding the average Canadian income. The highest wage growth was seen in the services industry. Finance and insurance jobs, for example, increased by 13.9% year on year, while management jobs increased by 10.5%.
Wage growth in the goods-producing and service-products industries was also above 3%. Examples include manufacturing, mining, oil and gas extraction, and, with slower growth, logging, construction, and forestry. Since August 2021, healthcare wages have increased at a slower rate of 0.9%. Salaries in educational services were down 2.4%, while wages in information and cultural services were down 1.1%.
The healthcare sector is expected to see the greatest growth in demand for services, with an aging population and an increasing prevalence of chronic diseases. The social assistance sector is also expected to see significant growth, as the number of people living in poverty and needing assistance continues to grow. With such high demand for healthcare and social assistance services, there will be plenty of opportunities for job seekers in these sectors.
If you're considering a career in healthcare or social assistance, now is the time to start planning your path. There are many different roles to choose from, and with the right training and experience, you can find a rewarding career that fits your interests and skills.
Would you love to immigrate to Canada?
At Pelican Migration Consultants, our main goal is to arm you with the information you need to make the best choice. To finally live a rich life in your chosen country, we help you manage your immigration to Canada. To ensure that you do your best in front of the Canadian Immigration Department, we provide one-on-one assistance. We help clients by evaluating their opportunities to get a visa, helping them prepare and get feedback from visa interviews, and making special immigration strategic plans for each client. We assist the clients in the following ways, among others:
Estimating the clients' likelihood of receiving a visa
If required, preparing clients for VISA interviews
Creating a client-specific immigration strategic plan
Offering clients a new viewpoint on immigration choices
Helping customers complete the necessary forms and documents for their immigration applications.
Due to our streamlined application process, we give our applicants a good chance of success. You may rely on us because all of our immigration cases are handled by knowledgeable and skilled immigration consultants. Our experts also have a considerable understanding of the Canadian immigration procedure and are licensed. So, if you're prepared to move forward, why not get in touch with us right away to schedule a private consultation?