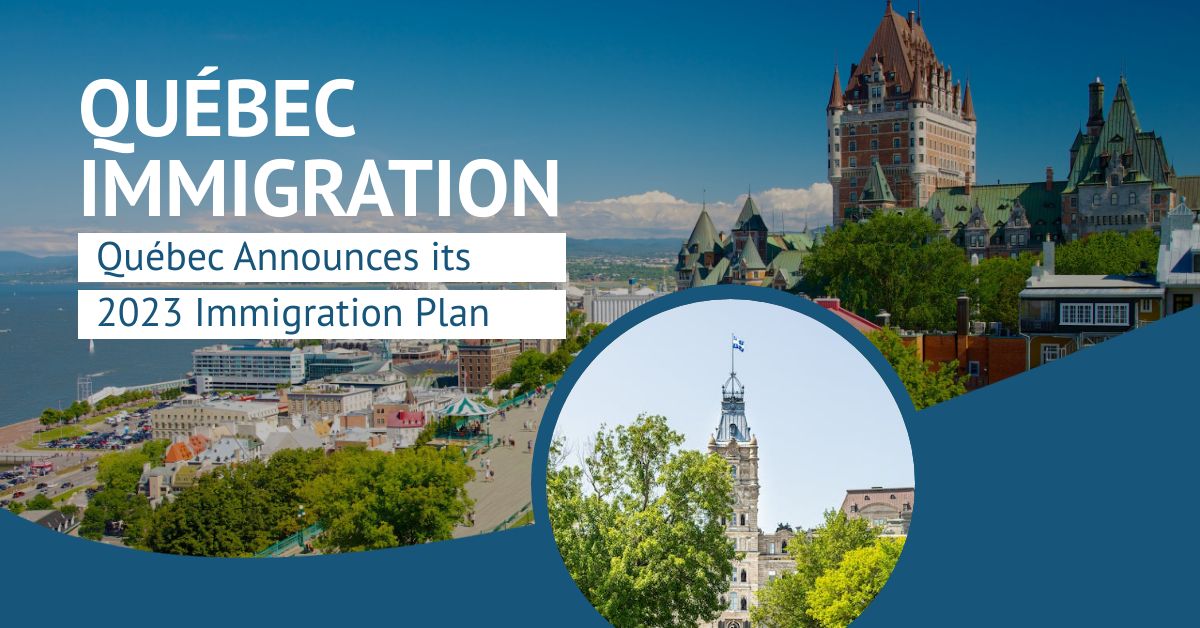 December 15, 2022
Québec Announces its 2023 Immigration Plan
According to the province's 2023 immigration plan, which was unveiled on December 8th, up to 52,500 new permanent residents could be admitted in that year. The immigration policy for 2022 has the same objective, which calls for welcoming 50,000 to 53,000 new permanent residents to Quebec each year. This strategy aims to give priority to the choice of immigrants who will contribute the most to the province, acknowledging the significance of immigration for Quebec's economy and society. The province is also instructed in the plan to make sure that immigrants have access to the social resources, employment help, and language training they require in order to successfully integrate into Quebec's communities.
The majority of new admissions to the province in 2023 will come via economic immigration programs for the province, like the Quebec Skilled Worker Program (QSWP) and the Québec Experience Program (PEQ). The revised strategy maintains the objectives established during the public consultation held as part of the Quebec Immigration Planning for the years 2020–2022, which took place in the summer of 2019.
With a maximum goal of 33,900, the economic category makes up the majority of newcomers, accounting for about 65% of planned admissions. Under this category, the province anticipates receiving up to 29,500 qualified workers and up to 4,300 business immigrants, including investors, entrepreneurs, and independent contractors.
It is predicted that various immigration programs for refugees, family reunification, and other groups would bring in the remaining 18,100 new permanent residents. Each year, the Quebec Immigration Department releases its immigration plan. In the upcoming year, the province expects to accept a certain number of new permanent residents, and the paper details the categories in which they will be admitted. Goals for the following year are merely part of the plans that have been made public thus far. Nevertheless, a 2023 survey will take place before the province drafts a multi-year plan that will begin in 2024.
Emphasis on French-speaking immigrants
The 2023 plan is still relatively similar to the 2022 plan as the Coalition Avenir Québec (CAQ) was successfully re-elected as the nation's ruling party earlier this year with a large majority. François Legault, the current premier, directed the development of the 2022 plan, which planned to gradually increase the number of newcomers after decreasing admission targets in 2019. That year, the CAQ instituted a 20% cutoff to improve the selection and francization of arrivals to Quebec.
Protecting the French language in Quebec is one of the CAQ party's core principles, and the new strategy emphasizes choosing immigrants who are fluent in French. In 2023, 79% of economic immigrants and 66% of immigrants from all other categories, according to the Ministry of Immigration, Francization, and Integration, will be able to speak French.
The subject of immigration in Quebec drew a lot of attention during this year's provincial election. While in office, Legault pledged to establish a 50,000-person yearly restriction on immigration to Quebec. According to him, given the difficulties in integrating newcomers into society, particularly those who must acquire French, this is the maximum number of immigrants Quebec can support.
Quebec has a unique immigration system
Quebec is the only Canadian province that releases an annual immigration plan. It is also the only province in the country with complete control over economic migrant admissions.
Quebec has more authority over its immigration processes, in part because it established its own immigration ministry in 1968. The province fought for more control over immigration for more than 20 years, until the Quebec-Canada Accord granted the province the ability to set its own admission targets in 1991, more than 20 years later.
Nonetheless, while Quebec picks the skilled workers it desires to accept, immigration remains a joint federal-provincial responsibility, with Visa, Refugees, and Citizenship Canada (IRCC) having the last say on all admissions, regardless of immigration category.
How to immigrate to Quebec
Both the provincial and federal governments must provide permission to everyone who wants to immigrate to Quebec. Candidates must immediately apply to Quebec through one of the province's immigration programs. Quebec selects talented immigrants in accordance with its own criteria and procedures.
A Certificat de sélection du Québec will be given to the candidate and any accompanying family members who satisfy the program's requirements and are chosen by Quebec (CSQ). The Ministry of Immigration, Francisation, and Integration of Quebec is the organization responsible for issuing this paper.
Once an applicant has received a CSQ, they must apply to IRCC for permanent residence and pass the required security, medical, and criminal background investigations.
Would you love to migrate to Canada?
At Pelican Migration Consultants, our main goal is to arm you with the information you need to make the best choice. To finally live a rich life in your chosen country, we help you manage your immigration to Canada. To ensure that you have the best chances to migrate, we provide one-on-one assistance. We help clients by evaluating their opportunities to get a visa, helping them prepare and get feedback from visa interviews, and making special immigration strategic plans for each client. We assist the clients in the following ways, among others:
Estimating the clients' likelihood of receiving a visa
If required, preparing clients for VISA interviews
Creating a client-specific immigration strategic plan
Offering clients a new viewpoint on immigration choices
Helping customers complete the necessary forms and documents for their immigration applications.
Due to our streamlined application process, we give our applicants a good chance of success. You may rely on us because all of our immigration cases are handled by knowledgeable and skilled immigration consultants. Our experts also have a considerable understanding of the Canadian immigration procedure and are licensed. So, if you're prepared to move forward, why not get in touch with us right away to schedule a private consultation?