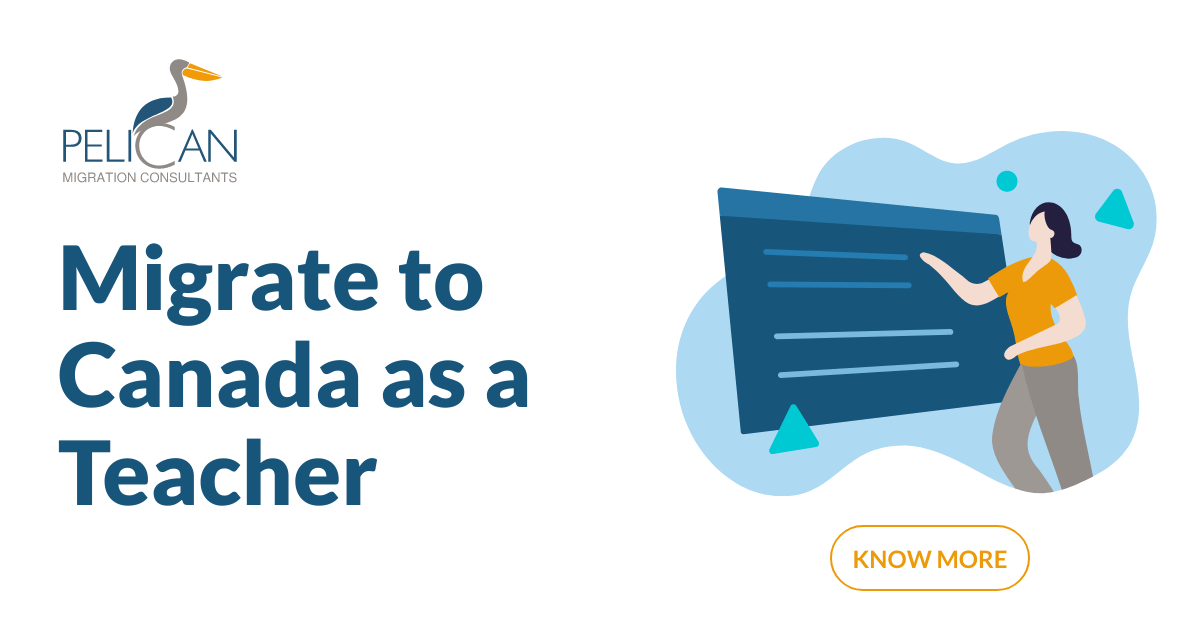 August 10, 2021
Migrate To Canada As A Teacher: Your Mini Guide
Do you plan to migrate to Canada as a teacher? If yes, you should know that there are a lot of things to consider when making this relocation and career move.
Every province in Canada puts forth different rules regarding teacher certification. So, you will have to get familiar with them before you look for an open teaching role within the country.
If you are an experienced teacher and wish to permanently move to Canada, then this article will help you realize your Canadian dream.
What are the Benefits of Working as a Teacher in Canada?
Teachers get to enjoy a wide array of benefits in Canada, regardless of whether they hail from a foreign country or not. One of the primary benefits is the universal healthcare system, which won't cost you anything. Then there are also employment benefits which include the following:
Paid Maternity and Parental Benefits – up to 55 percent of your earnings for up to 15 weeks, paired with extended parental benefits.
Sickness Benefits – Up to 55 percent of your earnings for up to 15 weeks if you can't work due to medical reasons.
Caregiver Benefits – Up to 35 weeks payable
Nonetheless, keep in mind that these benefits will vary from province to province and whether you are working as a full-time or part-time teacher.
How Much Are Teachers Paid in Canada?
Teaching can be thought of as a noble profession that is vital for the growth and development of society. Regardless of whether you are a primary school teacher, high school teacher, or a college professor, your services are in high demand across Canada. So, it is no wonder that the country highly values its education system and provides free education to its citizens and permanent residents. Therefore, you can be sure you can take home a massive salary for the services you provide.
What's more, Business Insider reports Canada as one of the top ten countries in the world for best paid elementary teaching jobs. The national average salaries for high school teachers in Canada range around $68,894. However, you can earn higher or lower depending on the province of your choice.
For instance, the average salary for high school teachers in Alberta is $70,098. On the contrary, it is $53,031 in British Columbia and $66,250 in New Brunswick.
How to Migrate to Canada as a Teacher?
There are various pathways through which you can migrate to Canada as a teacher. This also means, choosing the right program that fits your requirements and qualifications can be challenging. Here are the four best routes listed below that will help you ensure you have the best chances of living and working in Canada.
Express Entry Program
Provincial Nominee Program (PNP)
Atlantic Immigration Pilot (AIP)
Rural and Northern Immigration Pilot (RNIP)
Migrating to Canada is probably a huge life decision. Hence, it is essential that you don't take it lightly. When choosing a province or territory to move into, you will have to consider various factors like the cost of living, healthcare requirements, affordability, and more. Furthermore, by opting for a province or territory with higher job availability, you can be sure that you stand a higher chance of securing a job in Canada. What's better, you might even be able to secure an Invitation to Apply (ITA) for permanent residence in the province of your choice.
Elementary school teachers are in high demand in Canada. For this reason, the job role has been included in the targeted occupation list known as the NOC List (National Occupation Code List). The code for elementary school teachers on the NOC is 4032. Now, this might be great news for those qualified elementary school teachers across the world who dreams of living and working in Canada.
What are the Minimum Requirements for the Various Teaching Professions in Canada?
Early Childhood Educators – You should ideally hold a bachelor's degree in child development or have completed a 2–4-year college program in early childhood education. Assistants should have completed high school and possess some experience in childcare. They must have also completed an early childhood assistant certificate or post-secondary course in early childhood education.
Elementary and Kindergarten Teachers – Like with the previous job role, you must hold a bachelor's degree in education and child development. Additionally, training in special education and a provincial certificate can give you added advantages.
Academic or Secondary Teachers – Typically, you should have completed a bachelor's degree in education and arts or sciences to be eligible for this job role.
College and Vocational Instructors – This occupation demands a bachelor's, master's, or college diploma in your area of expertise. A qualification in adult education, such as a certificate, diploma, or degree, will give you an edge over other applicants.
University Professors – You must hold a doctorate or master's degree in your area of specialization to qualify for this occupation.
What Documents are Required to Migrate to Canada as a Teacher?
Migrating to Canada as a teacher will take both time and effort. You will start by preparing all the necessary documents, especially your academic certificated, which must be up to Canadian standards. If you completed your education outside Canada, you could take Educational Credential Assessment to find your Canadian equivalent education. Additionally, you will have to submit your work history, the field of specialization, and other records that prove your qualifications.
Life as a Teacher in Canada
Teaching is an important and one of the most respected professions in the world. If you wish to migrate to Canada as a teacher, we at Pelican Migration Consultants are here to help.
Having assisted numerous individuals successfully make it to Canada with their families through the various visa programs, we take pride in our offerings. Our expert consultants possess the proper knowledge and proficiency to accurately examine your case and figure out the best course of action for your needs. This, paired with our satisfactory customer service and support, will ensure you achieve your Canadian goals at the earliest.