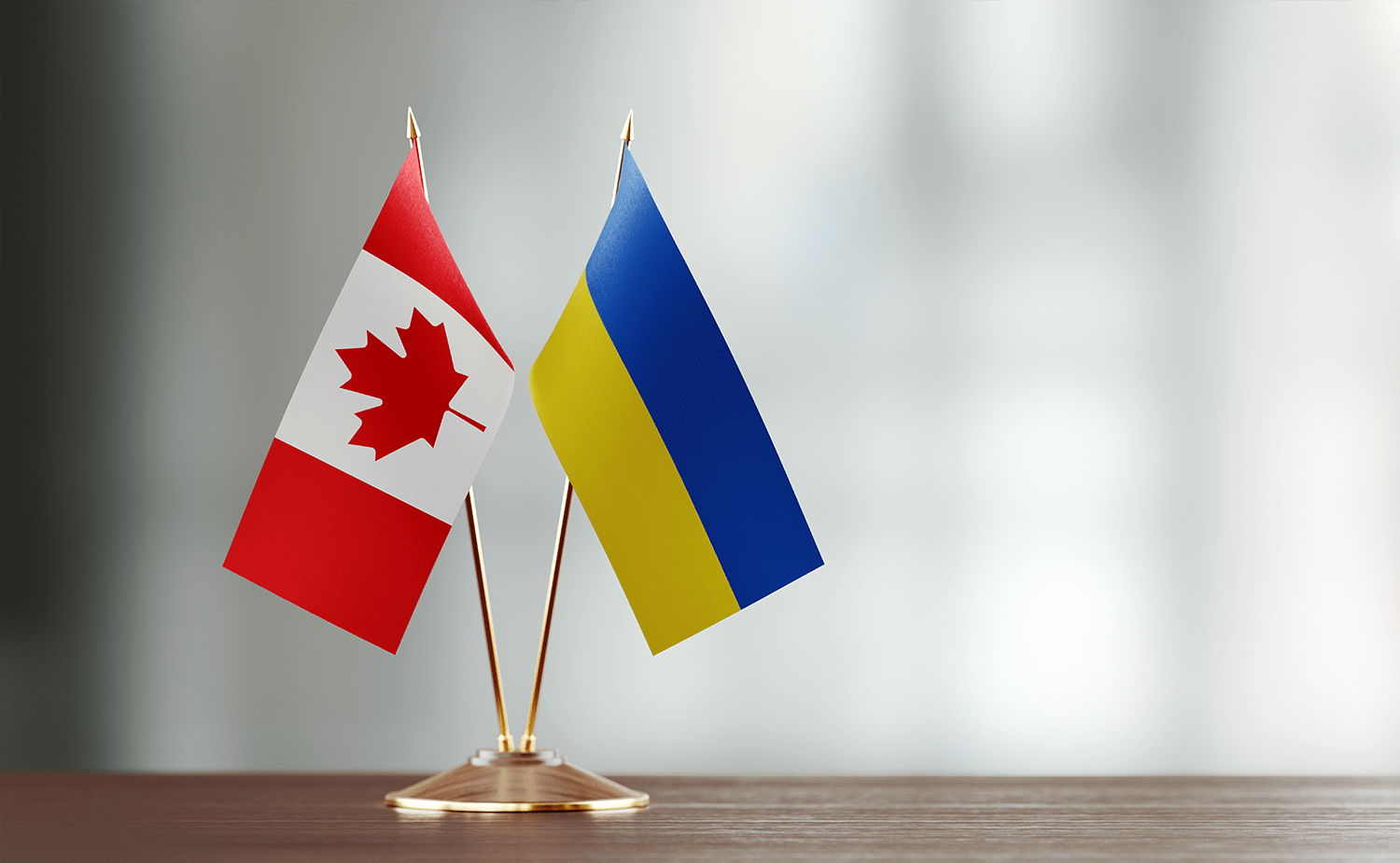 March 28, 2023
IRCC & Provinces Welcome Ukrainian Displaced
The Ukrainian crisis caused by the Russian invasion has led to millions of people being displaced in Ukraine, with more than 7 million people fleeing their homes since February 2022. Some have migrated to neighboring countries, such as Poland and Moldova, while others have traveled further to Canada. Canada has a long history of assisting refugees and other displaced people during crises, including the resettlement of 25,000 Syrian refugees between November 2015 and February 2016, and the commitment to helping 40,000 Afghan refugees following the Taliban takeover. In this blog, we will focus on Canada's response to the Ukrainian crisis, and how the IRCC and provinces work together to welcome Ukrainian displaced people.
Canada-Ukraine Authorization for Emergency Travel (CUAET)
Canada has taken a unique approach to assisting displaced Ukrainians. Instead of bringing them over as refugees, they are more often arriving in Canada under the Canada-Ukraine Authorization for Emergency Travel (CUAET). Under the CUAET, Ukrainians and their immediate family members of any nationality may stay in Canada as temporary residents for up to three years. There are no fees to apply for a visitor visa, and they may apply for an open work permit simultaneously, at no cost. However, all travel to Canada is self-funded, which creates significant barriers for many Ukrainians. So far, Canada has approved 559,868 applications out of the 862,386 received, and just over 167,000 Ukrainians have arrived in Canada.
Ihor Michalchyshyn, the CEO of the Ukrainian Canadian Congress credits the success of welcoming Ukrainians to Canada to the combination of the federal government income support, provincial governments with the housing, training, and language supports, and community focus on integration and welcoming people.
Challenges for IRCC and Ways to Improve
Michalchyshyn points out some challenges and ways in which IRCC could better assist Ukrainian newcomers. "One of the challenges is data. It's self-funded travel, and we don't really know where people are going and when. It really relies on settlement agencies and volunteers sitting in airports trying to welcome people and find people. We're getting some data now about where people are registering for healthcare or income disbursement from the one-time income benefit. We need more data about where people are arriving and what their needs are."
He also says the temporary nature of the CUAET poses challenges for newcomers when it comes to accessing some government services. The program is set to stop accepting applications on March 31 this year, although several settlement services and the UCC petitioned the government to extend the date because there is no way to know when the conflict will end.
Other Support Measures
IRCC has priority processing for all CUAET applications, with a service standard of 14 days. The federal government also offers a one-time non-taxable benefit of $3,000 each per adult and an additional $1,500 for each child under 17 for CUAET participants. This benefit program is set to expire on June 4, 2023. Ukrainian newcomers do not receive any additional settlement funding beyond the benefit.
Support measures also exist on a provincial level. For example, Manitoba regularly invites candidates from Ukraine to apply for a provincial nomination, which is highly beneficial for Ukrainians who wish to become permanent residents through an Express Entry program. British Columbia has canceled the study health fee for students who are fleeing the war in Ukraine. The province has also created a website to direct and assist newcomers from Ukraine when they first arrive. Last August, New Brunswick introduced significantly reduced costs for recently arrived Ukrainian nationals who already possess a Ukrainian passport and are seeking a provincial driver's license or identification card. This measure was implemented to assist newcomers with integrating into the province and obtaining essential documentation.
It's worth noting that these support measures may vary depending on the province or territory, and it's important for newcomers to check with their respective provincial or territorial governments for information on available support programs and services.
Overall, while the ongoing conflict in Ukraine has undoubtedly created challenges for Ukrainian newcomers, various support measures are available to help them settle in Canada. These measures range from financial support to expedited processing of applications and integration programs. Additionally, the Canadian government continues to monitor the situation in Ukraine closely and may implement additional support measures as needed.
Benefits and Features of the Canada-Ukraine Free Trade Agreement (CUAET) for Ukrainians and their family members
The Canada-Ukraine Free Trade Agreement (CUAET) offers a range of benefits and features to Ukrainian nationals and their family members who wish to visit, work or study in Canada. Some of the key benefits and features of the CUAET are:
Longer authorized stay: Ukrainians and their family members coming to Canada from overseas can apply for a free visitor visa and may be allowed to stay in Canada for up to 3 years, as opposed to the standard 6-month authorized stay for regular visitors.
Open work permit: Applicants have the option to apply, free of charge, for an open work permit with their visa application, enabling them to find work as quickly as possible.
Faster processing: Electronic visa applications are processed within 14 days of receipt of a complete application, for standard, non-complex cases.
Exemption from COVID-19 vaccination entry requirements: Ukrainians and their family members are exempt from Canada's COVID-19 vaccination entry requirements but must meet all other public health requirements for travel, such as quarantine and testing. With limited exceptions, all travelers to Canada, including anyone arriving under the CUAET, must also use ArriveCAN.
Exemption from immigration medical exam: Ukrainians and their family members are exempt from completing an immigration medical exam (IME) overseas, if applicable, but may be required to complete and pay for a medical diagnostic test within 90 days of arrival in Canada to screen for reportable communicable diseases (chest x-ray or suitable alternative and blood test).
Extension of temporary resident status: Ukrainians and their family members who acquire or already have temporary status in Canada may apply to extend their temporary resident status for up to 3 years, renew their work or study permit free of charge, or apply for a new work or study permit free of charge.
Eligibility to attend school: Ukrainian children and youth are eligible to attend elementary and secondary school.
Prioritized processing: All IRCC applications from Ukrainians and their family members are prioritized for processing.
Waiver of most fees: Most of the application and processing fees, including the visa application fee, biometric collection fee, work and study permit application fees, and visitor extension, and work and study permit renewal fees, are waived.
Pathway to permanent residence: Ukrainians and their family members may apply for permanent residence under a variety of different immigration programs and streams if they are eligible to do so.
Dedicated service channel: Ukrainians and their family members have access to IRCC's dedicated service channel, which provides personalized support and assistance throughout the application process.
Let Pelican Migration Consultants Take Flight with Your Canadian Immigration Dreams
Looking to immigrate to Canada? Look no further than Pelican Migration Consultants, one of the top Canadian immigration consultants in Dubai. Our team of experts offers comprehensive immigration solutions tailored to your individual needs. Whether you're seeking permanent residency, work permits, or family sponsorship, we have the knowledge and experience to guide you through the entire process.
Our commitment to client satisfaction has earned us a reputation as one of the top immigration consultants in Dubai. We offer personalized service, transparent pricing, and a track record of success. With Pelican Migration Consultants, you can trust that your immigration goals are in the best hands.
Contact us today to learn more about how we can help you achieve your Canada immigration goals. Trust the experts at Pelican Migration Consultants to make your dream a reality.