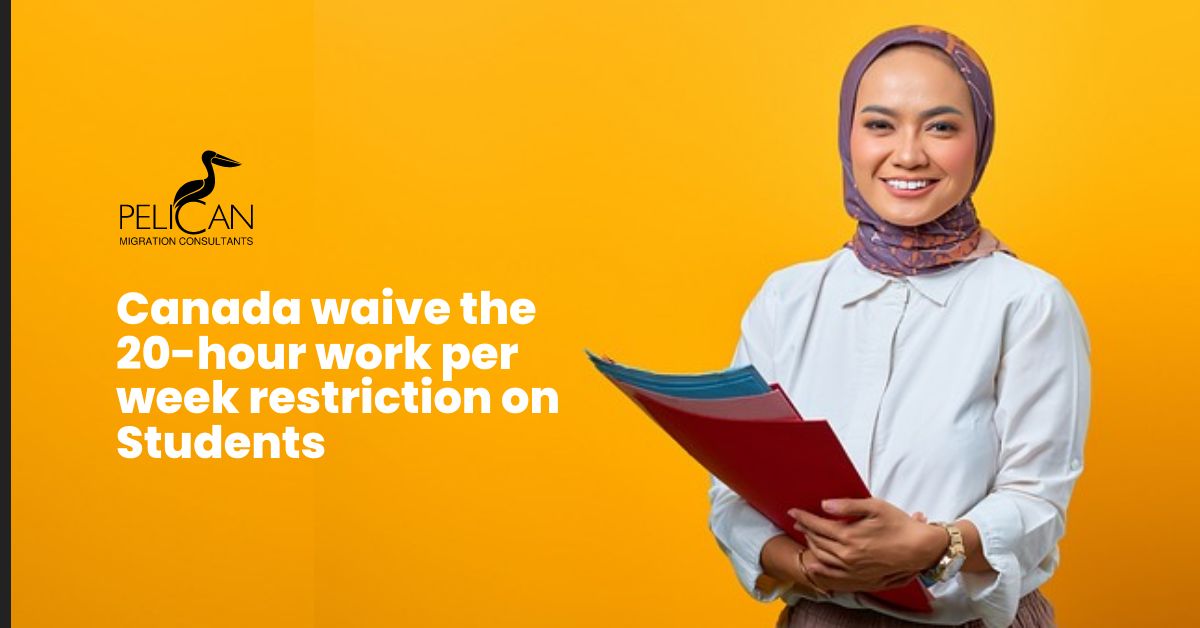 January 17, 2023
Canada waive the 20-hour work per week restriction on Students
During the academic year, while studying in Canada, it is acceptable for overseas students to work more than 20 hours per week.
On Friday, Canadian Immigration Minister Sean Fraser announced a significant reform for foreign students in Canada, which caused more than 6 lakh international students to sigh with relief. In order to address the historic labor shortages in Canada, the government decided to temporarily waive the 20-hour work restriction for international students from 15 November 2022 to 31 December 2023.
Previous exemptions
Before, students were only permitted to work 20 hours a week off campus. Only during breaks like the summer and winter holidays, or through various previous temporary measures, was this restriction relaxed.
But as living expenses climb, many international students are calling for a hike in the number of permitted working hours. A record-high rate of inflation in Canada has been affecting many people all around the country. Increased inflation hits international students particularly hard because they frequently pay far greater tuition than Canadian citizens. With the new policy, students can make more money and more easily pay for their tuition and living expenses.
When it comes to where to study, many people choose Canada. Canadian universities provide a high-quality education at a lower cost than other popular study destinations, such as the United States. Canada issued nearly 450,000 new study permits last year alone, which is expected to exceed 450,000 by the end of the year.
New Student Work Measures Have Been Announced
The new legislation is intended to solve Canada's long-standing labor shortages. Employers in Canada have been confronted with unprecedented difficulties in filling job vacancies. Labor shortages are at an all-time high, with roughly one million job openings. As a result, many people are turning to immigration to fill labor gaps.
International students could be crucial in filling these shortages. With roughly 500,000 foreign students in Canada available to work more hours, this temporary shift might significantly influence the labor market. It also demonstrates the importance of overseas students to the country and economy. Indeed, studies have demonstrated that immigration is critical in alleviating the labor shortfall and filling critical positions.
According to the IRCC, foreign students studying in Canada from November 15, 2022, to December 31, 2023, who have off-campus job authorization on their study permit, are exempt from the 20-hour-per-week restriction. If their application is approved, foreign nationals who have already submitted a study permit application as of Friday will also be subject to this temporary modification.
Can I legally work in Canada?
Due to the costly tuition and the additional costs of books, rent, food, and transportation, many international students find themselves forced to work part-time while they are studying to cover the essentials.
For international students who enter Canada on a student visa, a work permit is not essential. Students may work off campus during a term of study if they are registered to continue their studies the following semester. A student may work as many hours as they want during a break from school, such as the summer or winter vacations.
In Canada, you are permitted to work while you are a student if you;
hold a current study permit;
are enrolled full-time in classes at a recognized educational institution;
have enrolled in classes and continue to maintain satisfactory academic status as assessed by your institution;
are enrolled in a degree-granting program that lasts at least six months or a professional training program that results in a diploma or certificate; and
possess a Social Security Number (SIN)
Why does Canada require foreign students?
International students contribute to Canada's economy by consuming goods and services, in addition to paying more tuition than Canadian students. Furthermore, most foreign students decide to remain in Canada after graduation.
Canada requires immigrants to fight a record labor shortage and fill nearly one million open positions. Canada recently unveiled the Immigration Levels Plan 2023–2025 in response to the issue, which aims to accept 500,000 new permanent residents annually by 2025. Due to their job and study experience, as well as their high level of fluency in either English or French, it has been demonstrated that international students integrate more easily into the Canadian labor market as economic immigrants.
Options for Staying in Canada Once Your Studies Are Complete
Many foreign students who come to Canada want to stay there permanently. As a result, the IRCC provides a few options for students who want to stay in Canada and work after they complete their education.
Obtaining a Post Graduate Work Permit is one such method (PGWP). International students who qualify can obtain an open work permit through the PGWP. PGWP holders are free to work for any employer across Canada.
PGWPs are an excellent method to gain priceless Canadian work experience and are valid for eight months to three years. Once a candidate has worked in Canada, many avenues for obtaining Canadian permanent residence become available.
Express Entry is another well-liked option for foreign students who want to stay in Canada after their studies are over. The quickest and most common route to Canadian permanent status is through Express Entry. When a candidate enters the Express Entry pool, a Comprehensive Ranking System (CRS) score is given to them, and they are then ranked against other candidates. Express Entry frequently favors applicants who have worked or studied in Canada, giving them a higher CRS score and maybe a higher ranking. This greatly improves the chances of Canadian graduates and students getting permanent residence.
How can you benefit from Pelican Migration Consultants?
Contacting Canada Immigration Consultants is crucial if you want assistance and guidance during the protracted immigration procedure to Canada. As one of the leading immigration consultants in Dubai, our major objective is to provide you with all the information you need to make good decisions. We help you plan and manage your immigration to Canada so that you can finally live a prosperous life in the nation of your desires.
Given that immigration standards and laws are always changing and difficult to understand and continue, it is essential to contact Canadian immigration consultants which can help you and guide you throughout the procedure. We provide expert face-to-face help to ensure that you present your best performance in front of Canadian immigration, we help customers by estimating their prospects to be obtained, preparing them for visa and visa interviews, and building a tailor-made immigration strategy plan for each client. So, why are you delaying? Contact us immediately!