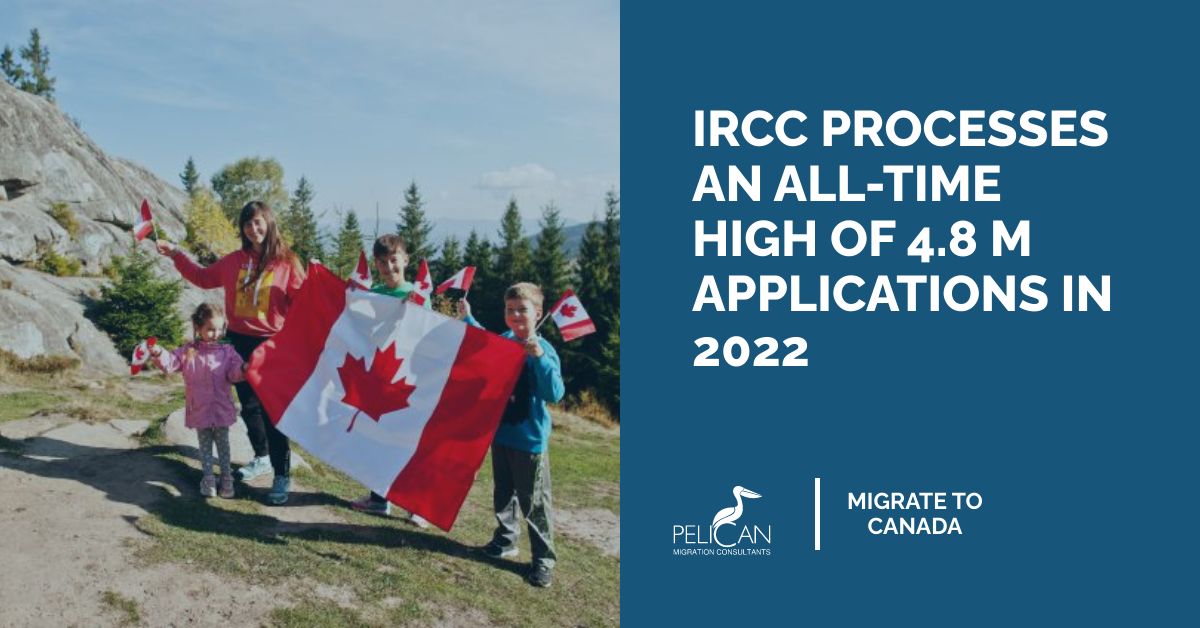 February 7, 2023
In 2022, the IRCC processed an all-time high of 4.8 million applications
In 2022, Immigration, Refugees and Citizenship Canada (IRCC) processed an all-time high of 4.8 million applications. This marks a significant increase from the 2.5 million applications processed during the same period in 2021 and is a testament to the department's efforts to modernize and streamline its services. The progress also comes as IRCC is on track to admit a record-breaking 431,000 new permanent residents to Canada by the end of the year.
Reduction in Backlogs
As of December 2nd, 2022, IRCC had 2.2 million applications in inventory. According to IRCC data from November 30th, just over 50% of all applications, or 1.09 million, are considered to be backlogged, or not processed within service standards. This is a significant improvement on the November 3rd data, when there were 2.4 million applications in inventory, and is down significantly from 2.6 million in September.
IRCC attributes this decline in backlogs to its efforts to modernize services, and to its hiring of 1,250 new staff by the end of the year to help streamline application processing.
Efforts to Modernize and Streamline
Throughout the year, IRCC has been coping with a massive backlog of applications caused by travel restrictions and office closures related to the COVID-19 pandemic. In response, IRCC has implemented changes to correct operational inefficiencies such as digitizing applications. For example, citizenship applications are now 100% digital for anyone over the age of 18 and of 318,000 citizenship applications in inventory, only 28% are considered backlog.
IRCC has also made progress in reducing backlogs for specific types of applications. All new spousal sponsorship applications are now processed within the pre-pandemic service standard of 12 months and new Express Entry applications within 6 months. IRCC has also reduced its pandemic backlog of applications for permanent resident card renewals by 99%.
Service Standards
An application in backlog means it has not been processed within service standards. These standards provide the expected timeline, or goal, for how long it should take to process an application. The service standard is different from the actual amount of time that IRCC takes to process applications.
IRCC aims to process 80% of applications across all lines of business within service standards. The service standard varies depending on the type of application. For example, a permanent residence application through an Express Entry program has a standard of six months. It is longer for other economic class lines of business. IRCC states its service standard for spousal and child family class sponsorship is 12 months.
Temporary residence applications have service standards that range between 60-120 days depending on the type of application (work or study) and if it was submitted within Canada or from abroad. IRCC says they are now processing most new study permits within service standards.
Canada's plan for Future Immigration
The Immigration Levels Plan 2023-2025 aims to invite admit over 500,000 new permanent residents to Canada each year by the end of 2025. This is the highest-ever number of immigrants Canada plans to welcome and reflects the country's need to fill urgent gaps in the labor market and meet the challenges of an aging population. The progress made by IRCC in 2022 in reducing backlogs and increasing the number of applications processed is a positive sign that the department is well-positioned to meet these challenges.
Overall, IRCC's progress in 2022 in reducing backlogs and increasing the number of applications processed is a positive sign that the department is well-positioned to meet the challenges of the future and ensure Canada remains a welcoming and inclusive country for newcomers.
Are you planning to immigrate to Canada?
As one of the leading immigration consultants in Dubai, our major objective is to provide you with all the information you need to make good decisions. We help you plan and manage your immigration to Canada so that you can finally live a prosperous life in the nation of your desires.
Given that immigration standards and laws are always changing and difficult to understand and continue, it is essential to contact Canada immigration consultants which can help you and guide you throughout the procedure. We provide expert face-to-face help to ensure that you present your best performance in front of Canadian immigration, we help customers by estimating their prospects to be obtained, preparing them for visas, and building a tailor-made immigration strategy plan for each client. So, why are you delaying? Contact us immediately!