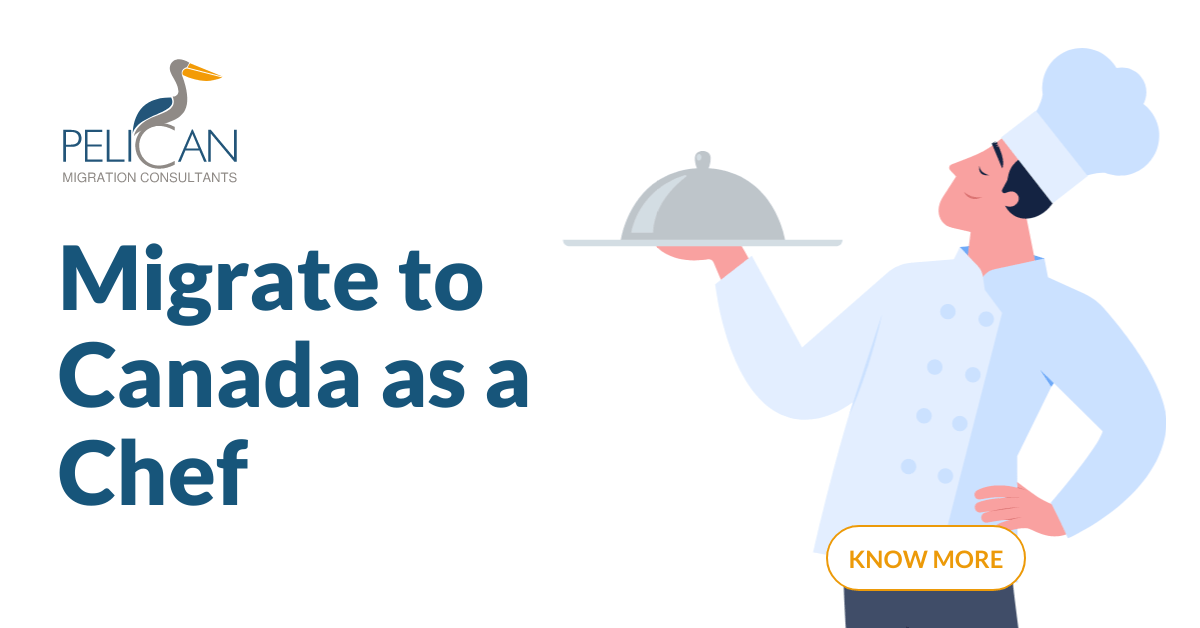 August 29, 2021
How To Migrate To Canada As A Chef: Your Mini Guide
Chefs are in huge demand across Canada that securing a Permanent Residency Visa for them in the country would be a cakewalk with or without a job offer. Based on the reports from Job-Bank, job openings for chefs are expected to be around 52,000 and 55,000 by 2025. This is a good sign for chefs who are looking to migrate to Canada. Nevertheless, do remember that there is an excessive number of applicants and the competition is tough.
Nevertheless, a job offer isn't a prerequisite to migrate to Canada as a chef. You can easily migrate through the Express Entry system or choose one of the many other visa programs.
Due to the massive demand for chefs in Canada, the profession has been included in the list of occupations known as the NOC list (National Occupation Code List). The code for chefs on the NOC is 6322.
Major Immigration Programs to Migrate to Canada as a Chef
Here are a few significant programs that will help you migrate to Canada and thereafter apply for a PR Visa in 2021.
- Express Entry Program
- Provincial Nomination Program (PNP)
Express Entry Program
The Express Entry system is the fastest way to apply for a Canada PR. It leverages a point-based process to calculate your eligibility. Typically, the express entry program manages the profiles of candidates who have applied for the following immigration program.
Federal Skilled Worker Program (FSWP)
Federal Skilled Trades Program (FSTP)
Canadian Experience Class (CEC)
You will have to secure at least 67 points to be eligible to apply for a visa through this program. Your score will be calculated based on various factors like your age, work experience, language proficiency, ability to adapt to the new environment, and more. Once you clear the eligibility test with 67 points, you will be allowed to apply for the express entry program.
Based on your points, your profile will be ranked on the Comprehensive Ranking System (CRS). The profiles with the highest rank will be awarded an Invitation to Apply (ITA), using which you can apply for a permanent residence visa to the Immigration, Refugees & Citizenship Canada (IRCC). Once you get an ITA, you will have to submit your application to IRCC within 60 days.
Provincial Nomination Program (PNP)
Every province and territory in Canada feature their own unique immigration programs. Through such programs, the province/territory nominates highly skilled and capable immigrants to live and work in the province, thereby promoting development in the area.
Each provincial nomination program puts forward different requirements and eligibility criteria depending on its local labor market demands. You have two ways to go by if you plan to apply for the provincial nomination program.
The first option is to directly reach out to the provincial immigration office. If you wish to settle in a specific province, all you have to do is create a profile on the province's immigration website. Once you create your profile, it will be evaluated based on the eligibility factors. In case your profile gets selected for a provincial nomination, you can go forward and create an express profile and depict your provincial nomination there.
The second option is to apply through the Federal government's express entry program. You will begin by creating an express profile, submitting an Expression of Interest (EOI), and then choosing the province you wish to settle in. Your profile will then be passed on to the provincial immigration office, which will be assessed based on their requirements and eligibility criteria. If your profile is chosen, then the provincial nomination will be reflected on your express profile.
Qualifications Required to Become a Chef in Canada
Alongside your skills, experiences, age, and education, there are other expectations you will have to meet in order to become a chef in Canada. To begin with, you will require a job invitation. Additionally, you will also need the following:
Proficient English language skills
No criminal records in your name
You should also be able to support yourself financially
Lastly, you shouldn't be a medical drain on the economy
These requirements apply to both you and any of your family members you might want to sponsor. Often, migrating with your family will complicate the process a bit. However, it won't prevent you from migrating to Canada. To put it short, you can well migrate to Canada, but there are some hurdles you will have to overcome.
Reach Out to an Immigration Professional
If you wish you migrate to Canada as a chef but are still confused about the process, our experts at Pelican Migration Consultants can help. Reach out to us, and we will put you in touch with one of our professional Canadian immigration consultants, who will then walk you through the application process and all the steps you need to go through to get your Canadian visa.
We help aspiring migrants apply for their Canadian visas leveraging our experience and knowledge. Our expert immigration consultants in Dubai are always looking to support candidates at various levels of difficulty. After all, there is a reason why we are titled one of the best immigration consultants in the UAE.
Our unique offerings, impeccable customer service, and cent-percent transparency have earned us people's trust and faith, making us the top choice for migrating to Canada. You can reach out to us to complete your visa process, assistance with the application process, or anything else. We will always be there to help you.