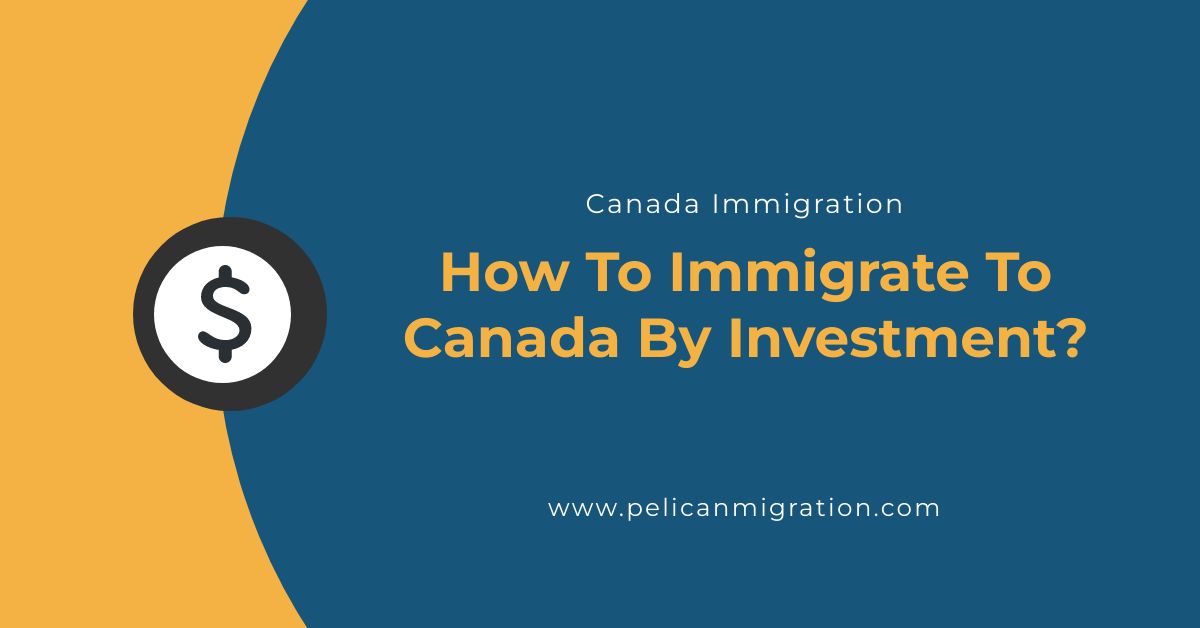 October 31, 2022
How To Immigrate To Canada By Investment?
Canadian people can become citizens of Canada by investing $1,200,000 in Quebec. Only those who want to relocate to Canada permanently should choose this option. Canadian citizenship cannot be earned remotely; instead, the applicant must demonstrate proficiency in the language, capacity for social integration, and three-year residency in the nation. Then they can submit a citizenship application for Canada.
Benefits of Canadian citizenship
Living in Canada is thought to be appealing. It is a well-liked immigration destination due to its modern democratic and economic institutions, health care and education infrastructure, and reputation for racial and ethnic tolerance. Immigrants from other nations make up one in five of the population.
The following benefits come with being a Canadian citizen:
180 nations, including the United States, Japan, China, Hong Kong, Australia, and the European Union, offer visa-free travel;
Due to Canada's recognition of dual citizenship, applicants may retain their primary citizenship;
A  modern healthcare system with free health insurance;
No taxes applied to inheritance or foreign income;
The ability to run a business with a North American market focus;
Low tax rates;
Good standard of living: Canada is among the best places to live in the world;
Excellent benefits and a pension.
How to get a Canadian citizen by Investment?
There are numerous immigration programs in Canada that assist foreigners in relocating here and obtaining citizenship. Most of them have stringent requirements for applicants' qualifications, including their age, career, and level of education. If they make investments in the local economy or start a business, applicants can become residents or citizens of Canada more quickly and easily.
All members of the family, including common-law partners and minor children, are eligible to receive Canadian citizenship by investment immediately. Adult children must apply and contribute on their own. The younger generation inherits citizenship once it has been acquired. However, the investor's parents cannot be included in the initial application because they can only immigrate to Canada once the investor's family has already done so.
Up to three years after making the investment, one can apply for a Canadian passport through investment. First, a permanent residency application must be filed. The candidate must then reside in Canada for three years, staying there for a minimum of 183 days per year. Then they can submit a citizenship application.
The investor and their family are given the same privileges and obligations as Canadian citizens, with the exception of the ability to vote and hold public office. The Canadian Citizenship by Investment Program ran across the nation from 1986 until 2014. But as of 2014, only the French-speaking province of Quebec has access to it (the Quebec Immigrant Investor Program, QIIP).
Once the investor has been given permanent residence in Quebec, they are free to live and work anywhere in Canada. The scheme has been suspended officially because investors used it to move to other parts of the nation. 85% of applicants left the French province after being granted permanent residence, according to government figures.
Quebec Citizenship Program Conditions
An investor must make a five-year investment of C$1,200,000 (about $945,000) at 0% interest before they may seek citizenship. They are not necessary to launch a company. This sets the Quebec scheme apart from those for immigration in other Canadian provinces.
After five years, the investment is fully refunded, but there is no interest received. However, the investor has the option of borrowing the money for the required investment. For applicants who don't have money on hand that won't be needed for other things for five years, this is convenient. The initial down payment is only C$350,000, or roughly $275,000.
Who can obtain Canadian citizenship through investment?
Investments by themselves are insufficient. The following six requirements must be satisfied by the applicant in order to receive a Canadian passport:
be a firm owner, a shareholder in a private corporation, or have had a managerial position for at least two years in a business with annual revenue of 50,000 Canadian dollars (CAD) (about $39,400);
to qualify, you must receive at least 40 points out of a possible 100 on a unique scale. Age, fluency in both English and French, educational attainment, managerial experience, and length of stay in Canada are all taken into account when evaluating a candidate. For instance, earning 10 and 25 points for fulfilling the conditions for managerial experience and investment, respectively. A university degree earns six points. Priority consideration is given to applications from candidates whose B1-level French proficiency has been attested;
possess assets worth $1,570,000 (CAD) or more and can demonstrate how they were acquired legally. Deposit money, the worth of securities, real estate, and other assets owned by both spouses are all considered;
not afflicted with socially contagious illnesses like HIV;
having never been convicted of a crime that violated Canadian immigration regulations, or failing to meet Canadian visa conditions;
pass the test assessing your understanding of Quebec's history and culture (with a score of at least 75%).
Who would benefit from investing in Canadian citizenship?
Those who want to migrate to Canada with their families, live there permanently, raise their children, and pay taxes there may consider the Canadian Citizenship by Investment Program. This is not an appropriate choice for applicants who are investing in a passport for travel, tax reduction, or business growth.
Investor immigration has no age restriction, unlike other immigration programs, and for mature immigrants, it's frequently the only way to immigrate to Canada.
What paperwork will be needed?
The following paperwork is needed in order to apply for Canadian citizenship:
completed application form
copy of each applicant's family members' passports that have been notarized and translated;
kinship verification for family applications;
certificate of birth or marriage;
police clearance certificates for every member of the family;
verification of financial standing
constituent records, a real estate ownership certificate, bank statements, and appraisal reports;
receipt for duty payment;
Photographs;
proof that you made the necessary investment in the Canadian economy.
All documents must be notarized and have their original texts translated into English.
How to apply for citizenship in Canada through investment
The process to become a Canadian citizen through investment is broken down into numerous steps and often takes 3-5 years.
Submit paperwork to Quebec's government: The applicant gathers the required documentation attesting to their managerial or entrepreneurial expertise, the availability of the required investment sum, and their compliance with all other standards. They then deliver them to Montreal's Comparative Registration and Evaluation Office. A special certificate and a temporary residency visa will be given to the investor if they satisfy the requirements and fall within the designated quota.
Meet the investment criteria: The applicant transfers the sum allowed under the program's rules.
Submit a request at the Canadian embassy or consulate in your area: You will be required to pay a charge of 15,235 CAD ($12,000) when submitting your documents. If you are eligible, an entry visa will be given to you, allowing you to enter Canada within a year. Additionally, a permanent residency card is given to the applicant. The documents will need to be submitted again if the applicant does not relocate to Canada within 12 months.
Wait for the result: To be qualified to apply for citizenship, the applicant must have resided in Canada for a minimum of 183 days per year for the previous three years. Your citizenship by investment application will receive a response within a year. If accepted, the candidate will have to pass a test proving their knowledge of Quebecian history and linguistics and appear in a meeting with immigration officials. People who are older than 54 are not required to take the test.
Options for business immigration to Canada
By establishing a business there, you can apply for residence in Canada through a number of different schemes. Some of them are listed here.
The Quebec Entrepreneur Program:
build or purchase a firm in Quebec with a CAD200,000 ($157,400) start-up capital and a CAD900,000 ($709,400) own capital;
control a company's assets worth at least $100,000 and at least 25% of the stock;
possess two years of experience operating as a sole proprietor in the chosen industry.
The remaining conditions for candidates are the same as those for investors and include having a minimum qualification score of 40 points as well as familiarity with Quebec's language, culture, and history.
Federal Startup Visa Program:
For people looking for investment in a new firm, this is appropriate. The majority of the company's operations must be carried out in Canada.
to secure a $75,000 investment from an approved business angel or a $200,000 investment from a venture fund;
demonstrate fluency in either French or English (CLB level 5);
possess enough money to live in Canada.
Businesses in the IT, pharmaceutical, biotechnology, and agricultural industries all enjoy the program's popularity. A startup program allows five firm entrepreneurs and their families to get permanent residency in Canada. The application is decided upon within six months. According to the program's specified quota, 2750 visas are issued each year.
Provincial Nominee Program:
The programs offered by the Canadian provinces that the applicant can use to work or start a business there in order to obtain permanent residency are included in this category. For instance, the prerequisites for the British Columbian province's entrepreneurial program call for a minimum investment of CAD200,000 ($157,000) and savings of CAD600,000 ($473,000).
Would you love to migrate to Canada?
Contacting Canada Immigration Consultants is crucial if you want assistance and guidance during the protracted immigration procedure to Canada. To ensure that you perform at your best in front of the Canada immigration department, we provide customized one-on-one support. We help clients by evaluating their chances of getting a visa, helping them get ready for and get feedback from VISA interviews, and creating a custom immigration strategic plan for each client.
We give our applicants a good probability of success because of our expedited application procedure. Because all of our immigration cases are handled by qualified and experienced immigration consultants, you can count on us. In addition to being licensed and having extensive knowledge of the Canadian immigration process, our specialists So, if you're ready to take the next step, why not contact us right away to arrange a private consultation?