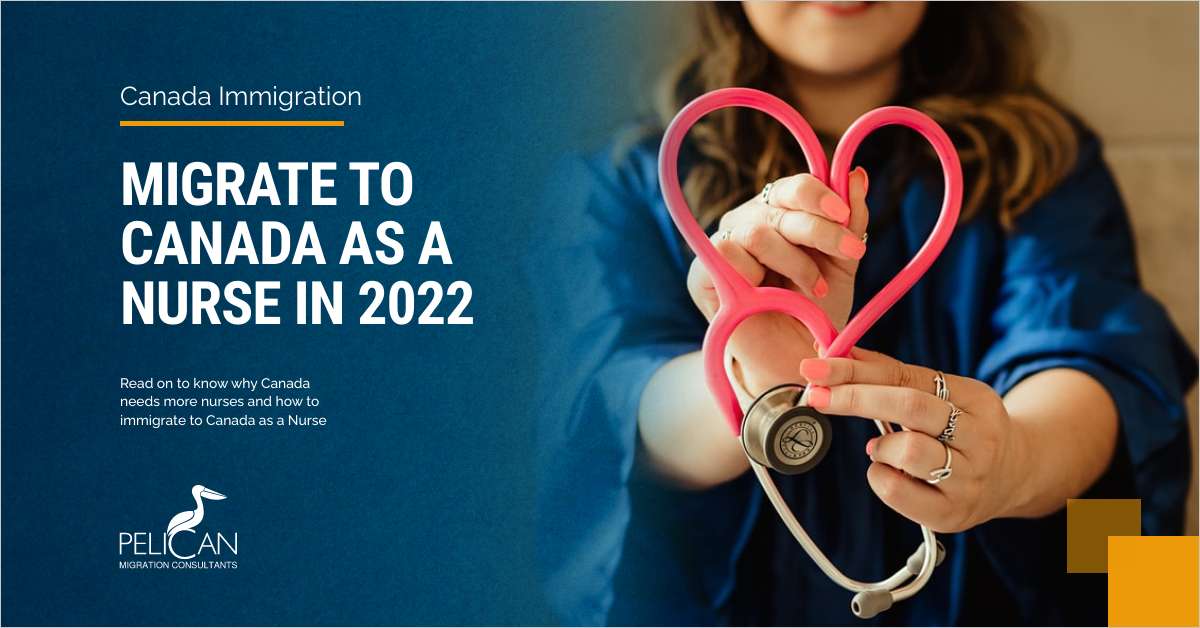 February 11, 2022
How to Immigrate to Canada as a Nurse in 2022?
In Canada, a variety of occupations are in high demand, with registered nurses being one of them. On both a provincial and federal nominees basis, qualified nurses are eligible to avail of Permanent Residency under the Federal Skilled Worker Immigration Program. Read on to know more about all the programs and the qualifications.
Benefits of working as a nurse in Canada
Are there any other advantages to working as a nurse in Canada besides living in one of the healthiest and most financially comfortable countries in the world? Yes, that is correct.
Salary levels that are adequate
Having to work as a nurse in Canada has many advantages, including a good salary. In comparison to a number of many other developed countries, a skilled nurse aide might earn around $41,438 and a skilled registered nurse could earn up to $128,700, which would be a fairly high salary.
Another advantage of working in the healthcare industry in Canada is that you will have access to health insurance policies that cover you as well as your family.
Assistance with child care
Did you also know that registered nurses in Canada have access to a facility that provides child care help and support to all working parents? Many healthcare facilities and institutions offer child care services to ensure that the children of nurses who work irregular hours are cared for.
Job definition for Nurses in Canada
Registered nurses, as well as registered psychiatric nurses, offer direct quality nursing care, as well as health education programmes and consultation services on nursing-related issues. They also provide and coordinate patient care, educate patients and families about various health problems, and offer patients and their families advice and psychological support.
Most registered nurses collaborate with members of the healthcare team as part of the team. They work in a wide range of settings, including hospitals, nursing homes, extended care facilities, rehab facilities, doctors' workplaces, clinics, businesses, private homes, as well as public and private organizations. Nurses are responsible for coordinating with a variety of specialists to ensure that their service users are on the right track to recovery.
Different kinds of Nurses in Canada:
RN Nurses: Registered Nurses in Canada
RNs are nurses who have earned a bachelor's degree in nursing and are thus qualified to work as General Registered Nurse.
Registered Psychiatric Nurses (RPNs)
RPNs are registered nurses with a bachelor's degree in mental health nursing or a general nursing degree plus a postgraduate degree or supplemental study in psychiatric nursing. The practice of RPNs is regulated in British Columbia, Alberta, Saskatchewan, as well as Manitoba.
Licensed Practical Nurses in Canada or Registered Practical Nurses in Ontario
LPNs are registered nurses who have accomplished a post-secondary nursing diploma programme.
How to Immigrate to Canada as a Nurse
Because Canada is in desperate need of nurses, the government has created a number of work visas and immigration programmes to help foreign workers obtain permanent residency in the country. You can learn about the whole process as follows:
Step-1: Determine your National Occupational Classification (NOC) code
You must first determine the National Occupational Classification (NOC) codes before proceeding with the further steps. Depending on your job title, you'll have a different code.
| | | |
| --- | --- | --- |
| NOC Code | Occupation | Skill Level |
| 3011 | Nursing co-ordinators and supervisors | A |
| 3012 | Registered nurses and registered psychiatric nurses | A |
| 3124 | Allied primary health practitioners | A |
| 3222 | Dental hygienists and therapists (dental nurse) | B |
| 3233 | Licensed practical nurses | B |
| 3413 | Nurse aides, orderlies, and patient service associates | C |
Step-2: Evaluate your Academic Credentials
The next step is to assess your academic credentials to see if they meet the minimum requirements for practicing as a nurse. This is a required step in which World Educational Services, an organization permitted by the Canadian government to conduct education checks as well as verification, evaluates your credentials.
The next step is to have your nursing qualifications recognized in Canada. The National Nursing Assessment Service (NNAS) is in charge of this process, and you'll need to set up an online account to participate. Essentially, NNAS converts your credentials to a North American standard before comparing and evaluating them against the Canadian standard.
Step-3: NNAS application
After you've completed your NNAS assessment, you'll need to apply for NNAS by setting up an account on the NNAS application page. You'll have to do the following at this point:
Start with your application by logging onto National Nursing Assessment Service
Submit proof of identity documents
Submit your Nursing Education Form
Submit your Nursing Registration Form
Submit your Nursing Practice/Employment Form
Submit your Language Testing Results
Step-4: Applying for Nursing Licence
Following your submission to NNAS, you may be needed to apply for a license as a Registered Nurse (RN), Licensed Practical Nurse (LPN), and perhaps even Registered Psychiatric Nurse in a Province or territory of your choice. The NNAS will forward your completed documents to the provincial regulatory bodies, who will ultimately decide on your eligibility to practice nursing in Canada.
The NNAS report will be used by each territory to compare an applicant's international nursing knowledge, experience, as well as qualifications to those established by their corresponding Nursing Boards. Once your picked provincial regulatory body obtains the NNAS report, you will be asked to begin the registration.
All classifications of nurses are governed by a single college in British Columbia, Ontario, as well as Nova Scotia, whereas each nursing classification has its own regulatory body in the rest of the provinces. You can access the list of provinces as well as the regulatory bodies that oversee nursing in Canada here: Migrate To Canada As A Nurse.
Step-5: Choose the Immigration Programme
After completing your Nursing registration with both the provincial regulatory body and obtaining a license, the next step is to select the appropriate immigration programme. Potential applicants who want to work as a nurse in Canada can choose from three major immigration options:
Atlantic Immigration Pilot: The Atlantic Immigration Pilot is an employer-driven immigration program between the federal government of Canada as well as the Atlantic provinces aimed at addressing labor shortages. Candidates seeking permanent residency in Canada must have a legitimate job offer from one of the Atlantic provinces, as well as meet other requirements.
Would you like to migrate to Canada as a Nurse?
Because of the time-consuming process of Canadian immigration, it is best to contact Canada Immigration Consultants who can assist and guide you throughout the process. We provide professional one-to-one assistance ensuring you give your best in front of the Canada immigration Department. We help the clients in analyzing the clients' chances of being granted a visa, then preparing clients and giving feedback for VISA interviews, developing a customized immigration strategic plan for each client separately.
Luckily, we at Pelican Migration Consultants are Regulated Canadian Immigration Consultants (RCICs) who can stroll you through the complete system. In layman's terms, RCICs are one of 3 types of professionals who really are legally allowed to represent clients and students in immigration matters outside of Quebec for the fee. Lawyers and paralegals who are members of a Canadian Law Society are the only other two types of professionals.
Pelican Migration Consultants as RCICs Immigration consultants assist its clients in obtaining visas to Canada. We help the clients in the following ways, but are not limited to:
Analyzing the clients' chances of being granted a visa
Preparing clients for VISA interviews, if necessary
Developing a customized immigration strategic plan for clients
Providing clients with a fresh perspective on immigration options
Assisting clients with the completion of their immigration application areas and paperwork. The documents are indeed proofread by RCICs to ensure that they are error-free as well as accurate.
Helping clients with all aspects of Canadian immigration.
We offer our applicants a high chance of success through our simplified process. All of our immigration cases are handled by qualified and intelligent immigration professionals so that you can rely on us. In addition, our consultants are licensed and have extensive knowledge of the Canadian immigration process. So, if you're ready to take the next step, why not contact us right away for a one-on-one consultation?