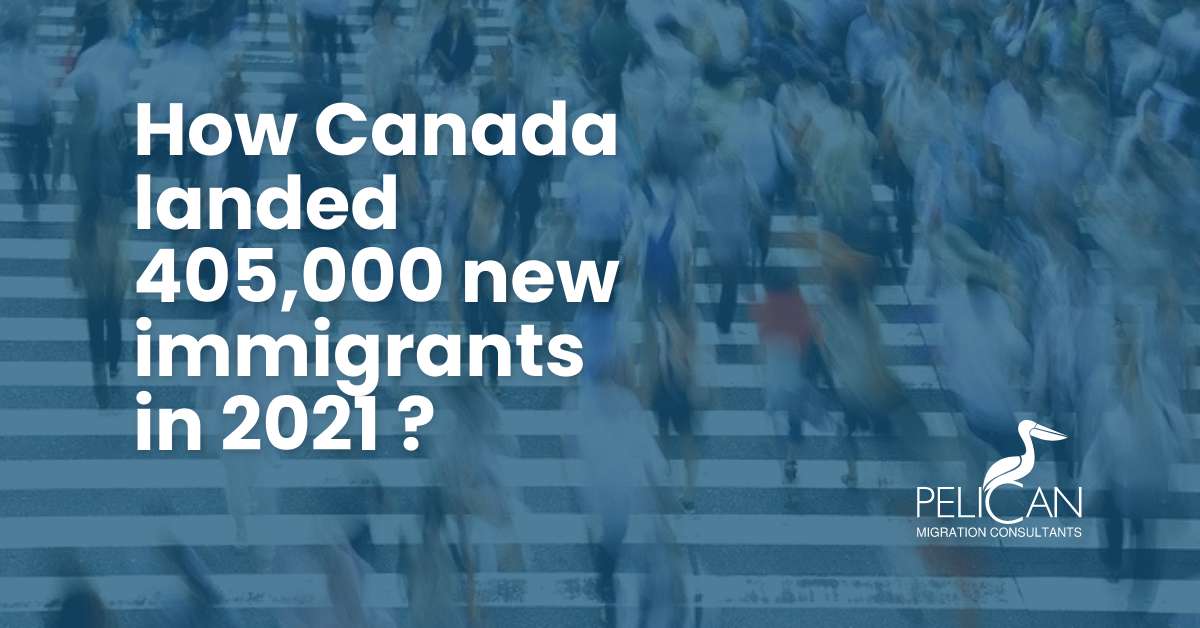 April 7, 2022
How Canada landed 405,000 new immigrants in 2021 ?
As per new CICC data, Canada outperformed its 2021 immigration target by accepting 405,303 new permanent residents last year. Only once in its history has Canada overtaken 400,000 newcomers, in 1913. Read on to know how Canada managed these huge immigrants.
What did the Immigration Levels Plan 2021-2023 say?
The Immigration Levels Plan 2021-2023 geared to welcome 401,000 immigrants in 2021 to help Canada's economic expansion following the pandemic. Canada only accepted 184,000 new immigrants in 2020, resulting in the country's population growth slowing to its lowest level since the Very first World War. Just before the pandemic, Canada planned to accept 341,000 new immigrants per year.
In terms of meeting its target in 2021, College of Immigration and Citizenship Consultants (CICC) focused on converting as many temporary residents who have been in Canada to permanent residents as possible. CICC believed that this was the most efficient way to meet its goal in the face of COVID-19 travel restrictions as well as other pandemic-related difficulties. Among the steps it took to attract more permanent residents from inside Canada, CICC held Express Entry draws from January to September, inviting a large number of Canadian Experience Class (CEC) applicants. CICC launched six immigration streams ("TR to PR") in May in an attempt to attract an additional 90,000 foreign students as well as temporary foreign workers to Canada.
The majority of immigrants to Canada enter through economic class programmes. Prior to the pandemic, 30% of new economic class inflows were from inside Canada, while 70% were from outside the country. In 2021, this was overturned, with 70% of passengers arriving from within Canada and 30% arriving from abroad.
The large CEC invitation rounds conducted by CICC, as well as the release of the six TR to PR streams, help to clarify why landings improved exponentially in the second half of 2021. CICC received a large number of new in-Canada applications during the first half of last year, then cranked up processing by June to land upwards of 40,000 permanent residents per month towards the end of the year.
How did the country's newcomers arrive in 2021?
The economic class landed a sum of 252,975 permanent residents. This equates to 62 percent of all immigrants landing in 2021, which is significantly greater than the 58 percent figure set in the 2021 levels plan. In essence, Canada accepted over 20,000 more middle-class immigrants in 2021 than had been planned.
In 2021, a final count of 80,990 family class immigrants arrived, falling far short of Canada's objective of 103,500 family class immigrants under the 2021 levels plan. Last year, the family class contributed 20% of new landings, falling short of the level plan goal of 26%.
In total, 60,115 permanent residents arrived in Canada as refugees and protected persons, slightly less than the 65,000-person target set by the government. This amounted to 15% of all new landings, which was slightly less than the 16% target set by the levels plan. The remaining funds were classified as "All Other Immigration" by CICC.
CEC accounts for nearly one-third of all new permanent residents.
With 130,555 individuals landing under the programme, or 32% of all immigrants arriving in 2021, the CEC was the leading route for new permanent residents. In 2019, the CEC accounted for approximately 30,000 people, or approximately 9% of all new arrivals.
CICC entered 2021 believing it would have to rely primarily on the CEC to meet its 401,000 target. As an instance of the considerable measures the department made every effort to land increased rates of CEC candidates, on February 13, 2021, the government invited all 27,332 CEC applicants in the Express Entry pool, perhaps the most extraordinary draw in Express Entry's record. The draw was extraordinary in that it saw nearly five times the number of invitations approved than the previous record, with the least Comprehensive Ranking System (CRS) score provision since Express Entry's inception in 2015, and every single CEC applicant in the pool on that date obtaining an invitation to apply for permanent residence.
In 2021, CICC only recruited 8,320 individuals through the Federal Skilled Worker Program (FSWP). The FSWP was the primary programme for new federal economic class arrivals prior to the epidemic. In 2019, Canada received 58,760 immigrants through the FSWP.
Last year's decrease was due to CICC prioritizing CEC as well as other applications received from within Canada. According to newer CICC data, FSWP application processing has accelerated since December, with CICC now processing a mean of 800 FSWP applications each week.
The year before, the Provincial Nominee Program (PNP) contributed to 53,960 landings. The PNP has indeed been fully active throughout the epidemic, with CICC and provinces and territories performing frequent invitation sessions, and in some cases, weekly.
The temporary TR to PR program resulted in the arrival of 23,885 persons. This means that CICC has yet to hire the majority of the 90,000 persons who applied for the program in 2021. Spouses, as well as partners, make up the majority of family class arrivals. Last year, there were 64,120 landings.
Where did the immigrants to Canada come from?
The main source nations for new immigrant arrivals in Canada are the same as those before the pandemic. India is the top source country, accounting for nearly one-third of arrivals in 2021, up from 25% in 2019. This could be explained by a large number of CEC landings. The biggest source of overseas students in Canada is India, and most of these scholars eventually earn permanent residency through the CEC.
Would You Like to Migrate to Canada in 2022?
Because of the continuously changing immigration standards and regulations, it is best to contact Canada Immigration Consultants who can assist and guide you throughout the process. At Pelican Migration Consultants, our primary goal is to offer you all the necessary information you require to make the right decisions. We are licensed immigration consultants in Dubai to help you plan and manage your immigration to Canada and eventually lead a successful life in the country of your dreams. What's more, we don't make you spend a penny more or wait a day longer until and unless it is out of our control.
We provide professional one-to-one assistance ensuring you give your best in front of the Canada immigration Department. We help the clients by analyzing the clients' chances of being granted a visa, then preparing clients and giving feedback for VISA interviews, and developing a customized immigration strategic plan for each client separately. Best Wishes!