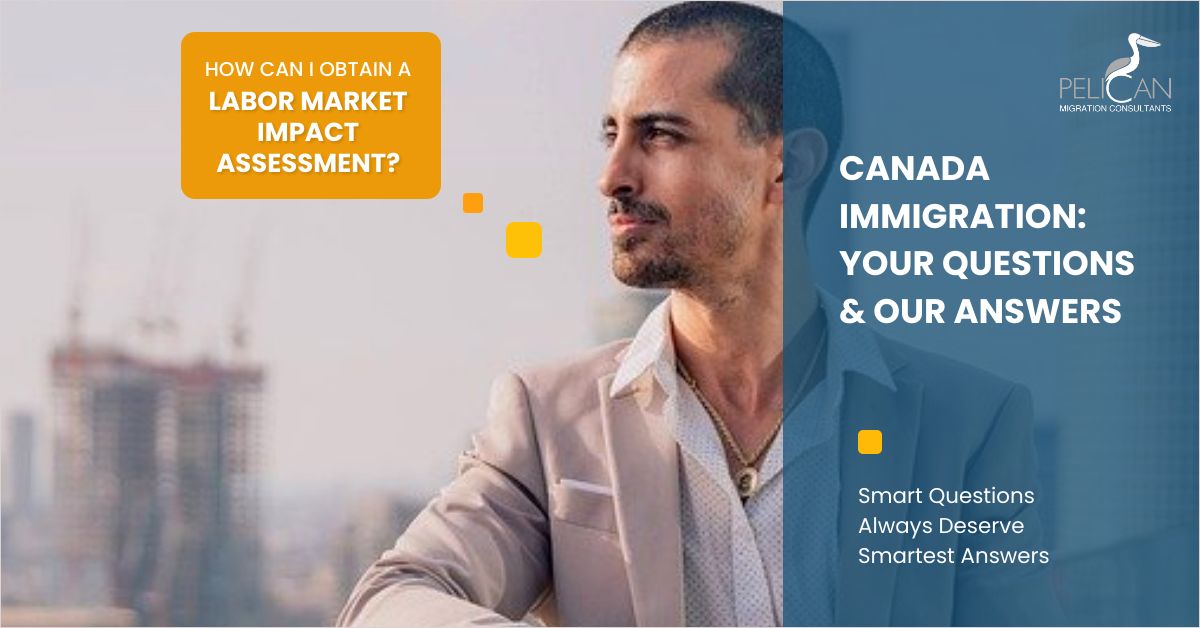 September 12, 2022
How can I obtain a labor market impact assessment?
Most immigrants who enter Canada and are given permanent status do come with employment; but, what about those who are simply searching for temporary employment? There are now roughly 470,000 temporary foreign workers in Canada, the majority of whom work in the manufacturing, clothing, lodging and service, agricultural and animal husbandry, leisure and entertainment, and private sector.
Programs allowing foreign nationals to temporarily stay and work in Canada often need a Labour Market Impact Assessment (LMIA). There are certain foreign workers who are exempt from having an LMIA, however, all streams of the Temporary Foreign Worker Program (TFWP) and several other immigration programs that allow applicants to get points for possessing an LMIA must have one.
LMIA-What does it mean?
Employment and Social Development Canada (ESDC) offers a document known as a Labour Market Impact Assessment to help evaluate what kind of implications hiring foreign workers will have on the Canadian labor market (LMIA). The ESDC's main objective is to raise everyone's standard of living by fostering a diverse, productive, and highly trained workforce that will contribute to the growth of the labor market in Canada.
A favorable or negative conclusion will follow the ESDC's evaluation of whether it is financially feasible to recruit a foreign worker. An employer's inability to find a qualified Canadian or permanent resident to fill a specific job in Canada is demonstrated by a positive LMIA. A negative LMIA demonstrates that there are enough qualified Canadian or permanent resident candidates to fill the open post.
How Do I Make an LMIA Application?
You won't have to, is the succinct response. Your potential employer is responsible for requesting an LMIA at least six months before the start of your contract. Depending on your salary and the median income of the province or territory where you will be working, employers will have various application processes. Processes will be more extensive for low-wage employment than for high-wage positions. Employers should examine the median hourly salary of their province or territory to decide if their employment is deemed high-wage or low-wage, as low-wage occupations would necessitate additional requirements from the employer. Employers seeking LMIAs for certain sectors of employment can apply through specialized streams. These are some examples:
How Do I Get a Job as an LMIA?
An LMIA is required for a variety of career paths and occupations:
Caregivers in the home;
Agricultural Employees;
Foreign Academic Researchers;
Applicants for the Temporary Foreign Worker Program; and
Those seeking employment in Quebec.
LMIA standards
The Temporary Foreign Worker Program allows the Canadian government to grow its labor force when there aren't enough qualified workers in the country to fill a post (TFWP). If you are a firm looking to hire a foreign worker, an LMIA can be necessary. The application will be evaluated by officials from Employment and Social Development Canada (ESDC) to make sure that no qualified Canadians are being passed over in favor of the foreign worker. Before seeking to recruit a candidate from outside Canada, the employer must show that they made an effort to find a qualified Canadian. They must also provide wages and benefits that meet all federal, state, and local regulations. A fee of $1,000 CAD per position will be applied to each LMIA request.
To determine if hiring a foreign worker would have a positive or neutral impact on the Canadian labor force, employers must do a labor market impact assessment (LMIA). Whether a foreign worker is labeled as "high-wage" or "low-wage" determines the LMIA procedure. Employees are seen as having low wages if their pay is below the province or territorial median salary, and high wages if their pay is at or above the median.
It is very important to note that businesses must post a job offer for at least four weeks before applying for LMIA. The company must show that it uses at least two different recruitment methods besides placing advertisements at the Canadian work bank. The business also needs to focus their marketing efforts on groups that are less served such as first nations and individuals with disabilities. Unless the employer can show that other languages ​​are very important, only English and French can be included as qualification criteria for work.
High-wage workers
Employers looking to employ high-wage workers are required to submit transition plans with their LMIA applications to show that they are taking efforts to gradually lessen their reliance on temporary foreign workers. An example of how firms may demonstrate this is by recruiting Canadian apprentices or providing proof of investment in skill training. In contrast, firms may show how they are helping their highly talented temporary foreign workers immigrate permanently to Canada. The employer will have to provide an update on the status of the transition plan they filed if they are selected for an inspection or if they request to renew their LMIA.
The transition plans are meant to ensure that firms hiring foreign workers are achieving the TFWP's goal (TFWP). This implies that the TFWP is only used as a last and restricted alternative to address emergency labor demands on a temporary basis when eligible Canadians are not available, guaranteeing that Canadians are given first preference at open employment.
Low-wage workers
Employers seeking to hire low-wage workers are not required to submit transition plans with their LMIA application. They must, however, adhere to a different set of rules.
The Government of Canada has implemented a limitation to limit the number of low-wage temporary foreign employees that a firm may employ in order to restrict access to the Temporary Foreign Worker Program (TFWP) while ensuring that Canadians are always considered first for available employment. Additionally, certain low-wage jobs may be denied LMIA processing. Employers with 10 or more employees that apply for a new LMIA face a 20% restriction on the amount of their workforce that can be made up of low-wage temporary foreign workers.
Median hourly wages
If a company intends to hire a TFW who will be paid at or above the median hourly pay in their province or territory, they must use the high-wage workers' stream for LMIAs. If a company wants to hire a TFW for less than the median hourly rate, they must go via the low-wage workers' stream.
Province/Territory
2021 wage

($/hour)

Wage as of April 30, 2022

($/hour)

Alberta
27.28
28.85
British Columbia
25.00
26.44
Manitoba
21.60
23.00
New Brunswick
20.12
21.79
Newfoundland and Labrador
23.00
24.29
Northwest Territories
34.36
37.30
Nova Scotia
20.00
22.00
Nunavut
32.00
36.00
Ontario
24.04
26.06
Prince Edward Island
20.00
21.63
Quebec
23.08
25.00
Saskatchewan
24.55
25.96
Yukon
30.00
32.00
Global Talent Stream
The TFWP's Global Talent Stream was created to assist Canadian firms in recruiting international tech talent quickly. A Global Talent Stream application has a service standard of 10 business days from the day it is received by ESDC, and Immigration, Refugees, and Citizenship Canada can complete the work permit in two weeks (IRCC). 80 percent of the time, this service requirement must be satisfied.
The Global Talent Stream has two components. Companies in Category A with rapid growth rates have a significant requirement for outside specialists with particular expertise. An approved referral partner must bring employers in this category to the Global Talent Stream. Employers in Category B are seeking unique applicants for positions on the Global Talent Vocations List, which includes professions with a strong demand for workers and a dearth of domestic labor.
Employers in both groups are required to satisfy the payment criteria for skilled workers, which means they must pay the prevailing rate or a higher salary. The prevailing pay is the greater of the following:
The job's median pay in the Government of Canada's Job Bank.
The compensation range that a business pays existing employees in the same role, location, and with the same skills and experience.
The Global Talent Occupations List's minimum salary floor (if applicable).
Canada's LMIA application decision-making process
Employment and Social Development Canada (ESDC) makes the choice of whether or not to grant a positive LMIA, and then sends the decision to Immigration, Refugees and Citizenship Canada (IRCC). The employer is then informed of the final LMIA decision by IRCC. When deciding on an LMIA, ESDC takes into account a number of considerations, such as
On the Canadian labor market, the employment of foreign workers will have an impact.
The pay and working circumstances provided to the foreign employee.
The accessibility of Canadian citizens or lawful permanent residents to perform the necessary work.
Whether employing the foreign worker would lead to a transfer of relevant information and skills.
Whether hiring foreign workers would result in more employment being created for Canadians and permanent residents.
LMIA Validity and Employment Period
A temporary foreign worker who receives a positive LMIA has six months to utilize it to submit an application for a work visa. No further time will be granted. A fresh LMIA application is necessary if the six-month window passes without the foreign worker submitting a work permit application.
The LMIA application procedure is different in Quebec.
What Takes Place After My LMIA Is Accepted?
A Labour Market Impact Assessment is only valid for six months whether it is authorized or otherwise judged favorable. Sometimes it takes as little as 10 days to approve an LMIA. Your company will then inform you that you are eligible to apply for a work visa or permanent residency. You must make sure that your company gives you a copy of the LMIA and the employment offer since you will need it when you apply for your work visa.