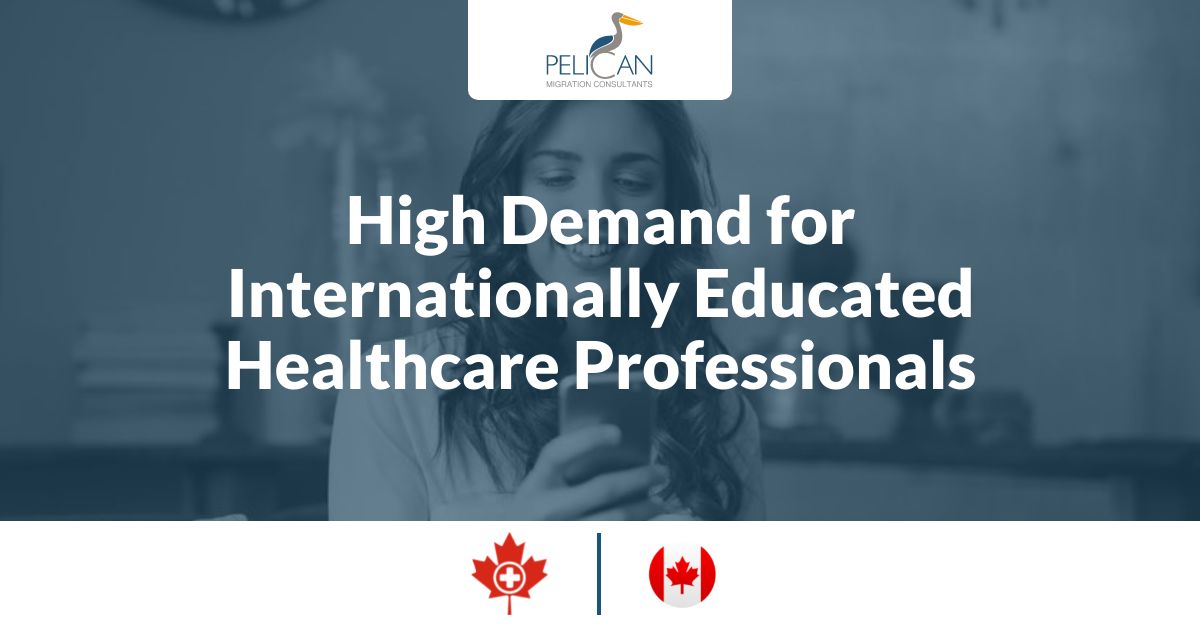 December 26, 2022
Immigration Minister announced a call to help Internationally Educated Healthcare Professionals (IEHPs) work in Canada's healthcare sector
Canada is facing a unique challenge in the healthcare industry: a shortage of qualified labor. As healthcare continues to grow and evolve, the demand for qualified medical professionals has increased, but the availability of such personnel has not kept up with the need. This is especially true in rural areas, where access to qualified healthcare professionals can be limited.
A request for proposals to support the employment of internationally educated healthcare professionals (IEHPs) in Canada's healthcare system was released by Immigration Minister Sean Fraser on December 5, 2022.
Minister Fraser made the announcement at the news conference on behalf of the honorable Carla Qualtrough, Minister of Employment, Workforce Development, and Disability Inclusion. The project's purpose is to simplify the process of IEHPs acquiring the knowledge, skills, and local certifications required to properly utilize their talents as simply as possible.
Proposals will be handled by the Foreign Credential Acceptance Program (FCRP), a federal program that provides funds to governments and organizations to facilitate the recognition of foreign credentials in Canada. Minister Fraser announced a $90 million contribution for chosen projects under the scheme.
According to the notice, a project is eligible if it can:
Reduce barriers to IEHP international credential recognition by improving recognition processes, shortening recognition stages, and broadening access to field practice; or
Provide IEHPs with relevant Canadian work experience in their desired sectors of employment, while also providing participants with support services such as childcare and transportation fees, mentoring, and coaching; or
Facilitating labor mobility for healthcare professionals and IEHPs between Canadian jurisdictions is intended to reduce structural and administrative barriers for healthcare professionals seeking to work in another province.
Additionally, eligible initiatives must:
To encourage worldwide credential recognition and/or interprovincial labor mobility, develop testing and implementation of credential recognition systems with an emphasis on simplifying regulatory procedures and/or harmonizing occupational requirements;
Offer salary subsidies, job placements, and mentorship to help IEHPs integrate into the Canadian labor market.
The deadline for submissions is January 30, 2023. Successful projects can receive funding ranging from $500,000 to $10 million.
Why is Canada taking this action?
In a number of sectors, including seasonal agriculture, retail, tourism, and (most urgently) healthcare, Canada is experiencing historic labor shortages.
In his speech, Minister Fraser mentioned that 47% of skilled immigrants from other countries with a background in health were unemployed or working part-time in non-health fields that just require a high school diploma. In response, Canada has already taken steps to make it easier for healthcare workers to obtain permanent residency (PR). Earlier this year, it was announced that doctors who are currently in Canada on a temporary visa will be eligible for economic immigration, despite being self-employed on paper.
When compared to employees with Canadian degrees, immigrants working in Canada with foreign degrees were twice as likely to hold a position for which they were overqualified.
A revision in Canada's credentialing system will be necessary to alleviate the country's ongoing labor shortages and to take full use of the competent talent already present in the country who has received overseas training.
The federal government will probably continue to look into accreditation improvements for other industries, even if the current scope of this project is on healthcare professionals.
Would you like to migrate to Canada?
As one of the leading immigration consultants in Dubai, our major objective is to provide you with all the information you need to make good decisions. We help you plan and manage your immigration to Canada so that you can finally live a prosperous life in the nation of your desires.
Given that immigration standards and laws are always changing and difficult to understand and continue, it is essential to contact Canada's immigration consultants which can help you and guide you throughout the procedure. We provide expert face-to-face help to ensure that you present your best performance in front of Canadian immigration, we help customers by estimating their prospects to be obtained, preparing them for visa and visa interviews, and by building a tailor-made immigration strategy plan for each client. So, why are you delaying? Contact us immediately!