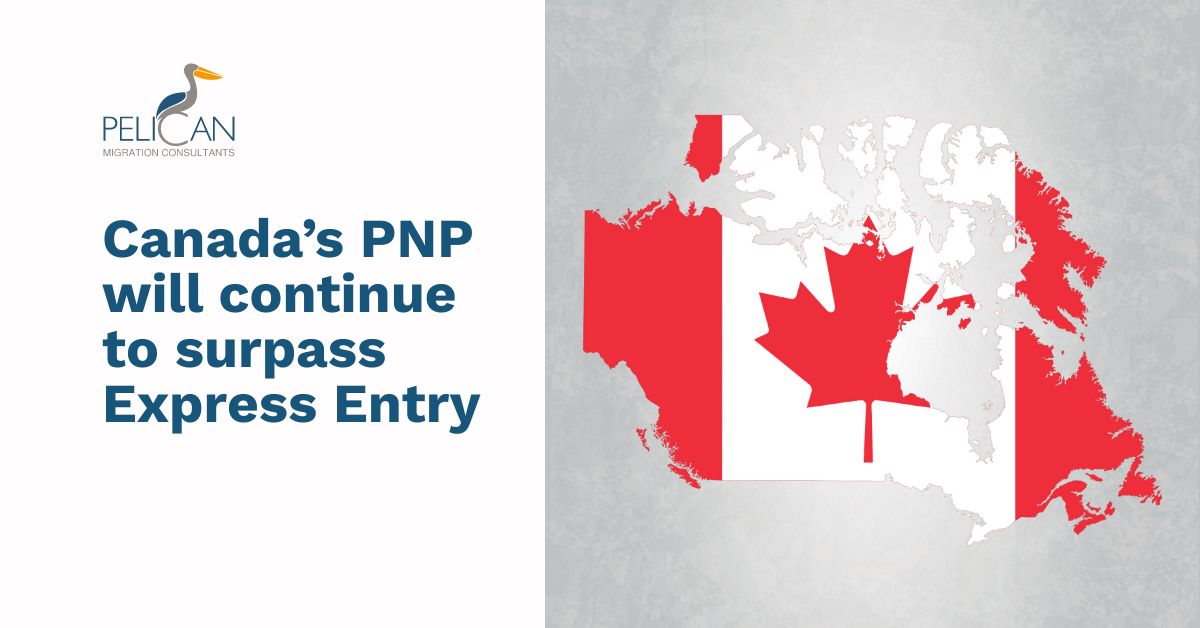 December 6, 2022
Canada's PNP immigration invitation numbers will continue to surpass Express Entry
Thanks to the Immigration Levels Plan, which was released on November 1, the anticipated number of new permanent residents entering Canada will have significantly increased by 2025.
The increase in Provincial Nominee Program allocations accounts for a significant portion of the total target increase (PNP). The program invited 83,500 new permanent residents in 2022, with the Immigration Levels Plan for 2023-2025 predicting a large increase of up to 105,000 new permanent residents in 2023. PNP growth will be less aggressive in 2024 and 2025, with 110,000 and 117,500, respectively. This means that by 2025, a PNP will have accepted one-fifth of all new permanent residents.
The decision on whether a candidate can become a permanent resident ultimately rests with Immigration, Refugees and Citizenship Canada (IRCC), even though the provinces choose the immigrants they believe will make the greatest contributions to the local labor force.
While 82,880 new permanent residents will be accepted through Express Entry programs in 2023, that number will rise to 114,000 by 2025. This is a continuation of the ambitious goals set for 2022, the year that PNP targets surpassed Express Entry. PNP goals are divided into allotments for each province. Alberta received 6,500 provincial nomination certificates in 2022, while Ontario received 9,700. It has not yet been made public how much money will be given to each province over the next three years.
PNP allocations were decided on an annual basis before the Immigration Levels Plan 2022–2024, even though Canada sets its permanent residence targets over three years. The ministers also decided to set PNP allocation goals for the future on a three-year basis.
Provinces requested higher PNP aims
The provinces convened earlier this year and requested from the government, citing Canada's historic labor need, a dramatic rise in immigration targets through the PNP. In Canada, there are presently 5.2% more unemployed people than there are open positions. There aren't enough workers in Canada to fill all the open positions, especially because many of them are in highly specialized fields like tech and healthcare.
Provinces frequently offer immigration programs that are tailored to the province's most in-demand professions. Provinces are better able to fill their most urgent job needs, which can vary between each province, by increasing the number of immigrants they can choose from and invite through these streams. Additionally, immigrants gain from this since they are more likely to settle down, obtain skilled work, and integrate more quickly.
Provincial Nominee Program (PNP)
According to the Immigration and Refugees Protection Act, the federal and provincial governments share responsibilities for immigration (IRPA). following the PNP, provincial governments choose the skill set most advantageous for the province's economy before inviting qualified applicants to apply. Candidates can then apply for permanent residency through IRCC if they accept a provincial nomination, which indicates they want to live and work in the province.
In 1999, 400 immigrants participated in the PNP, which had its start in 1998. Every year since then, more people have joined the group, reaching over 40,000 by 2012. Since then, it has more than doubled, reaching over 80,000 admissions annually by 2022.
The PNP has steadily increased its annual target because both the federal and provincial governments see it as a useful tool for promoting the economic growth of the nation outside of the provinces and urban areas with a high immigrant population.
An overwhelming majority of immigrants chose to settle in Toronto, Vancouver, and Montreal before provincial nomination. Thus, the prairies, the Atlantic provinces, and the territories did not benefit significantly from immigration in terms of a strong workforce or diverse communities.
Candidates for Express Entry are encouraged by provincial nomination because it boosts their Comprehensive Ranking System score by 600 points. It might be simpler for applicants who are ineligible for Express Entry to become permanent residents with a provincial nomination.
Would you like to migrate to Canada?
As one of the leading immigration consultants in Dubai, our major objective is to provide you with all the information you need to make good decisions. We help you plan and manage your immigration to Canada so that you can finally live a prosperous life in the nation of your desires.
Given that immigration standards and laws are always changing and difficult to understand and continue, it is essential to contact Canada immigration consultants which can help you and guide you throughout the procedure. We provide expert face-to-face help to ensure that you present your best performance in front of Canadian immigration, we help customers by estimating their prospects to be obtained, preparing them for visa and visa interviews, and by building a tailor-made immigration strategy plan for each client. So, why are you delaying? Contact us immediately!