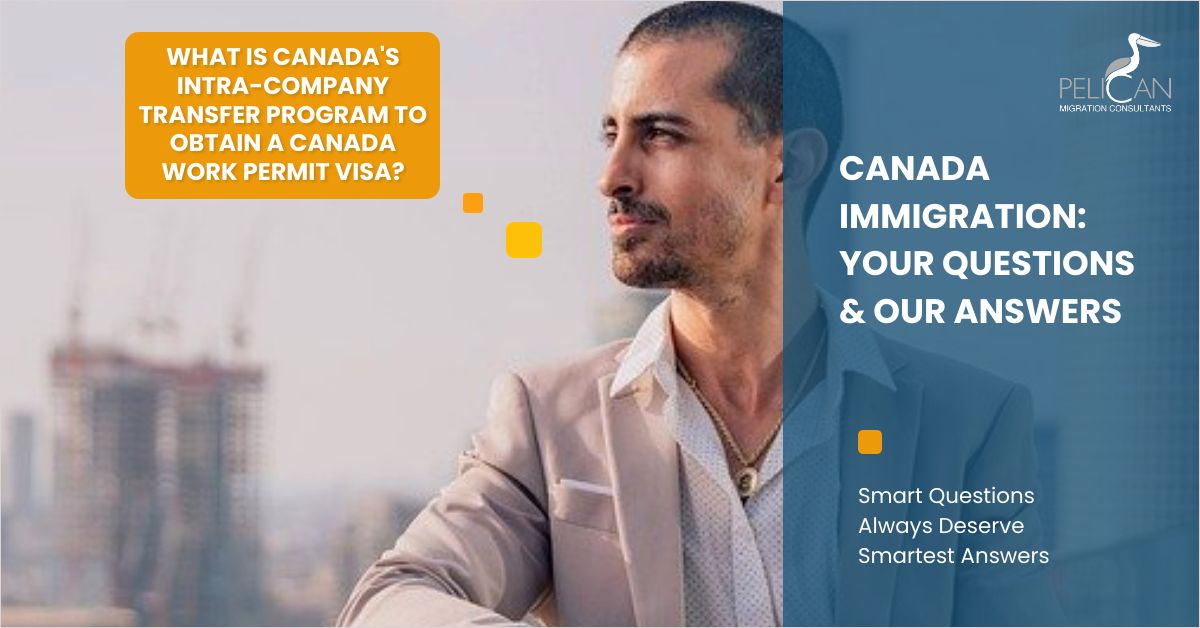 January 25, 2023
What is Canada's Intra-Company Transfer program to obtain a Canada Work Permit Visa?
The Canadian immigration system allows for a variety of corporate immigration paths. The Intra Company Transfer (ICT) program in Canada is ideal for foreign business owners looking to extend their existing businesses into Canada.  Let's learn about the ICT program, including program requirements, benefits, the application process, and pathways to permanent status.
What is Intra Company Transfer?
ICT is an immigration track under the International Mobility Program that permits qualifying foreign business owners to relocate to Canada and obtain a work permit. You will be eligible to obtain an ICT Work Permit and, eventually, permanent residency (PR) through the ICT pathway. In most situations, the chief applicant's spouse and children will be granted open work and study permits.
Who can apply for the ICT program?
The goal of the intra-company transfer program is to persuade well-known companies from around the world to expand their operations in Canada. Three different groups of people could gain something from this program:
Business owners, entrepreneurs, and shareholders of successful firms are now in executive positions and plan to undertake similar work in Canada.
Senior and functional managers who are now employed in a foreign organization and plan to take a similar position in Canada.
Employees have advanced specialist expertise that is unique or uncommon in a business.
Individuals who hold one of the following positions must additionally meet numerous other requirements, which are outlined below, in order to obtain a work permit under the ICT program.
Canadian Intra-Company Transfer Standards
In order to expand their businesses in Canada, business owners may apply for an ICT Work Permit. To qualify for a work permit under the ICT program, entrepreneurs must also fulfill a number of additional requirements, such as the ones listed below:
Before expanding to Canada, the domestic company must have been in operation for at least 12 months (but ideally for at least 3 years);
In order to support foreign operations in Canada, the home company must be financially stable;
The applicant must have worked for the home company for at least 12 months in the three years preceding the immigration application in order to be eligible for an ICT WP.
The domestic company must have a parent, subsidiary, or affiliate relationship with the Canadian company; and
Operations in Canada will be a successful business and lead to the development of jobs for Canadians.
Immigration inspectors will additionally certify the following if a foreign company is expanding for the first time in Canada:
Is there a solid business plan that shows Canadian operations will be a successful business that can bring in enough money to pay its bills and its employees?
Will this expansion lead to the development of new jobs for Canadians?
Will the business grow to the point where it needs a Canadian manager or executive?
As a result, if it is the first ICT application in Canada, firms must demonstrate that doing business in Canada makes sense for them and that newly established activities there are expected to succeed and expand to a size that will allow for the employment of locals. As a result, enterprises expanding to Canada for the first time must present a strong business case outlining their justifications in addition to completing the fundamental requirements for ICT applications.
Amount Invested in your Company's First Expansion to Canada
No minimum investment thresholds are established by the Canadian government for businesses moving operations there. However, the businesses must be financially stable and have the necessary funds to support their new operations in Canada and hire local talent.
The Benefits of the ICT Program
You can live and operate your business in Canada.
Bring your family along.
Children in Canadian public schools receive free education.
There are no minimum investment requirements.
There are no physical presence requirements.
Transferring important employees from home companies is an option.
Rapid procedure
Option to stay indefinitely
How Do I Apply for an Intra-Company Work Permit?
Candidates must first confirm that they meet the program's eligibility conditions before submitting an application for any immigration program in Canada. Additionally, candidates must come up with a solid plan for arguing their position to Canadian immigration officials. After that, applicants must compile a substantial amount of supporting documentation for their immigration application and give in-depth justifications for why they meet the requirements for eligibility and need to be in Canada.
If this is your first ICT application, proceed as follows:
Step 1: Establish your firm in Canada as a parent, subsidiary, or associate of your primary business.
Step 2: Create a business plan that outlines your intended company activity, market research, and how you intend to run a profitable operation in Canada. Include your hiring strategy and cash flow estimates for at least the next 2-3 years, in accordance with industry standards.
Step 3: Gather all required documents (such as bank statements, articles of organization, proof of investment capital, and so on) and prepare your work permit application; and
Step 4: Submit your application for a work permit and wait for a decision.
It is crucial to remember that the process differs substantially depending on the nationality of the applicant. Some nations benefit from having agreements with Canada that let their nationals travel more easily under the ICT. If the applicant is a citizen of a visa-exempt nation, they may be able to apply for an ICT WP at the port of entry (POE).
ICT Work Permit Timeframe
The typical length of an ICT work permit is one to two years. The WP will only be good for a year if they work for a start-up business. A 3-year WP is advantageous for some citizens of the nations that do not require visas. For a total of up to 5 years for specialized knowledge workers and 7 years for executives and managers, the WP may be renewed for an additional 2 to 3 years.
However, those who will work for newly founded businesses in Canada may only be granted work permits good for a year by immigration officials. US citizens and other citizens of nations without visa requirements (such as Australia, the United Kingdom, the European Union, Japan, etc.) may take advantage of free trade agreements their countries have with Canada and get a three-year ICT work permit.
Through a Labor Market Impact Assessment (LMIA) exemption, it is possible to get a WP under the program (C12). LMIA will be needed in some circumstances, though.
From ICT to PR in Canada
The foreign national may be qualified to use the Express Entry program to apply for PR after one year of full-time employment with a Canadian business. For an arranged employment (job offer) from their own business in Canada, the foreign national may be able to obtain 50 or 200 more points, depending on the employment function.
This typically causes their Comprehensive Ranking System (CRS) score to rise significantly, which might result in the selection under the FWS category of the EE stream and an invitation to submit an application for PR from the immigration authorities.
Canada and international free trade agreements with intra-company transfers
Having international agreements with Canada gives specific benefits under certain Treaty ICT applications, which benefit a number of nations. Treaty ICT regulations are applicable to citizens of the following nations: the United States (CUSMA), Mexico (CUSMA), Chile, Columbia, Peru, Korea, the European Union (CETA), Australia (CPTPP), Japan (CPTPP), Mexico (CPTPP), and New Zealand (CPTPP).
Would you like to migrate to Canada?
As one of the leading immigration consultants in Dubai, our major objective is to provide you with all the information you need to make good decisions. We help you plan and manage your immigration to Canada so that you can finally live a prosperous life in the nation of your desires.
Given that immigration standards and laws are always changing and difficult to understand and continue, it is essential to contact Canada immigration consultants which can help you and guide you throughout the procedure. We provide expert face-to-face help to ensure that you present your best performance in front of Canadian immigration, we help customers by estimating their prospects to be obtained, preparing them for visas, and building a tailor-made immigration strategy plan for each client. So, why are you delaying? Contact us immediately!