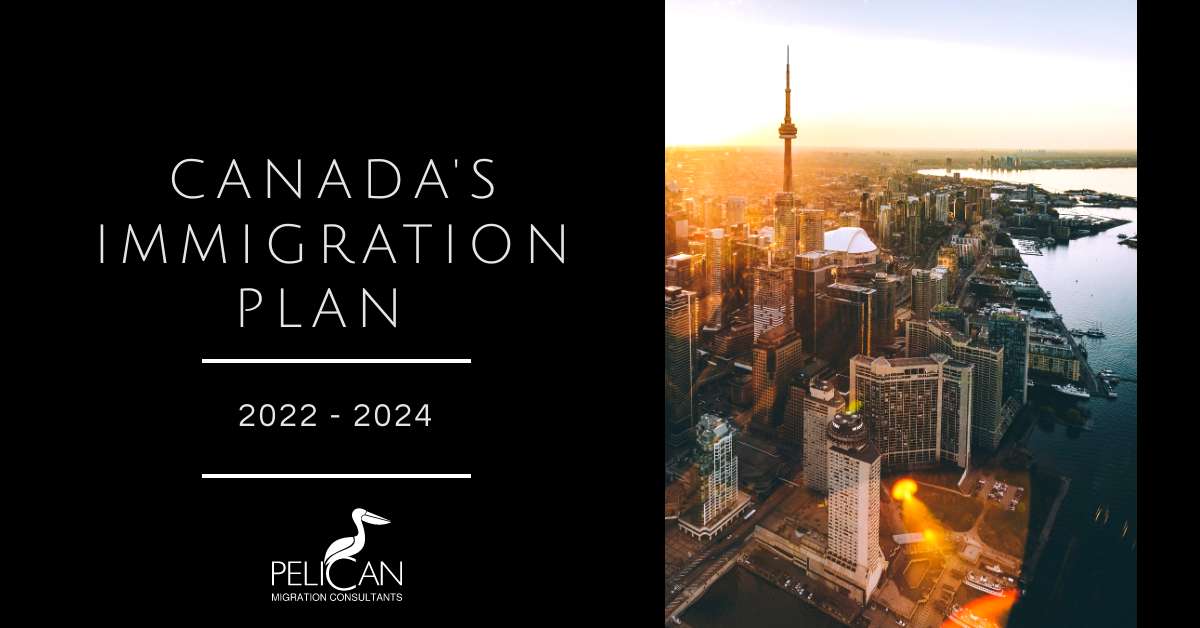 March 30, 2022
Canada's Immigration Plan 2022 – 2024
To assist its post-pandemic economy, Canada launched an ambitious plan to admit more than 1.3 million immigrants over the next three years. Canada is now aiming to accept nearly 430,000 new immigrants per year underneath the Immigration Levels Plan, which is the greatest level in the country's history. The immigration goals of Canada are to enhance the economy, reconcile families, and assist refugees. This in-depth blog covers everything you need to understand about Canada's Immigration Levels Plan. Read on to know more.
Canada's Immigration Levels Plan
The Immigration and Refugee Protection Act (IRPA) of Canada requires the central government to disclose that information by November 1st of each year when Parliament is in session. If Parliament is not in session, the official announcement must be issued within 30 days of its resumption. The official statement is usually issued by November 1st of each year, but because the Canadian government dissolved Parliament in September for such an election, it did not occur in 2021. Post-election, a new session of Parliament convened on November 22nd.
Parliament met for 20 days before taking a holiday break. It reconvened in February, with Immigration Minister Sean Fraser introducing the new levels strategy. CICC surpassed its aim by admitting more than 405,000 immigrants in 2021. This aim will be increased to 431,645 new permanent residents by 2022. In 2023, Canada hopes to accept an extra 447,055 immigrants, followed by another 451,000 in 2024. The following table summarises Canada's immigration goals for 2022-2024 per immigration class:
| | | | |
| --- | --- | --- | --- |
| Immigration Class | 2022 | 2023 | 2024 |
| Economic | 241,850 | 253,000 | 267,750 |
| Family | 105,000 | 109,500 | 113,000 |
| Refugee | 76,545 | 74,055 | 62,500 |
| Humanitarian | 8,250 | 10,500 | 7,750 |
| Total | 431,645 | 447,055 | 451,000 |
Why Canada Needs Immigrants
Canada has a relatively low population growth rate, which leads to a poor labor force as well as economic growth rates. The rate of economic growth makes it hard for Canada to increase the taxes required to support social spending on services like education, health care, as well as other critical areas that contribute to the country's high standards of living.
As a result, Canada has increased its immigration numbers since the late 1980s in order to boost its population, workforce, and economic growth rates. Immigration now accounts for the bulk of Canada's population and labor force growth, as well as a growing share of its economic progress.
Since 1988, Canada has consistently received over 200,000 immigrants per year. It has now resolved to boost its levels to above 400,000 every year. The immigration rate in Canada is now about 1.1 percent. Based on Demographic realities as well as immigration trends, it is likely that Canada will continue to progressively expand its immigration numbers in the foreseeable future. Immigration will continue to be vital to the country's economic and fiscal health.
Impact of COVID - 19 on Canadian immigration
Canada has always stated in the COVID times that they will try their best to not interrupt the immigration procedures even in hardships. Furthermore, there is a compelling case to be made that perhaps the coronavirus pandemic has increased the relevance of immigration. COVID-19 has temporarily harmed the Canadian economy while increasing government expenditure on social services.
Given the low birth rate previous to the pandemic and the possibility that the pandemic may further depress birth rates owing to economic instability, Canada will become more and more reliant on immigration for population growth in the future years. If Canada's birth rate stays low, immigration will account for an increasingly bigger share of labor-force growth in the coming decades. Finally, in order to fund government expenditure following COVID-19, Canada will have to strengthen its tax base via immigration.
Overview of Canada's Immigration Programs
Economic immigration, which is a primary engine of Canada's economic growth, represents more than half of the multi-year levels plan's scheduled admissions. The federal Express Entry system programmes will account for nearly half of all planned economic admissions including:
The Provincial Nominee Program (PNP) of Canada also plays an essential role in economic immigration. This programme permits participating Canadian provinces to recommend eligible immigration applicants for permanent residence who meet local workforce demands.
The immigration programs listed below are part of Canada's Multi-Year Immigration Levels Plan:
Immigrant Category
Subcategories
2022
2023
2024
Overall Planned Permanent Resident Admissions
431,645
447,055
451,000
Economic
Federal High Skilled
55,900
75,750
111,500
Federal Economic Public Policies
40,000
32,000
-
Federal Business
1,000
1,000
1,500
Economic Pilots: Caregivers
10,250
11,250
12,750
Atlantic Immigration Pilot Program
6,250
6,500
6,500
Provincial Nominee Program
83,500
86,000
93,000
Quebec Skilled Workers and Business
See the Quebec immigration plan
To be determined
To be determined
Total Economic
241,850
253,000
267,750
Family
Spouses, Partners & Children
80,000
81,000
81,000
Parents and Grandparents
25,000
28,500
32,000
Total Family
105,000
109,500
113,000
Refugees and Protected Persons
Protected Persons in Canada and Dependents Abroad
24,500
25,000
25,500
Resettled Refugees - Government-Assisted
19,790
17,260
13,000
Resettled Refugees - Privately Sponsored
31,255
30,795
23,000
Resettled Refugees - Blended Visa Office-Referred
1,000
1,000
1,000
Total Refugees and Protected Persons
76,545
74,055
62,500
Humanitarian and Other
Total Humanitarian & Compassionate and Other
8,250
10,500
7,750
2023 Francophone Immigration Strategy objective
14,014
17,886
Would You Like to Migrate to Canada in 2022?
Because of the continuously changing immigration standards and regulations, it is best to contact Canada Immigration Consultants who can assist and guide you throughout the process. At Pelican Migration Consultants, our primary goal is to offer you all the necessary information you require to make the right decisions. We are licensed immigration consultants in Dubai to help you plan and manage your immigration to Canada and eventually lead a successful life in the country of your dreams. What's more, we don't make you spend a penny more or wait a day longer until and unless it is out of our control.
We provide professional one-to-one assistance ensuring you give your best in front of the Canada immigration Department. We help the clients in analyzing the clients' chances of being granted a visa, then preparing clients and giving feedback for VISA interviews, developing a customized immigration strategic plan for each client separately. Best Wishes!