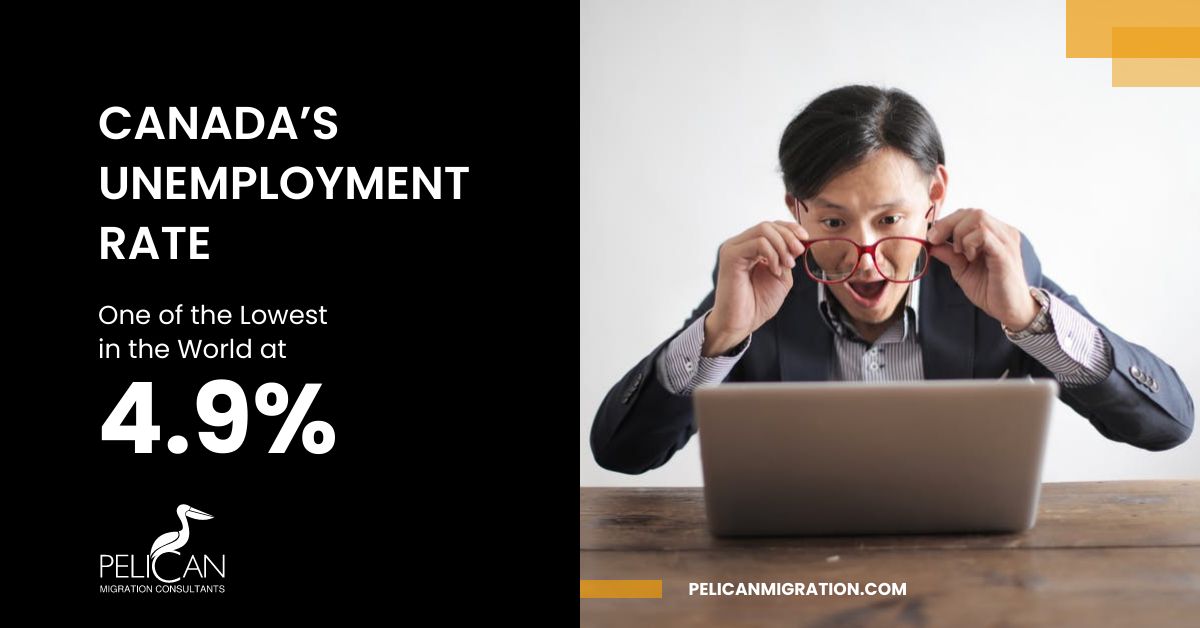 September 2, 2022
Canada's Unemployment Rate, One of the Lowest in the World
Wage growth continues to accelerate as a huge number of Canadians leave the labor field.
Last month, the Canadian labor market showed symptoms of extraordinary tightness, with the unemployment rate falling to a record low, pay gains increasing, and substantial numbers of Canadians dropping out of the labor field.
In July, Canada's unemployment rate remained stable at 4.9%, matching the previous month's record low. The total number of unemployed people remained stable at one million. Furthermore, 426,000 persons sought a job but did not look for one, and thus did not fulfill the definition of unemployed. This remained unchanged for the sixth month in a row. The adjusted unemployment rate stayed at 6.8%, the lowest since comparable statistics began available in 1997.
Furthermore, employment in Canada fell by 31,000 jobs, which, according to Statistics Canada, is not a major change. From May to July, Canada lost approximately 74,000 jobs, while employment surged by more than one million from May 2021 to May 2022.
Nonetheless, July is Canada's second consecutive month of reduced employment. Furthermore, Canada's record-low unemployment rate, combined with more than one million job openings, indicates that the labor market remains tight.
In an economic report, RBC economist Carrie Freestone says, "Two consecutive months of lower employment indicates that the Canadian labor market is running up against capacity constraints, with little room for upside movement." Demand for employees remains quite strong, with job advertisements still 65% higher than before the epidemic (albeit the quantity of job postings continues to diminish), and there are few unemployed Canadians available to fill these vacant positions.
The public sector experienced its first fall in a year in July, when its employment base fell by 51,000 (1.2%). In Ontario and Quebec, the decline was most pronounced. Despite the month-to-month decline, there was a 215,000 or 5.3% gain in public sector employment over July of the previous year.
After declining by 59,000 (-2.2%) in June, the number of self-employed workers rose by 34,000 (+1.3%) in July. Despite this rise, self-employment was still 214,000 (-7.4%) below its pre-pandemic February 2020 level and was flat year over year.
The number of people employed in the services industry fell by 53,000 (-0.3%) in July. Wholesale and retail trade were the primary causes of losses in this industry. The number of people engaged in wholesale and retail commerce fell for the second consecutive month in July, falling by 27,000 (-0.9%). The majority of the net drop was caused by Ontario and Quebec.
Andrew Grantham, a CIBC analyst, told Reuters, "Job losses were strangely concentrated in the services sector, including wholesale and retail, education and health."  Labor supply, not demand, seems to be the key problem in some of those sectors, which record high vacancy rates. Nevertheless, the unexpected slowdown in pay growth is the main distinction between this report and the one from last month.
On an annual basis, employee hourly salaries increased 5.2% (+$1.55 to $31.14) in July, almost matching the rate of growth recorded in June (+5.2%; +$1.54). For the second consecutive month, part-time workers' hourly salaries (+5.0%; +$1.05) and full-time workers' (+4.9%; +$1.52) increased at the same rate. Early in 2022, full-time employees' wages grew more quickly than part-time employees' wages.
According to the latest recent figures on inflation, the Consumer Price Index increased 8.1% year over year in June, the highest yearly change in almost 40 years.
According to a news release from the Conference Board of Canada, economist Liam Daly, "The rising cost of living is raising the temperature at the collective bargaining table." Given the rate of inflation, unions argue that typical annual pay rises are simply insufficient. Amid high vacancy rates and a low unemployment rate, workers are negotiating from a strengthened position.
"We're still dealing with the lowest unemployment rate in at least 50 years, and wages that are running strong," Porter said. "But from a growth angle, the reality is employers are having trouble finding employees, and so that caps the growth of the economy."
The primary conclusion, according to BMO economist Doug Porter, is that the job market is still extremely tight.
Where in Canada Am I Able to Work?
Anywhere in Canada is a place where someone can live and work once they get permanent resident status there. A foreign individual who wants to work in Canada but does not hold permanent residence status in Canada must get the appropriate authorization. Most frequently, a Canadian work permit serves as this authority.
Would you love to migrate to Canada?
It is important to get in touch with Canada Immigration Consultants who can help and direct you through the lengthy process of immigration because of Canada. We offer specialized one-on-one support to make sure you perform at your peak in front of the Canada immigration department. We assist clients by assessing their prospects of being granted a visa, assisting clients in preparing for and receiving feedback from VISA interviews, and building an individually tailored immigration strategic plan for each client. We assist the clients in the following ways, among others:
Estimating the clients' likelihood of receiving a visa
If required, preparing clients for VISA interviews
Creating a client-specific immigration strategic plan
Offering clients a new viewpoint on immigration choices
Helping customers complete the necessary forms and documents for their immigration applications. In order to make sure the documents are both accurate and error-free, RCICs proofread them.
Due to our streamlined application process, we give our applicants a good chance of success. You may rely on us because all of our immigration cases are handled by knowledgeable and skilled immigration consultants. Our experts also have a considerable understanding of the Canadian immigration procedure and are licensed. So, if you're prepared to move forward, why not get in touch with us right away to schedule a private consultation?