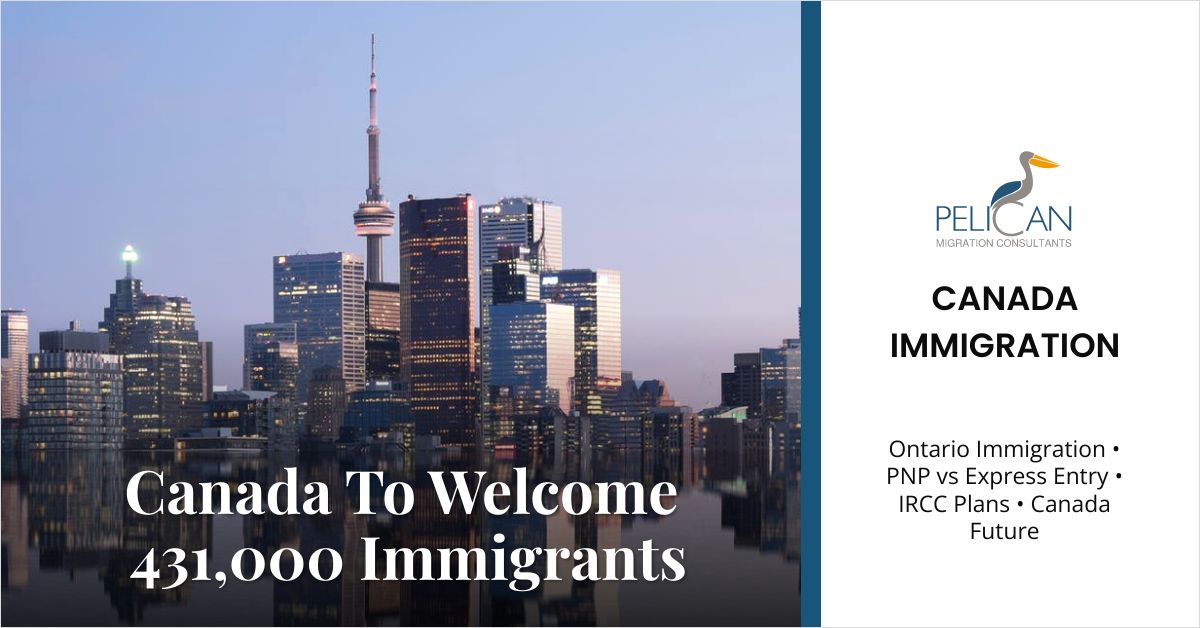 September 16, 2022
Canada To Welcome A Record 431,000 Immigrants
As of August 22, there are around 300,000 new Canadian citizens. Sean Fraser, Canada's minister of immigration, said this week that the country had received more immigrants than ever before—300,000—earlier this year. Since Confederation in 1867, Canada has only had six years with more than 300,000 immigrants: 1911 to 1913, followed by 2018 through 2021.
In 2021, immigration surged after Immigration, Refugees and Citizenship Canada (IRCC) saw a decline in new arrivals in 2020 as a result of travel restrictions connected to the pandemic. The year ended with an all-time high of 405,330 new arrivals. However, IRCC did not surpass 300,000 until the fourth quarter of that year.
Statistics about incoming immigrants up through June 2022 have so far been made public on the IRCC's open data page. The results for July and August will be made public in the following months. There were around 231,620 new arrivals in Canada by the end of June. According to the disparity between the data from the end of June and the beginning of August, Canada probably welcomed about 68,000 new permanent residents during those two months.
If this rate continues, Canada may reach or perhaps surpass its goal of 431,000 new immigrants by the end of the year. The immigration service will surpass the previous standard established in 2021 if it succeeds in achieving this goal.
The figures given allow us to determine which countries immigrants are arriving from and which Canadian provinces and territories they are relocating to. The IRCC rounds data to the nearest five in an effort to protect individual privacy and prevent identifying specific individuals. As a result, the figures might not always add up to the total. The first half of 2022 will involve immigration to Canada, and the following information is crucial.
Top source countries
India still ranks by far the most highly as a source country for incoming immigrants. A total of 29% of all immigrants to Canada in the first half of the year were Indian, who made up 68,280 of those granted permanent residency. Since 2017, immigrants to Canada most frequently come from the top source country of India. Following the Taliban takeover, there was a notable increase in Afghan permanent residents. Afghan immigration to Canada increased significantly in the second half of 2021 as the federal government pledged to resettle 40,000 refugees leaving the nation. Afghanistan was the ninth most popular source country for entrants overall in 2021. Afghanistan has been ranked fourth so far this year. By August 31, 2022, 18,075 Afghan refugees have entered Canada as a result of new permanent residency schemes.
| | |
| --- | --- |
| Country | No of new immigrants |
| India | 68,280 |
| China | 16,540 |
| Philippines | 12,630 |
| Afghanistan | 11,415 |
| Nigeria | 10,080 |
| Iran | 6,425 |
| France | 6280 |
| USA | 6,025 |
| Pakistan | 5,505 |
| Brazil | 4,810 |
Provincial Immigration
Ontario has by far been the province where immigrants choose to settle. Ontario welcomed 101,155 new citizens in the first half of the year, roughly three times as many as British Columbia, which was a close second. A total of 36,700 new permanent residents had entered the province of British Columbia by the end of June.
At the start of the year, Quebec had welcomed 31,880 immigrants, which was the third-highest total. Fourth place went to Alberta, which had 26,920 immigrants. In addition, Ontario welcomed the most number of immigrants from all immigration categories into Canada, including family, economic, refugee, and others. While it placed third in the other category, BC admitted the second-highest number of immigrants from the economic and family classes. Alberta saw the second-highest influx of refugees and the third-highest influx of middle-class immigrants. The second-most immigrants overall, as well as the third-most immigrants from the economic and refugee groups, were admitted to Quebec.
This year, more PNP immigrants were permitted!
According to the 2022-2024 Immigration Levels Plan, Canada anticipates its Provincial Nominee Program (PNP) to admit more immigrants this year and the next year than its Express Entry-managed programs. Since 2015, when the Express Entry Canada system was implemented, this has not occurred.
In total, 40,785 and 40,835 immigrants have entered Canada through Express Entry and the PNP, respectively. In the Canadian Experience Class, the majority of immigrants who applied through Express Entry were admitted (CEC). This year, the percentage of immigrants who entered the nation through Express Entry under the Federal Skilled Trades Program (FSTP) was at its lowest level (FSWP).
Canada continues to encourage immigration
Canada mostly depends on immigration to fill vacancies in the labor market. More than a million opportunities are vacant, and the unemployment rate is a record-low 4.9%, according to Statistics Canada's most current figures. As a result, a number of industries across the country are experiencing a labor shortage. The fact that by 2030, over nine million Canadians will be of retirement age and that their birth rate, at 1.4 children per woman, is among the lowest of the G7 countries, only serves to make matters worse.
In order to address the labor shortfall, Canada may anticipate an annual increase in immigration that will set new records. For instance, as part of the Immigration Levels Plan, Canada aims to welcome more than 450,000 new immigrants in 2024. In addition to pushing for more control over immigration, several provincial governments are urging Canada to do more to entice immigrants with in-demand skills.
Canada is also working harder to speed up and make the application process simpler for applicants. IRCC recently introduced a variety of initiatives to reduce the backlog of applications and enhance the customer experience. The IRCC will put in place application status trackers for seven additional programs for both temporary and long-term residents by the spring of 2023. All immigration applications must be submitted electronically starting September 23.
Would moving to Canada be your dream?
At Pelican Migration Consultants, our main goal is to arm you with the information you need to make the best choice. To finally live a rich life in your chosen country, we help you manage your immigration to Canada. To ensure that your profile is best-fit, we provide one-on-one assistance. We help clients by evaluating their opportunities to get a visa, helping them prepare and get feedback from visa interviews, and making special immigration strategic plans for each client. Why not give it a try with one of the best immigration consultants in Dubai? Come join us by first determining your eligibility! Best wishes!