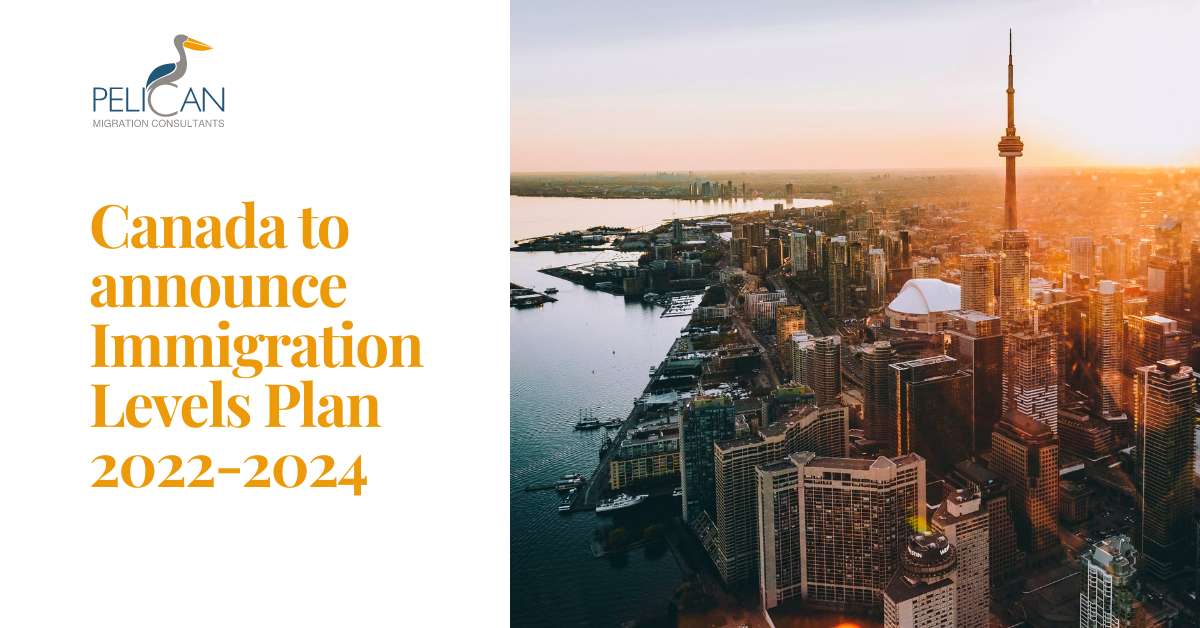 February 17, 2022
Canada to announce Immigration Levels Plan 2022-2024
Canada is going to announce Immigration Levels Plan 2022-2024 by February. The announcement will include Canada's immigration goals for this year and the next 2 years, as well as the rate of new immigrants the country plans to welcome through its different economic, family, as well as humanitarian programmes. Read on to know more about the announcement, the immigration rates, and the changes that can be expected.
What does the legislation say about the Immigration Levels Plan announcement?
When the Canadian government comes out and discloses its Immigration Levels Plan 2022-2024 in February, this will provide a major upgrade. It will be the first of that kind of announcement since Canada surprised the world by announcing in October 2020 that it would aim to welcome over 400,000 new immigrants per year in the future, an increase of about 40,000 from previous targets.
The federal government is required by Canada's main immigration rules, the Immigration and Refugee Protection Act (IRPA), to release this information by November 1st of every year when Parliament is in session. If Parliament is not in session, the official statement must be made within 30 days of its reinstatement. The official statement is usually made by November 1st of each year, but since the Canadian government dissolved Parliament in September for the election, it did not take place in 2021. On November 22nd, a new session of Parliament started following the election.
Parliament met for 20 days prior to actually going on a holiday break. It will meet again on January 31st, which implies that Immigration Minister Sean Fraser must introduce the new levels strategy by Friday, February 11th, at the latest. In recent times, the Canadian government has almost always announced the decision by the deadline, and only on rare occasions has it done so earlier if the deadline dropped on a weekend. If the trend continues this year, the announcement will most likely take place in the second half of the first week of February.
It's worth noting that the Government of Canada will almost certainly present a second-level plan by November 1st this year. The Immigration Levels Plan 2023-2025 will be announced as scheduled, with the exception of the extremely unlikely scenario that the Canadian government chooses to hold elections for the second year in a row.
CICC expects to welcome 411,000 new Canadian permanent residents this year under the new Immigration Levels Plan 2021-2023. The CICC met its goal of landing 401,000 immigrants in 2021, the highest number in Canadian history. CICC met the goal last year, despite the difficult pandemic environment, by focusing on making the transition of temporary residents to permanent residents in Canada.
The current plan intends to welcome what percentage of immigrants through different programs?
Through Express Entry, the Provincial Nominee Program, and Quebec's programmes, among other opportunities, the current plan intends to welcome 241,500 economic immigrants this year. This represents 59% of Canada's total immigration target. And through the Spouses, Partners, and Children Program as well as the Parents and Grandparents Program, CICC hopes to welcome 103,500 family class immigrants. This represents 26% of the IRCC's immigration target. The remaining 66,000 newcomers will be welcomed to Canada on humanitarian as well as compassionate grounds, accounting for 15% of the total newcomer target.
Since the mid-1990s, when the Government of Canada chose to concentrate acceptance rates on economic class arrivals to help relieve the economic and financial challenges posed by Canada's aging population as well as low birth rate, these ratios have remained stable. These percentages are likely to be maintained in this year's plans.
What changes can we expect?
The total number of migrants that Canada chooses to approach in the years ahead may change. On the one hand, the Canadian government may well be content with its already lofty goals and decide to stick with them. This would entail simply maintaining a gradual increase in annual admittance now that the baseline number of immigrants has surpassed 400,000. Up until 2016, the baseline was approximately 250,000 immigrants per year. Another factor to consider is that the Canadian government also might want to avoid significant increases in order to focus on reducing its backlog, which currently stands at 1.8 million permanent as well as temporary resident applicants.
Fraser, on the other hand, had also indicated that, based on stakeholder feedback, he is open to raising the targets even higher. The minister stated that he would pay heed to community groups and businesses to see if they want to welcome more immigrant workers.
What do people think about the high immigration goals?
Some people may make the argument that Canada's immigration goals are already ambitious and that the government must put a stop to any further increases for a variety of reasons. Backlogs must be reduced, communities across the country face affordability of housing issues, as well as historically, welcoming immigrants during economic downturns has harmed newcomers' employment prospects.
People in favor of higher levels, on the other hand, may argue that the high levels are necessary to support Canada's post-pandemic economic and financial recovery, as well as to alleviate skills shortages. Higher goals can also be justified on the basis that they will help CICC reduce its backlogs faster. Furthermore, in order to meet the government's goal of relocating 40,000 Afghan refugees, elevated targets may be required.
What is certain is that we will not be speculating for long, as the deadline of February 11 is rapidly approaching.
Would You Like to Migrate to Canada in 2022?
Because of the continuously changing immigration standards and regulations, it is best to contact Canada Immigration Consultants who can assist and guide you throughout the process. At Pelican Migration Consultants, our primary goal is to offer you all the necessary information you require to make the right decisions. We are a licensed consultant to help you plan and manage your immigration to Canada and eventually lead a successful life in the country of your dreams. What's more, we don't make you spend a penny more or wait a day longer until and unless it is out of our control.
We provide professional one-to-one assistance ensuring you give your best in front of the Canada immigration Department. We help the clients in analyzing the clients' chances of being granted a visa, then preparing clients and giving feedback for VISA interviews, developing a customized immigration strategic plan for each client separately. Best Wishes!