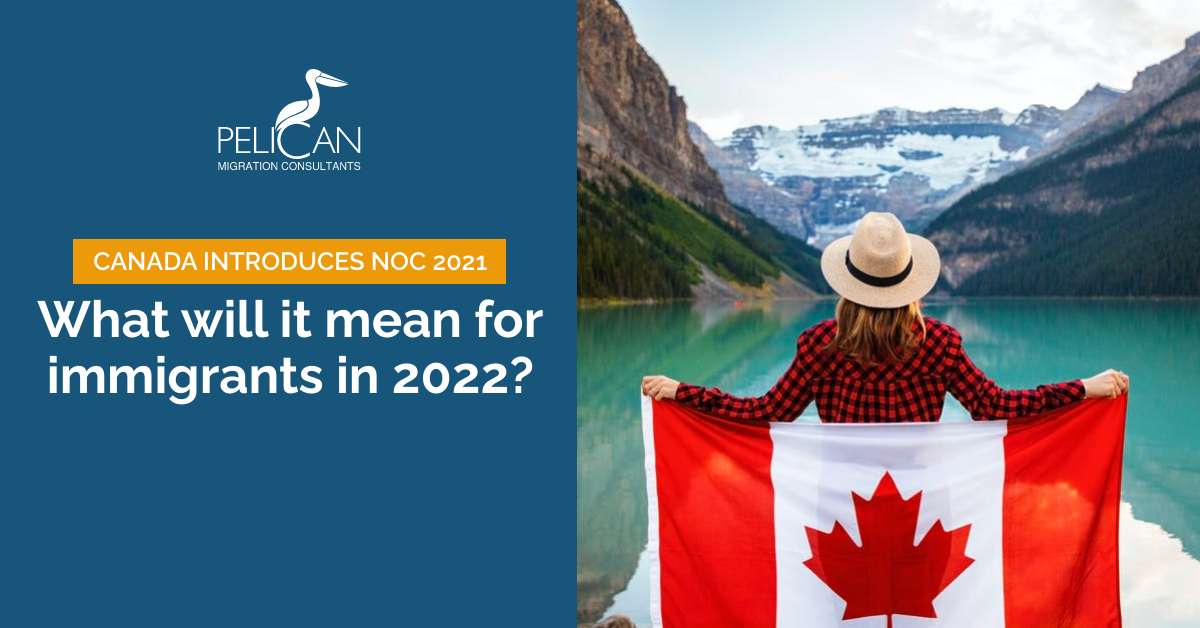 November 27, 2021
Canada has introduced NOC 2021. What will it mean for immigrants in 2022?
Did you know that migrating to Canada requires a minimum of 12 months of constant, full-time, skilled work experience accomplished within the previous ten years (or an equivalent amount in part-time experience) to get qualified for Federal Skilled Worker Program, the Temporary Foreign Worker Program (TFWP), and other skilled worker immigration programs? Here, Skilled work experience is defined as experience at NOC skill levels.
Previously NOC Skill Levels 0, A, B, C and D - these were the categories as per NOC Version 2016. But now, Canada's immigration system has overhauled the way it classifies occupations in fall 2022. Read on to know what are the implied changes and how will the changes affect the immigration process.
What is NOC and what role does it play?
The National Occupational Classification (NOC) is a national system for managing and describing lines of work in Canada. It can assist you in finding information about occupational groups found across Canada's job market. The NOC is a valuable resource for job seekers. You can use it to conduct research in the following areas:
Employers frequently use the NOC to assist them in writing job descriptions as well as identifying skill demand for new job postings. Many government entities, including Immigration, Refugees, and Citizenship Canada, are using the NOC to identify labor shortages in the Canadian labor market and to assess eligibility.
NOC 2021 to be implemented in "fall 2022"
Employment and Social Development Canada (ESDC) and Statistics Canada update the NOC every five years. And recently IRCC declared, the federal government expects to be able to implement the new method of categorizing occupations sometime in "fall 2022." It stated that this will give IRCC time to notify stakeholders of the changes and implement a new system across its programs. IRCC is also working with ESDC to ensure consistency throughout the work permit application procedure. The Canadian immigration system will transform the way jobs are classified in the fall of 2022.
NOC rules as per NOC 2016 VS NOC 2021?
The NOC Skill Levels VS NOC TEER System
As per NOC Version 2016, the jobs were classified based on Job duties, and The work an individual does and will be expected to do.
| | |
| --- | --- |
| Skill Type | Kind Of Job |
| Skill Type 0 (zero) | Management jobs |
| Skill Level A | Professional jobs |
| Skill Level B | Technical jobs and skilled trades |
| Skill Level C | Intermediate jobs |
| Skill Level D | Labor jobs |
The first major change is that skill levels have been replaced by the new categories of Training, Education, Experience, and Responsibilities (TEER). As per NOC Version 2021, the jobs are classified as follows:
TEER 0
TEER 1

Completion of a university degree (bachelor's, master's or doctorate); or
Several years of experience in a specific occupation from TEER category 2 (when applicable).

TEER 2

Completion of a post-secondary education program of two to three years at community college, institute of technology or CÉGEP; or
Completion of an apprenticeship training program of two to five years; or
Occupations with supervisory or significant safety (police officers and firefighters) responsibilities; or
Several years of experience in a specific occupation from TEER category 3 (when applicable).

TEER 3

Completion of a post-secondary education program of less than two years at community college, institute of technology or CÉGEP; or
Apprenticeship training of fewer than 2 years; or
More than six months of on-the-job training, training courses or specific work experience with some secondary school education; or
Several years of experience in a specific occupation from TEER category 4 (when applicable).

TEER 4

Completion of secondary school; or
Several weeks of on-the-job training with some secondary school education; or
Several years of experience in a specific occupation from TEER category 5 (when applicable).

TEER 5

Short work demonstration and no formal educational requirements.
NOC 2021 will have six TEER categories, up from the current four. The majority of the professions listed – roughly one-third of all unit groups in the NOC – fall under the current Skill Level B. There is now a clearer dividing line between the job requirement for each of the TEER categories as a result of the change. This will result in a more consistent and homogeneous classification.
New NOC codes to be in a 5-digit format:
The third significant change is a structural shift from a four-tiered NOC code to a five-tiered classification system.
NOC 2021 – 5-digit NOC Code
Digit 1
Broad occupational category
Digit 2
TEER category
Digits 1 & 2
Represent the major group
Digits 1, 2 & 3
Represent the sub-major group
Digit 1, 2, 3 & 4
Represent the minor group
All 5 digits
Represent the occupation itself
The new classification allows for greater flexibility. NOC 2021 has been designed to allow for the addition of many new unit groups as they become necessary in the future. For example, according to the NOC 2021 Concordance table, the current NOC 0111 for Financial managers with a Skill Level A will become NOC 10010 with TEER 0. You can search for more occupations here.
Increase in the number of occupations
There are 516 occupations in NOC 2021. NOC 2016 consists of 500 unit groups. The overhauled NOC has 516 unit groups, 423 of which are the same as with the previous iteration of the categorization.
How the 516 unit groups from NOC 2021 were built
423 unit groups
Exactly the same as in NOC 2016
58 unit groups
New unit groups, created through the splitting up of an existing unit group
30 unit groups
Existing unit groups that had parts of another unit group added
5 unit groups
New unit groups, created through the merging of 2 separate unit groups
Distribution of Unit Groups by Skill Level VS TEER System
NOC 2016 V1.3 Distribution of Unit Groups by Skill Level
NOC 2021 V1.0 Distribution of Unit Groups by TEER
TEER Category 0
9%
Skill Level A
28%
TEER Category 1
19%
Skill Level B
42%
TEER Category 2
31%
Skill Level C
24%
TEER Category 3
13%
Skill Level D
6%
TEER Category 4
18%
TEER Category 5
9%
The need for substituting TEERs for NOC skill levels?
According to Statistics Canada, the following are the major reasons for substituting TEERs for NOC skill levels:
First, trying to define occupations based on "skill levels" is perplexing because the NOC concentrates on occupation rather than skills. The TEER system will be implemented to focus on the education and experience required to work in a specific occupation.
Second, Statistics Canada claims that the previous NOC categorization system arbitrarily creates a low-skilled versus high-skilled dichotomy. This redesign abandons the high/low categorization in order to better capture the skills required in each profession.
What does this mean for immigrants?
As stated above, Immigration, as well as foreign worker applicants, must confirm that their NOC meets the eligibility criteria for the program to which they are trying to apply. One major source of concern is how IRCC and ESDC classify occupations. Professions that are now categorized as skill level "B" have grown disproportionately large over time because it includes jobs requiring varying levels of education and experience. Thus the updated NOC matrix will be more consistent, accurate, and flexible.
As of now, it's unclear which TEER categories will be eligible for Express Entry-managed programs, as well as other federal and provincial programs that now require a "high skilled" NOC. For the time being, immigration applicants must wait for IRCC and ESDC to give additional information.
Migrating to Canada may appear simple, but the procedure is not as simple as it appears. Because of the complexity of the process, it is best to contact RCIC consultants who can assist and guide you throughout the process.
At Pelican Migration Consultants, our primary goal is to offer you all the necessary information you require to make the right decisions. We help you plan and manage your immigration to Canada and eventually lead a successful life in the country of your dreams. What's more, we don't make you spend a penny more or wait a day longer until and unless it is out of our control.
We provide professional one-to-one assistance ensuring you give your best in front of the Canadian immigration Department. We help the clients in analyzing the clients' chances of being granted a visa, then preparing clients and giving feedback for VISA interviews, developing a customized immigration strategic plan for each client separately.
Assisting them with the completion of their immigration application areas and the paperwork required by making sure that the documents are being proofread by RCIC to ensure that they are error-free as well as accurate is also our responsibility to help you give your best. In conclusion, we as Canada Immigration Consultants try to help our clients with all aspects of Canadian immigration starting from the start.