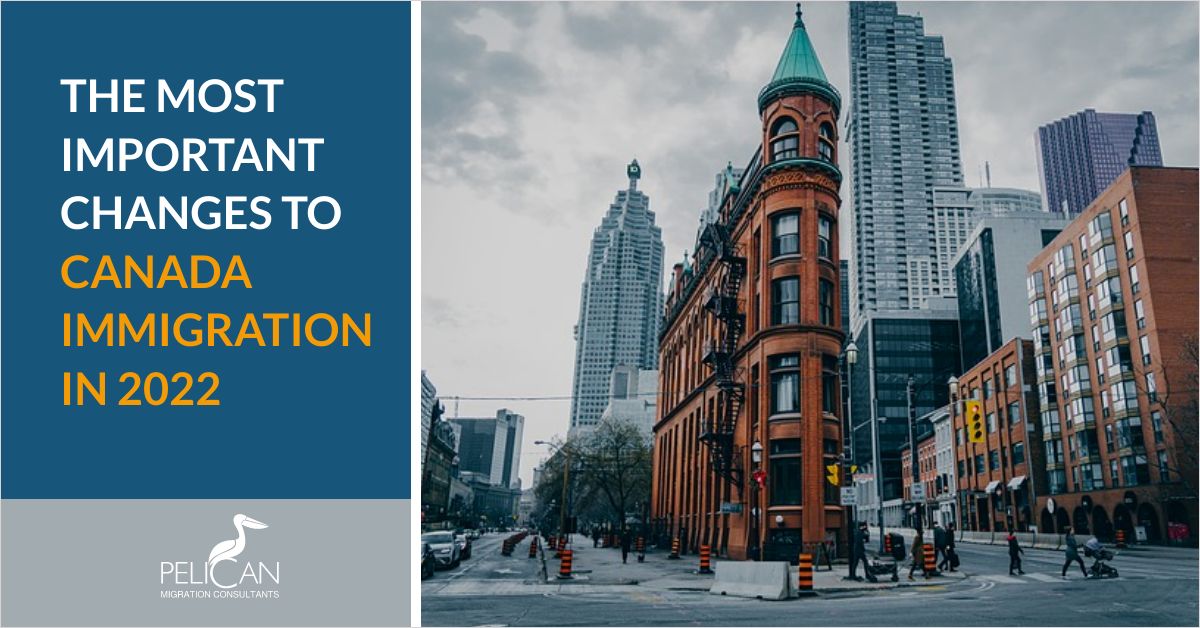 February 14, 2023
The Most Important Changes in Canada Immigration in 2022
Canada's immigration system is constantly evolving to meet the changing needs of the country. The past year, 2022, was no exception, as the COVID-19 pandemic shaped the course of immigration policy. From historic levels of immigration to targeted recruitment of in-demand professionals, the changes made in 2022 are set to shape the future of Canadian immigration for years to come.
A Welcome Boost: Canada's Three-Year Immigration Levels Plan
The biggest announcement of 2022 came in November, when Immigration, Refugees and Citizenship Canada (IRCC) unveiled its three-year immigration levels plan. This plan seeks to welcome over 1.45 million newcomers to Canada by 2025, through its economic, family, humanitarian, and refugee class streams. With the annual number of new immigrants set to reach 500,000 by 2025, these are historic levels not seen since the previous century. The announcement is a clear indication that immigration will play a key role in Canada's recovery from the COVID-19 pandemic.
Express Entry Draws Resume: A Turning Point in COVID Recovery
One of the hallmarks of Canada's economic immigration system, Express Entry, made a comeback in 2022. For the first time since December 2020, all-program Express Entry draws resumed in July, marking a turning point in Canada's COVID recovery. The Express Entry system encompasses the Federal Skilled Worker Program, the Federal Skilled Trades Program, and the Canadian Experience Class, making it a key pathway for economic immigrants to come to Canada.
More Opportunities for International Students: Working More Than 20 Hours a Week
In November 2022, international students received a boost with a change in their employment conditions. They are now temporarily able to work more than 20 hours a week during school sessions, an increase from the previous 20-hour cap. This change aims to address historic labour shortages in Canada, especially in sectors where students regularly work, such as food services, retail, and hospitality.
National Occupation Classification Update: 16 New Express Entry Eligible Jobs
The 2021 National Occupation Classification (NOC) was implemented in November 2022, bringing changes to the Training, Education, Experience, and Responsibilities (TEER) codes. As a result, 16 newly eligible occupations were added to the Express Entry system, with three removed. This change has received further attention due to the unintended glitches that affected some Express Entry candidates.
New Brunswick Critical Worker Pilot: Welcoming Immigrants to New Regions
In November 2022, Immigration and Opportunities New Brunswick launched the New Brunswick Critical Worker Pilot, a new immigration pilot aimed at critical workers. The program is focused on helping immigrants settle in the province and is fulfilled by six select employers in industries including manufacturing, food production, farming, and aquaculture. This pilot is part of IRCC's wider initiative to welcome newcomers to parts of Canada that are in need of people.
.
Open Work Permits for Families of LMIA-Based Work Permit Holders
In response to labour shortages and an aging workforce, IRCC made a policy change in 2022 to maximize the potential workforce already in Canada. Families of LMIA-based work permit holders are now eligible to apply for Open Work Permits, which allow holders to work for any employer in most industries. This initiative is set to roll out in three phases starting in 2023.
Express Entry Targeting In-Demand Occupations in 2023
Bill C-19 was passed in June 2022, containing a provision that allows the immigration minister to create groups within the Express Entry pool based on policy aims, such as Leveraging immigration to support labour market needs.
2022 was a transformative year for Canada's immigration system, with numerous changes aimed at supporting the country's economic and labour market needs. The announcement of the immigration levels plan, the return of all-program Express Entry draws, and the change allowing international students to work more than 20 hours a week were all major developments in 2022.
Additionally, the NOC 2021 changes and the creation of new immigration pilots like the New Brunswick Critical Worker Pilot represent a renewed effort by IRCC to welcome newcomers to wider parts of Canada. IRCC's policy change allowing families of LMIA-based work permit holders to apply for Open Work Permits is another example of how immigration policy can be leveraged to maximize the potential workforce in Canada.
In 2023, it is expected that these themes will continue to shape the immigration landscape in Canada, with the possibility of even more targeted policies aimed at addressing specific labour market needs through immigration. As Canada looks to recover from the COVID-19 pandemic, immigration will continue to play a critical role in shaping the future of the country, both economically and socially. Overall, 2022 was a year of important changes in Canada's immigration system, and it will be fascinating to see how these changes will play out in 2023 and beyond.
Pelican Migration Consultants - Your Trusted Partner in Canadian Immigration
Migrating to Canada can be a complex process, but with Pelican Migration Consultants, you can rest assured that you are in good hands. Our experienced team of professionals will guide you through every step of the way, from the initial assessment of your eligibility to the finalization of your settlement in Canada. Our services are designed to be comprehensive, ensuring that all aspects of your visa application are handled with precision and expertise.
At Pelican Migration Consultants, we understand the importance of accurate and timely information, which is why we keep ourselves up to date with the latest changes and developments in Canadian immigration policy. With our deep understanding of the Canadian immigration system, you can be confident that your visa application will be handled with the utmost care and attention.
We believe in a personalized approach to immigration, which is why our team will work with you to understand your specific needs and goals and tailor our services accordingly. Whether you are seeking to immigrate to Canada as a skilled worker, entrepreneur, student, or family member, we have the knowledge and expertise to help you achieve your dream of living and working in Canada.
So, if you are looking for a partner you can trust to help you navigate the complexities of Canadian immigration, look no further than Pelican Migration Consultants. With our commitment to quality and customer satisfaction, we are confident that we can help you make your dream of living and working in Canada a reality. Get in touch with us today to start your journey to Canada!