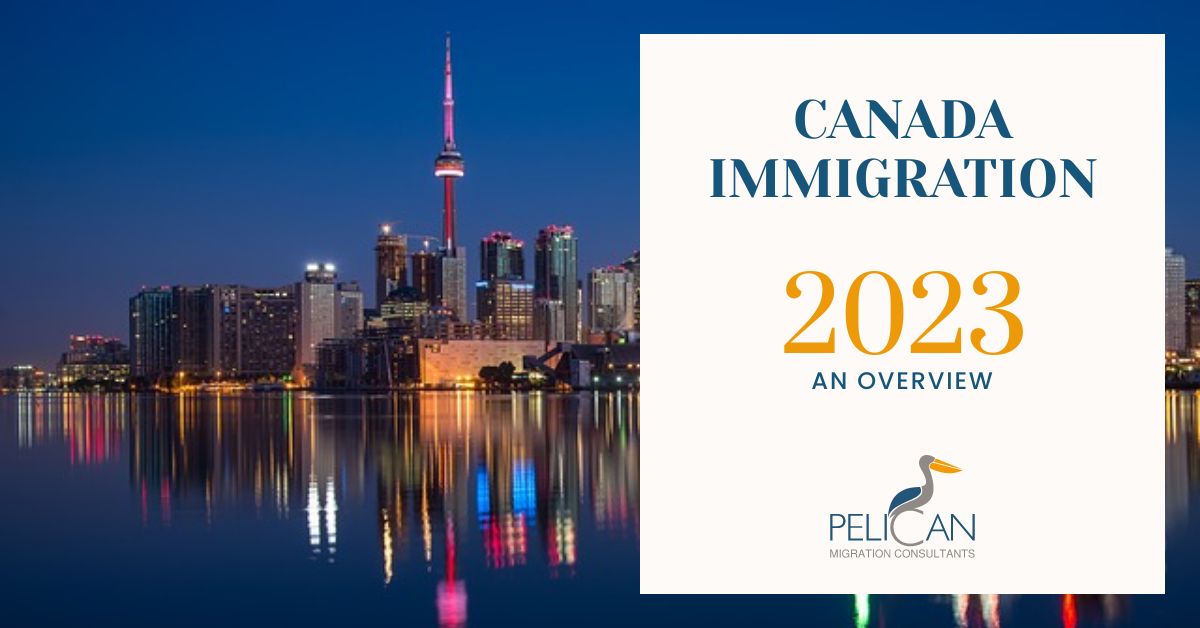 January 19, 2023
Canada Immigration 2023 – An Overview
The most recent census revealed that immigrants now make up their largest-ever share of Canada's total population (23%), beating a record that had previously been set 100 years ago. Heading into 2023, the Canadian government seems steadfast in its continued commitment to immigration and welcoming newcomers to this country. Canada hopes that heightened immigration will continue to help this country develop socially and economically, while also working to reunite families and assist vulnerable populations through Canada's capacity for humanitarian aid.
Client Experience: IRCC application backlog continues to decrease
Since September 2022, the total application backlog at Immigration, Refugees, and Citizenship Canada (IRCC) has decreased steadily. According to data provided to CIC News, IRCC has decreased its backlog by 400,000. Additionally, IRCC has received $85 million in additional funding to "reduce application inventories" and has, between March 2019 and November 2022, increased "front-line operations staff" by 2,521 employees. The hope remains that these factors will continue positively impacting IRCC's service standards and application backlog in 2023.
Immigration Levels Plan Target for 2023
Canada has set a record-high immigration target within the Immigration Levels Plan for 2023, suggesting that IRCC believes it can manage the backlog while also welcoming a high number of newcomers. By immigration category, the 2023 Immigration Levels Plan target (465,000) breaks down as follows. Express Entry: 82,880; Provincial Nominee Programs (PNP): 105,500; Parents and Grandparents: 28,500; Spouses/Partners and Children: 78,000.
Previewing 4 key Canadian immigration pathways
Provincial Nominee Programs in 2023:
Towards the end of this year, we came to learn that the PNP is set to overtake Express Entry as Canada's top immigration pathway. PNPs are crucial to helping Canada address specific labor market needs that are becoming more prominent across the country. Accordingly, 2023 is expected to see Canada welcome just under 23,000 more PNP immigrants than Express Entry candidates.
Express Entry in 2023:
Further reinforcing Canada's desire to address specific labor market needs and gaps, IRCC is expected to introduce 'targeted' Express Entry draws in 2023. These draw, instead of giving out Invitations to Apply (ITAs) based on a candidate's Comprehensive Ranking System (CRS) score, will target candidates who have specific occupational experience, language skills, and/or educational backgrounds.
Parents and Grandparents Program in 2023:
In 2023, Canada will remain committed to family reunification. This is evident in the popularity of Canada's Parents and Grandparents Program (PGP). The PGP, combined with other immigration pathways such as the Super Visa, will look to welcome more than 28,000 newcomers next year according to Canada's latest Immigration Levels Plan. Note: No official details are yet available regarding the exact selection process IRCC will use for the PGP in 2023.
International Students in 2023:
In October, IRCC announced an amendment to its off-campus work hours policy for international students in Canada. From November 15, 2022, until the end of 2023, "international students who are in Canada and have off-campus work authorization on their study permit will be allowed to work over 20 hours per week off-campus while class is in session." Designed to help Canada better deal with labor shortages, as Canada faces "historic labor shortages and an unemployment rate which is low by historical standards"
Are you planning to immigrate to Canada?
As one of the leading immigration consultants in Dubai, our major objective is to provide you with all the information you need to make good decisions. We help you plan and manage your immigration to Canada so that you can finally live a prosperous life in the nation of your desires.
Given that immigration standards and laws are always changing and difficult to understand and continue, it is essential to contact Canada immigration consultants which can help you and guide you throughout the procedure. We provide expert face-to-face help to ensure that you present your best performance in front of Canadian immigration, we help customers by estimating their prospects to be obtained, preparing them for visas, and building a tailor-made immigration strategy plan for each client. So, why are you delaying? Contact us immediately!