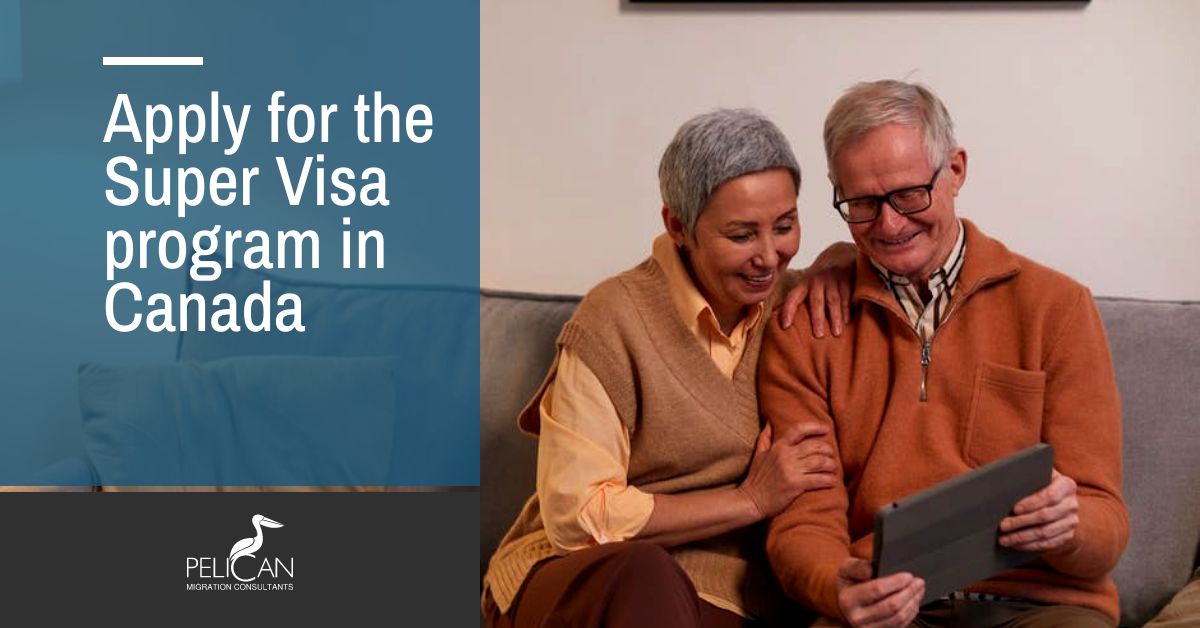 December 27, 2022
How to apply for the Super Visa program in Canada?
When Canadian citizens and permanent residents desire to bring their overseas grandparents and parents to Canada, the Super Visa is a popular choice. It is a temporary visa. Grandparents and parents are able to see their grandchildren for up to five years in a row without having to renew their visitor status thanks to the Super Visa. Holders of Super Visas are permitted numerous entries into Canada for up to ten years. Additionally, there is no lottery for the Super Visa, giving families hoping to sponsor more assurance.
Who can obtain a Super Visa?
An applicant must be the parent or grandparent of a Canadian citizen or permanent resident in order to qualify for the Super Visa. No dependents may be listed on the application; however, the applicant's spouse or common-law partner may.
The applicant must also not be barred from entering Canada due to criminal convictions or medical conditions. Those applying for Super Visas must get a medical exam. The applicant must be able to maintain strong enough ties to their home country and be able to explain the reason for their visit to Canada.
Thanks to Immigration, Refugees, and Citizenship Canada, parents and grandparents will have the assistance they need while residing in Canada (IRCC). The applicant's child or grandchild must be able to show proof that they are able to achieve the low-income cutoff (LICO) requirements. The income requirement is designed to ascertain whether the kid or grandchild is capable of supporting their relatives because caring for an aging family member can be a big financial commitment.
What is the procedure for obtaining a Super Visa?
The application procedure is the same as for a conventional TRV. Additional documentation, however, is required to guarantee that the parents and grandparents are appropriately supported during their stay in Canada. This prerequisite comprises the following:
A letter of invitation from a Canadian child or grandchild;
Documents demonstrating that the child or grandchild fulfills the LICO minimum (see table below);
Evidence of parental relationship with the child or grandchild, such as a birth certificate naming him or her as a parent; and
Proof of medical insurance coverage with a Canadian insurance company for at least one year.
A variety of variables will be considered when evaluating the entire application. The objective of the trip to Canada will be investigated, as well as if parents or grandparents would keep strong ties to their native country. This can be demonstrated by displaying familial relationships, income, and other connections that are not located in Canada.
All Super Visa candidates will be subjected to a medical exam. The visa office will issue forms and instructions for this examination after the application has been submitted.
What criteria must the sponsor meet in order to be eligible for a Super Visa?
The child or grandchild who is inviting their parents or grandparents must demonstrate that their home satisfies the necessary Low Income Cut-Off in order to be eligible for a Super Visa (LICO). One or more of the following documents could be used as proof:
Notice of Assessment (NOA) or T4/T1 for the most recent tax year;
Employment Insurance stubs;
An employment letter including salary and date of joining
Pay stubs; or
Bank statements
| | |
| --- | --- |
| Size of Family Unit | Minimum necessary gross income |
| 1 person (your child or grandchild) | $25,921 |
| 2 persons | $32,270 |
| 3 persons | $39,672 |
| 4 persons | $48,167 |
| 5 persons | $54,630 |
| 6 persons | $61,613 |
| 7 or more | $68,598 |
| More than 7 persons, for each additional person, add | $6,985 |
How to apply?
Once the applicant has all of the necessary papers, the application should be processed at the Canadian visa office in charge of the applicant's place of residency outside of Canada.
After receiving the application, Immigration, Refugees and Citizenship Canada (IRCC) will analyze it and may request that the applicant:
Attend an interview with their representatives in the applicant's country.
To send additional information
To obtain a medical examination
Obtaining a police certificate
Would you like to migrate to Canada?
As one of the leading immigration consultants in Dubai, our major objective is to provide you with all the information you need to make good decisions. We help you plan and manage your immigration to Canada so that you can finally live a prosperous life in the nation of your desires.
Given that immigration standards and laws are always changing and difficult to understand and continue, it is essential to contact Canada's immigration consultants which can help you and guide you throughout the procedure. We provide expert face-to-face help to ensure that you present your best performance in front of Canadian immigration, we help customers by estimating their prospects to be obtained, preparing them for visa and visa interviews, and by building a tailor-made immigration strategy plan for each client. So, why are you delaying? Contact us immediately!